The Mazda MX5 Miata is one of the most popular sports cars in the world, mainly due to its impressive track capabilities and relatively inexpensive price tag.
It's a favorite amongst amateur racers, and it's also popular amongst daily drivers who want to cruise around. While its interior is compact, it's actually spacious enough for drivers of all sizes to drive comfortably.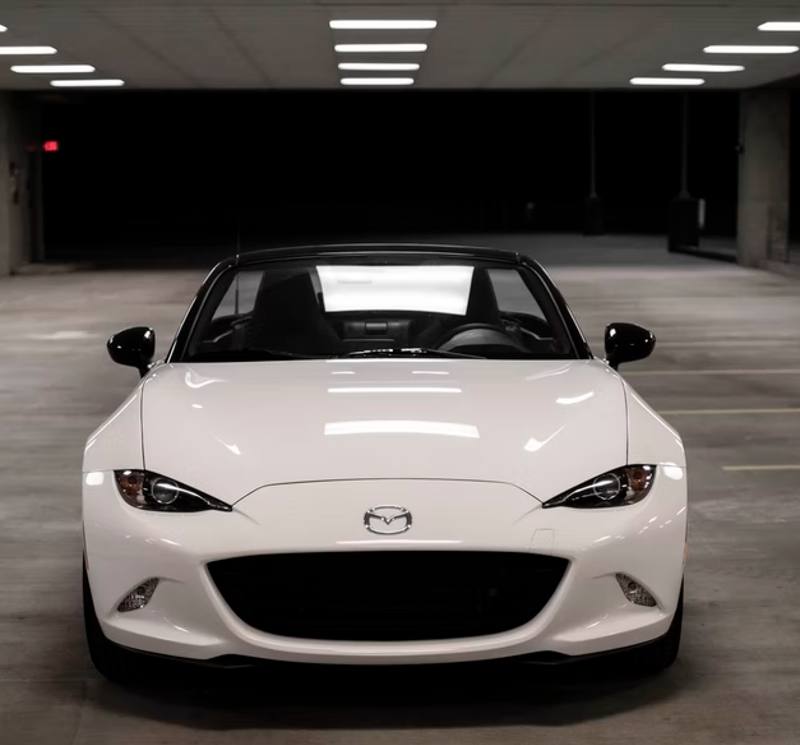 The 2019 Miata, in particular, is extremely popular even 3 years later.
If you're on the verge of buying one but aren't completely sold on the idea, here's what you need to know before you start looking for an MX5 for sale. 
Pros of Buying a 2019 Mazda MX-5 Miata
A New, More Powerful Engine
Most old Miata fans have always wanted just a tiny bit more power under the bonnet, and the 2019 model finally delivered. It's equipped with a Skyactiv-G 4-cylinder engine that's capable of producing 181 hp and 151 lb/ft of torque.
The higher redline makes it even better. You'll notice great acceleration; many testers have clocked 0-100 times in under 6 seconds. 
That being said, even if you compare it to the higher-powered sports cars like the 911 or Corvette, the Miata can definitely hold its own, which is nothing short of impressive considering it comes at a significantly lower price tag.
It weighs less than 1100, allowing it to float around curves. You can opt for the Club trim which is more performance-focused and is equipped with limited-slip differentials and Bilstein shock absorbers.
Comfortable and Stylish
As briefly aforementioned, even though it's relatively small, the Miata is surprisingly comfortable.
This is mainly because of its suspension, which is tuned for daily commuting, and its supportive seats. It comes with a telescoping steering column and standard tilt, allowing you to get the desired driving position. 
And while its appearance has changed throughout the years, you'll be happy to see it still has its classic styling cues. Most people are familiar with its short back, long hood, and elegant curve.
The standard 16-inch aluminum wheels are still there, and it's fitted with LED headlights that are made to last. You can also consider a model with an aero body kit when looking for a Mazda MX5 for sale.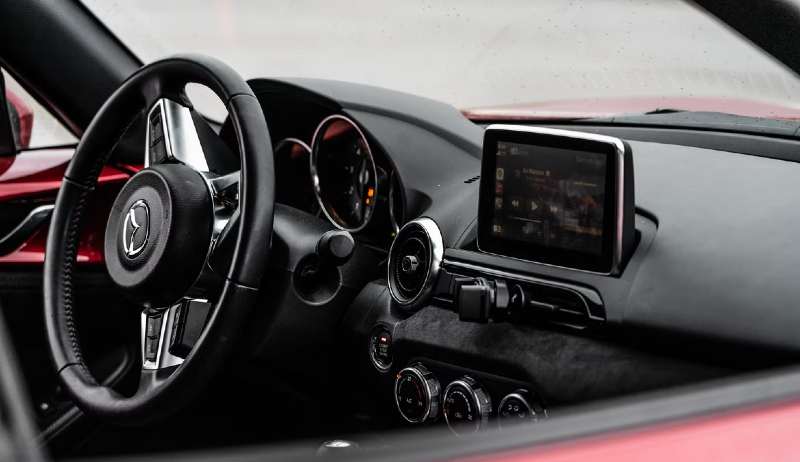 Affordable, Yet Packed with Features
When you compare the Miata MX5 to a Porsche 911 or a Jaguar F-Type roadster in terms of price, you'll see that you don't have to spend your life savings just to drive an exciting roadster.
The 2019 Mazda MX5 can be found at the affordable price tag of around £16.000 for a decent used model and £30 000 for a brand new one, which is a steal for what you get. 
Even though the Miata has been advertised as a simple sports car, the 2019 version comes with modern features, including a touchscreen infotainment system, HD radio, Bluetooth connectivity that allows for text messaging support, voice commands, and there's even a CD player.
And last but not least, it features a bose sound system of premium quality, allowing you to blast your favorite tunes.
And while you had to implement most modern safety features yourself just a couple of years ago, that's not the case with the 2019 version.
This model is fully equipped with rear cross-traffic alerts, adaptive headlights, lane departure warnings, low-speed automatic braking, and so on. 
Cons of Buying a 2019 Mazda Miata MX-5
Might Not Be Big Enough for Some People
While the 2019 Miata is bigger than previous-generation Miata MX5s, it still may be hard to fit a person that's over 2 meters in it.
Moreover, it doesn't have a backseat, so if you're a parent, you won't be able to drive both your spouse and kids in it.
On top of this, the trunk is quite small, limiting what you can bring along on longer trips. Of course, these downsides may not be that serious considering most people buy a Miata to take it to the track. 
You Won't Be Able to Drive It in Winter Conditions
Since it's a roadster with a rear-wheel drive and low ground clearance, it's a difficult, if not impossible car to drive when you get hit by hard winters.
You'll find yourself stuck in the snow more often than you'd like, and if you go for a soft-top model, you'll want to make sure you're always parked in a garage, as the top isn't made to withstand icy conditions.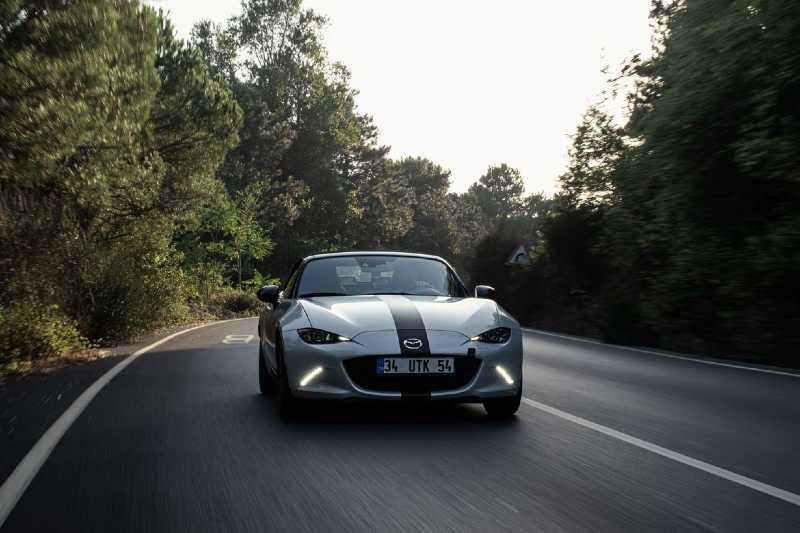 How Does the Mazda MX-5 Compare to Its Competition?
If you're looking for a convertible roadster, you might also consider a few other cars, such as the 2019 Ford Mustang.
And while the 2019 Miata is faster than previous-generation models, it's still not as fast as the 2019 Ford Mustang. Furthermore, the Mustang is more spacious. However, the Mazda MX5 is more economic to run and is around £10 000 cheaper. 
Another popular option for a roadster is the 2019 Fiat 124 Spider. Compared to the Miata, the Spider offers a smoother ride, but it's also known to have worse overall handling. 
You can also check out the Subaru BRZ, which is similar to the Miata in handling, but slightly slower in speed. However, on the upside, the BRZ features a backseat that parents might appreciate.
The Final Word
There are only a few sports roadsters going for the price the Miata is going for and that match its fun factor.
The improved performance of the 2019 Miata makes it an even more appealing choice for most people.
Moreover, there are many aftermarket parts available for it, allowing you to personalize it even further to make it truly unique on the road. 
While it's considered a mostly summer car, you can go for the RF model which features a retractable hardtop if the area you live in is prone to heavy rain and mild snow.
Take a look at the pros and cons mentioned above before you make a final buying choice, as these are the things that can generally make or break your experience with it.