Imagine you're in your car alone; it's boring, right? You always want to have your favorite music on to get you through your drive. But no matter how perfect the song is, if your car speaker is not of excellent quality, the sound it will produce will also be below average.
In the market today, there are hundreds and even thousands of different kinds of car speakers. They all have their strengths and weaknesses. Each of them produces a wide range of sounds, but what should you get?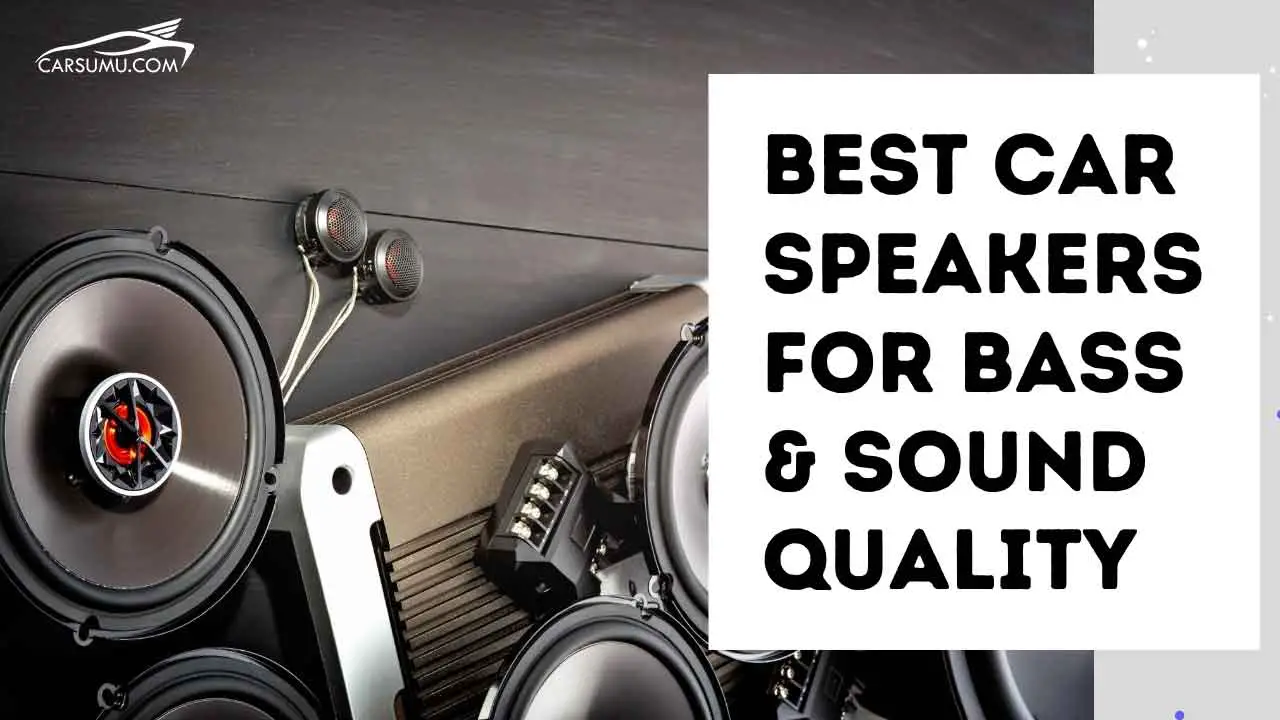 To solve the issue, we have prepared the top 10 best car speakers so you won't have difficulty looking for the perfect one. Just read on!
Our 10 Best Car Speakers For Bass Picks:
Under here, we have listed 10 of the highly-rated car speakers for bass. They are all from manufacturers that are known worldwide for their excellent quality construction. You don't need to worry if they will last you longer because their durability has been tested and proven. There's more to know, so let's find out!
1. Hertz MPX 165.3 PRO 6.5-inch 2 Way Car Speaker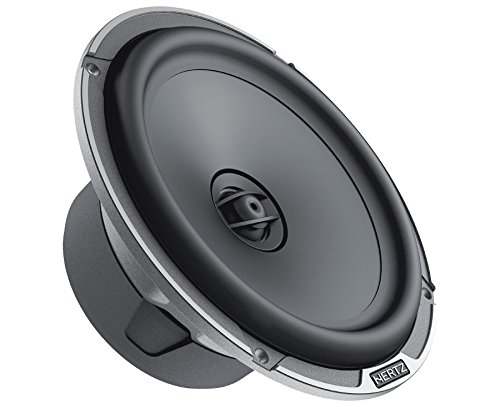 Hertz is a speaker brand that is well known for its rigidity and durability. It is constructed with a heavy magnet and well-made voice coil, putting it at the top of the list for the best coaxial speaker.
If you want a car speaker that can give you that live music performance level of sound, the Hertz MPX pro is the best one for you. What makes this happen is the concrete coaxial tweeter inside the woofer voice coil. The coaxial tweeter directs the sound in a single point, letting you have that music concert-like experience.
Other car speakers out there don't work well at high power levels as they tend to get the sound distorted and unclear. But, the Hertz MPX Pro will not give you that problem. They have iron plates with minimum carbon, together with an oversized ferrite magnet that helps in lowering the distortion at power levels above normal.
More than the live performance feel, this car speaker also gives you a surround sound experience. It has a "boundary-free" rubber surround, which not only makes the speaker visually stand out but also improves the efficiency of the speaker and helps the midbass give a wider frequency.
Another great feature is its 36mm woofer voice coil made out of pure copper material. It is coiled around a polyamide former and enables excellent power handling as well as produces a compression-free reproduction with a great dynamic.
KEY FEATURES
High-quality materials ensure great sound quality
Excellent low-frequency range
Configurable, for much better sound quality than stock speakers
Ensures improved efficiency
Promotes a surround sound experience
Expensive and high performance
CHECK PRICE ON AMAZON
2. Infinity Kappa 2-Way Component System Car Audio
Another top-notch brand is Infinity with its 6.5 inches, two-way component system car audio. The pair of speakers has a 540-watt capacity, each taking 270 watts. This capacity is higher compared to other brands, which makes the Infinity Kappa a front-runner for the best bass car speakers.
It has tweeters designed with a soft dome to help produce clear and crisp mids and highs of sound. The carbon glass fiber material that makes up the cone of the speaker lets it have a larger area that produces more bass compared to other brands.
Together with its well-constructed tweeters, it also offers you a frequency response ideal to any car, with the range of 35000Hz to 45000Hz and an impedance of 2-ohms. Same as the tweeters, its two woofers are made of rubber-lined, glass-fiber materials.
The built-in high-temperature attenuation control coil is the one that creates high-quality sound and helps in reducing distortion. Infinity ensures that this product will last longer with you because of the motor installed inside, keeping the coil cool whenever the speaker is in use.
All the hardware needed for installation goes with the package, making it easy for you to mound it in your car. Same as the Hertz MPX, every car ride will give you that live performance feel. These speakers adjust and pick up every sound detail of your music, and give out the best quality for every song.
KEY FEATURES
High-quality crisp sound and low distortion
Portable bass speaker with low impedance
Carbon glass fiber cone with a larger area
Wider frequency response range
Comes with more accessories to improve sound quality
High-temperature attenuation control coil
A little bit on the expensive side
CHECK PRICE ON AMAZON
3. Alpine R-Series 6×8-inch 2-Way Car Speakers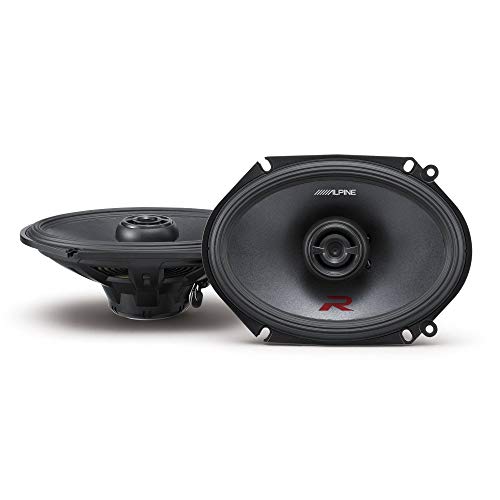 If you enjoy your music being played at the highest volume but still want to maintain that clear, perfect sound, then the Alpine R-Series is your best choice. It can handle from a minimum of 100 watts up to 300 watts, which is the same power as factory audio.
This product features a modern design, adding that visual appearance to your car instead of it looking out of place. It's made of an excellent hybrid fiber woofer, a Santoprene multi-roll rubber surround, and an inch thick silk dome tweeter. These three combined will bring out the enhanced sound you want for your speakers.
Furthermore, the multi-layer woofer cone is the one that gives you that strong bass response, letting every beat out with a punch. Its rubber surround is what protects your cone and makes it last longer. With it, you're sure that it pushes the air from high-impact sound out to avoid damaging the cone.
The only downside of the Alpine R-series is that it needs a strong enough amplifier to bring out the sound throughout your car. In installing the amplifiers, you would need to drill holes for them to have a proper and secure fit.
In terms of installation, you don't need to worry, since Alpine made sure that this will be an easy task for anyone. There are simply eight contact points that you need to secure in place. The equalizer does not come with a slider, though, so you better mound the speaker somewhere accessible, and it won't be getting in your way.
KEY FEATURES
High volume capacity for optimum performance
Gives you more control over the equalizer
Good power handling with better bass response
Ease of installation
Ensures durability and longevity
You will need an amplifier to get the best sound out of it
Need to drill holes in your car to mound up the amplifier
The sensitivity is lower compared to others
CHECK PRICE ON AMAZON
4. Rockford Fosgate R165X3 3-Way Car Audio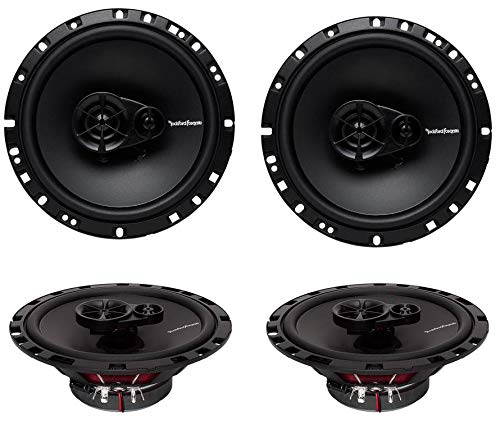 The first time you'd see the Rockford Fosgate, you will realize the visual appeal it brings to your car. Some car speaker brands don't put this into consideration, but Rockford makes sure that their product offers that aesthetic.
Not only can they give you the best sound quality but also an appearance that isn't distracting to your vehicle. On our list, this is the first 3-way car audio, meaning its tweeters, woofers, and midrange drivers are separate from each other.
This separation provides you with a crisp and clear sound experience. Its peak power reaches up to 90W, but the RMS, which is much important, is at 45W. The car speaker's impedance is at the standard of 4 Ohms.
It is always ideal to look for car speakers with great built and durability. This door speaker is surrounded by a steel frame that protects itself from hard hits. Together with the steel frame, the speakers are also surrounded by rubber for added protection and to ensure its longevity.
What's nice about Rockford Fosgate's 3-way car audio is its lightweight and portability features. You can install this in any vehicle, may it be big or small, spacious, or compact. Its dimensions (7.1 inches long, 8.1 inches high, and 10.9 inches wide) fit perfectly for all types of cars.
You have to take note though that this kind of speaker lacks a good bass. It works well for listening to high and mid ranges, but you'd need a subwoofer to get the speaker to its full potential.
More amazingly, it is great that these are on the more budget-friendly side. Don't just expect a lot. This cannot give you that concert-like experience compared to the others listed above.
KEY FEATURES
Extremely light in weight but produces heavy bass
Enables you to use it at any frequency without heavy distortion
Affordable yet powerful sound
Can be installed in any vehicle
Great built and durability
CHECK PRICE ON AMAZON
5. JBL CLUB6500C 2-Way Component Car Speaker Review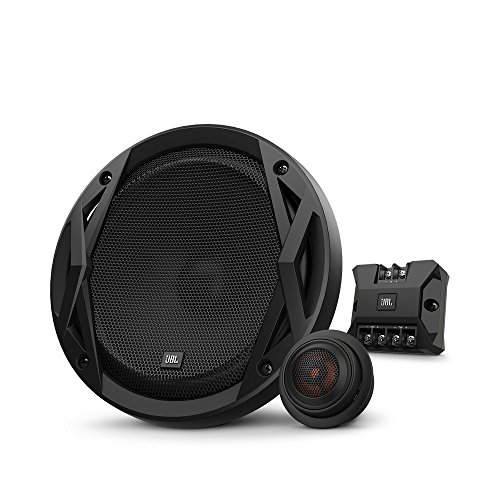 JBL is a well-known brand worldwide for its excellent-quality speakers, and that includes those used in cars. A notable feature of the JBL speaker is its ability to perform well and withstand any kind of environmental conditions. It may be from the hottest to the coldest of environments.
The woofers are of UV-resistant polypropylene material. This is the main reason why the speakers can withstand harsh conditions. The speakers are attached to your car door, which is often prone to hard hits. JBL assures you that this speaker is durable enough to last you a couple of years.
They have patented the Plus One™ structure for their woofers, which widens the surface area of the cone. A wider area gives you better bass experience. They also have a different kind of tweeter as it can expand to a high-frequency range. With this range, you can hear more sound compared to other speakers.
This door speaker has a lot of great qualities that can make your listening experience pleasurable. But, it takes a while for you to fully appreciate it. Since they have a tighter built, you have to loosen them up first before you can hear the crisp and sharp sounds. It often takes a month for the speakers to fully break in.
Another challenge is installation. The instruction that comes with the package is not as clear as the others. It will come with two speakers, each having brackets and screws used for mounting. When you want to install the wiring easily, better be prepared with wire adapters to help you.
But, once the speakers have successfully installed them and they have fully adjusted, you will hear their true potential. You can even say that this is the best car speaker for sound quality.
KEY FEATURES
Remarkable bass, great for loud music
UV-resistant polypropylene woofer
Durable construction
Plus One™ structure
Ensures pleasurable listening experience
CHECK PRICE ON AMAZON
6. BOSS CH6530 Car Speakers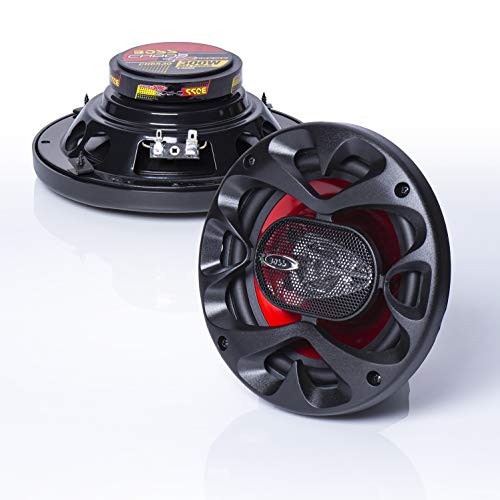 The cone of the BOSS CH6530 has the power to produce clear sound at a high volume at 300 watts. It is made of polyurethane, providing resilience and durability. This 3-way component speaker is one of the best component speakers out there.
We have to say, the voice coil of this aftermarket speaker is very impressive as well. It can withstand extreme temperatures without losing its strength or overheating. You can play your songs all day long, and the speakers will still give you the most impressive sound quality you are looking for.
These great car speakers have their original piezoelectric tweeter, which makes the speaker more resistant to overloading. You also don't need a crossover because of the electric property the tweeters have. The cone brings out a much-improved sound with the help of its metal and polyurethane composition.
Well, the right material to surround your speakers with is rubber. This can withstand intense pressure and hits your car door may experience. It makes your speaker more durable even with the constant abuse it may receive.
When choosing your car speaker, it is great if it comes with a warranty. Good thing that BOSS had one. The manufacturer also advises you to have a professional mount up the speakers to ensure a proper and secure installation.
KEY FEATURES
3-way compact clarity
Great build quality
No need for crossovers
Impressive voice coils
Ensures a much-improved sound
CHECK PRICE ON AMAZON
7. Focal EC165K K2 Power Coaxial Speakers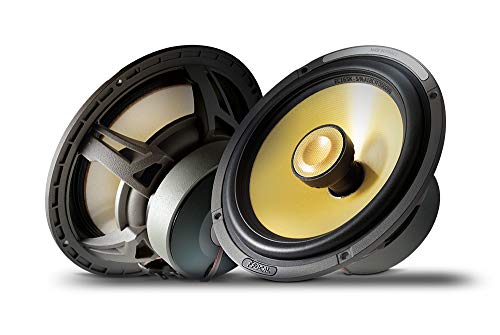 Focal has made it their passion to create that clear and crisp, excellent quality sound at the best standards possible. They have designed their speakers to produce a sound that will give the best experience, just like being in a live concert, but you're in the comfort of your vehicle.
It has undergone numerous testing until the Focal's perfect coaxial speakers came to be. They are designed to produce high-quality sound with minimum distortion. This pair of speakers can be used on wide-ranging dynamic sounds that will bring out the best in your music.
The woofers are made of glass-fiber. This material perfectly handles soft, delicate sounds and very heavy and deep basses. The woofer comes with the brand's original "W" sandwich cone, responsible for you to have accurate audio.
Focal has added something new to its rubber surround. They have changed it to a Tuned Mass Damper (TMD®), so the speakers can produce the cleanest midrange with the least harmonic distortion. This feature optimizes the frequency response and gives you outstanding audio precision.
Not only have they changed the rubber surround, but they have also redesigned their tweeter. It is constructed with Focal's unique aramid fiber. The tweeter also sports an "M"-shaped inverted dome shape, making the speaker have excellent sound precision reaching up to 22,000Hz.
The TMD, together with the tweeter, helps protects the cone so it can avoid deformation. It is also there to stabilize dynamics and make the sound behave according to its resonance.
KEY FEATURES
High-quality woofers
Excellent sound quality
Aesthetically pleasing design for added visual appeal
Durable
Redesigned tweeters and woofers
CHECK PRICE ON AMAZON
8. Rockville RVP12W8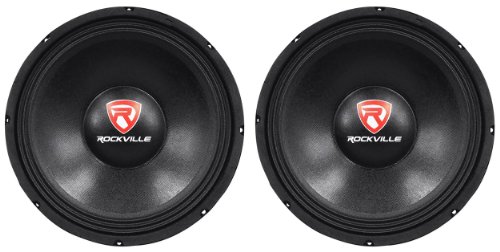 The brand itself, Rockville, has an already established reputation of producing subwoofers that can bring out crystal clear sounds and high-grade audio quality. Even just the brand alone is enough to be able to put on our list of best car speakers for bass.
It can handle the power of a minimum 300watts and extend that up to 600 watts. What's different about the Rockville RVP12W8 is that it has a rolled steel basket. This basket ensures that whatever damage may happen, the speakers can take it. It is durable enough to last you a couple of years.
Another impressive feature that comes with the speakers is the dust cap. The cap protects all the inner mechanisms of the speakers. As the name goes, it is a cap that prevents dust from entering into the system. The reinforced fiber cone then is the one that helps in producing that clear sound you always want for your speakers.
We are all looking for affordable products but are of high-quality. Good news is that this speaker can give that to you. Rockville's products are budget-friendly but can still deliver to you the best quality of sound. You can save your money and have amazing speakers.
Same with the other brands, this one also works well under extreme conditions. Under the intense heat or the harsh winter cold, these speakers will work perfectly every time. The speakers are also lightweight and easy to install by yourself. Just read the instructions and the proper tools ready.
KEY FEATURES
Affordable yet great overall sound quality
High-quality speakers at a reasonable price
Durable with enhanced bass
Can handle harsh environmental conditions
Lightweight and easy to install
CHECK PRICE ON AMAZON
9. Pioneer TS-A1670F – 6.5" 3 Way Coaxial Speaker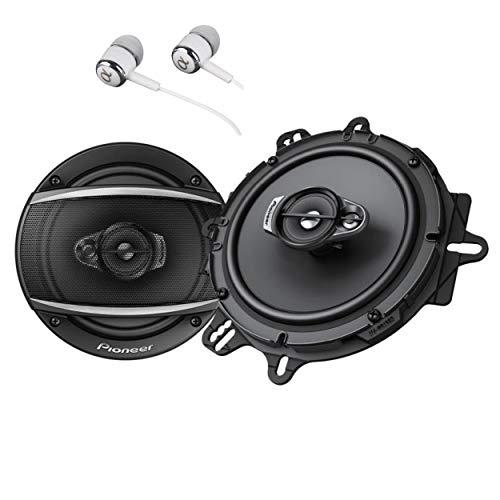 This reliable pair of 3-way car speakers will definitely enhance the bass and overall quality of your favorite tunes. Upgrade your current audio system with Pioneer TS-A1670F!
Its construction is made with durable materials. For its design, it features a polyurethane frame that encapsulates a metal mesh grille, giving you a clean and attractive look. In addition to this, it has a lightweight elastic polymer surround that elevates your sound tripping experience.
You don't have to undergo any complicated steps to install this product because it is equipped with 6.5-inch multi-fit adaptors. Without much hassle, you can easily mount it on your vehicle's door or rear deck and even behind your factory grill.
This 3-way coaxial speaker is comprised of a 6-1/2 inch mica and carbon-reinforced woofer, a 1-5/8 inch cellulose fiber cone mid-range driver, and a 3/8-inch PET (polyethylene terephthalate) hard dome tweeter.
With this, you can surely enjoy a well-balanced frequency and evenly dispersed music inside your vehicle.
The loud bass product has a nominal power handling of 70 watts that can reach a maximum of 320 watts at an impedance of 4 ohms. Considering its price, this is quite an impressive performance that can result in a loud and precise reproduction of rich sound.
Its frequency response is at 37 Hz to 24K Hz, while its speaker sensitivity can lead to 87 decibels. With these specifications, be assured this unit can surely give justice to your favorite jam. Along with the premium-quality speakers, the package comes with Aplhasonik earbuds for the headphone channel.
As for its setbacks, it is not powerful enough when played in higher volumes. If you want to unleash its maximum performance, you might need a good-quality amplifier to achieve that.
Nevertheless, Pioneer TS-A1670F is a well-made product, ideal for any type of vehicle. With its features, you will surely enjoy long-term satisfaction!
KEY FEATURES
320 watts of maximum power handling capacity
Lightweight elastic polymer surround
Easy installation process
Speaker sensitivity: 87 decibels
Frequency response: 37 Hz to 24K Hz
Great bass quality with detailed sound
CHECK PRICE ON AMAZON
10. Rockford Fosgate R165X3 Prime 6.5" Full-Range 3-Way Coaxial Speaker Review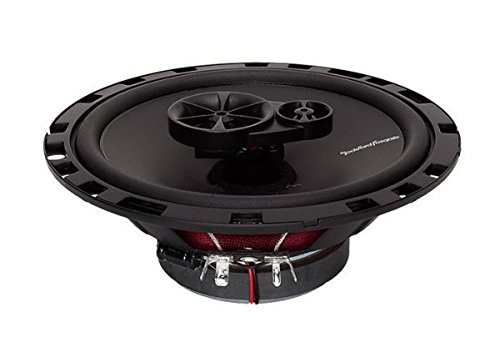 Make your driving adventures more memorable with Rockford Fosgate R165X3, a full-range speaker that is worthy of your time, effort, and trust. Even though it is sold at an affordable price, you'll definitely benefit more than what you pay for.
These sleek and chic speakers will be a great addition to your car's interior. They will surely enhance the overall aesthetics of your vehicle. And because it is a 3-way speaker, expect a better sound experience!
It has a sensitivity of 91 decibels and is capable of handling power of 45 watts RMS that can reach up to a maximum of 90 watts at 4 ohms impedance.
This product is manufactured to test time because its construction is made with durable materials. Its woofers are built with elastic polypropylene, while its tweeters are composed of mylar and titanium.
In addition to this, it features a steel basket to protect the speakers from any foreign objects or impact that can degrade its level of performance. Also, the product can withstand intense heat, which can surely benefit you in the long run.
You can definitely enjoy your favorite tunes without any distortions, thanks to its superior-quality crossovers. As you can see, the brand paid attention to the littlest detail to give you what you deserve.
The R165X3 has the following dimensions: 16 x 8.3 x 4 inches, which can easily be installed in various car models such as Toyota Rav4, Infiniti G35, and Chevy c1500.
Unfortunately, this product is not able to generate a deep bass sound, unlike component speakers. Also, it does not perform well when volume levels are increased. But still, overall, the Rockford Fosgate R165X3 is an excellent product, ideal for upgrading your old factory speakers.
KEY FEATURES
3-way full-range speaker
91-decibel speaker sensitivity
Integrated tweeter crossover
Woofers are made with durable elastic polypropylene material
Mylar and titanium are the materials used for its tweeters
Frequency response: 52Hz to 20kHz
Includes a grille/trim ring
Superb bass output with crystal clear sound
CHECK PRICE ON AMAZON
How to Choose the Best Car Speakers for Bass and Sound Quality
Now that our discussion about the top car speakers for bass is complete, hopefully, you have a product in mind to enjoy loud music.
But to help you further in decision-making, we have prepared this buying guide section for your convenience. Presented below are the things you need to take into account before purchasing a car speaker for quality music. Go through them one by one to assess if you have found the most suitable one with clean sound for you.
Type of Speaker
There are two types of speakers that mainly dominate the market, full-range speakers and component speakers. Each possesses various features that make them differ from one another.
I know that these terms already sound familiar, but for your benefit, we will further elaborate on each of their characteristics.
1. Full-Range Speakers
Full-range (Coaxial) speakers are known for their easy installation process because all of its components are in one whole system. It includes a woofer to generate low-to-mid tones and a tweeter, which is responsible for handling mid-to-high tones.
All sound frequencies will come from the same place because these drivers are connected. Most speakers of this type come with a built-in crossover, and they are also very affordable.
2. Component Speakers
Component speakers, on the other hand, have separate drivers (tweeters, mid-range, woofers), and you can install them separately in various areas of your car. They usually generate a better quality of sound than the coaxial. The reason is that its components are separate; it can produce crisper and more defined sounds.
However, this speaker type is much difficult to install, has no built-in crossovers, and is generally more expensive. But, if you're up for the challenge and more than willing to expand your budget, we recommend that you should opt for a component speaker.
Size of the Speakers
Speakers are designed in a variety of sizes, so you must always consider their dimensions before purchasing. Why waste your money on a product that you can't install inside your vehicle.
If you know where to mount your speaker, you can easily choose the appropriate size to fit the location. Using a device or a scale, take measurements of that specific area inside your car, and use this as a basis in choosing your new audio system.
Speaker Sensitivity and Frequency Response
When power is exerted to the component, the maximum level of sound a speaker can generate is called sensitivity.
It is advised to purchase a product with a low sensitivity rating if your car stereo is a high-powered system. This is also applicable the other way round; speakers with high sensitivity are more ideal for low-powered systems.
Frequency response refers to the audible range of frequency that a speaker is capable of reproducing. A product with a broader limit performs better when it comes to detecting several frequencies.
As a result, the speaker can shift effortlessly between the woofer and the tweeter and allow it to generate different types of sounds more effectively.
Power Handling
If you want louder music inside your car, this is the feature you need to prioritize because it will indicate how loud your speaker can generate sound. Power handling determines how much power a speaker system can handle, and it uses RMS wattage and peak wattage for representation.
To avoid confusion, here's what you need to remember. Root Mean Square (RMS) indicates the amount of continuous power a speaker can handle, while the peak wattage is the maximum level of energy a speaker can use in short bursts.
So, which among both should you prioritize? It is advisable to opt for a product that offers higher RMS reading because it is the real indicator of a speaker's capability to handle power, and at the same time, assures superior accuracy.
Woofer
The ability of a speaker to generate premium-quality sounds is dependent on the materials used for its construction. You have to ensure that every component of your desired product is well-made and designed to last long.
A woofer is specially made to reproduce low-to-mid frequencies. It is responsible for giving you that booming hard bass whenever you're listening to one of your favorite songs. Make sure that the woofers of your chosen car audio speaker are made with durable materials that are stiff and lightweight at the same time.
Your car will most likely be exposed to different types of weather conditions, so it should also be capable of withstanding moisture and extreme temperatures. Polypropylene is an example of a plastic utilized to create a highly efficient and effective woofer.
Tweeter
If woofers generate low bass tones, tweeters are the ones responsible for reproducing crisp and precise high-frequency sounds.
For a much refined and smooth sound, soft materials such as silk and poly textile blend are known to produce superior-quality tones. But, if you're the type of person who enjoys listening to snappier and brighter sounds, choose a tweeter that is made with sturdier material.
Aside from the product's material, you should also consider where you want to install the product. It is recommended to place the tweeter at ear level for you to achieve optimum results.
Crossovers
All speakers need crossovers. In the case of a full-range speaker, it is already embedded within, while a component speaker may require one to work effectively.
It is an essential component of the system because, without it, frequencies can get mixed up; they serve as barriers that block undesired frequencies. Sub-woofers, woofers, and tweeters are fed by these devices to generate the high-quality sound that you'll be listening to.
There are two main types of crossovers, active and passive. Active crossovers require additional power from an amp along with a ground connection. On the other hand, passive crossovers do not need these, but they can avert frequencies as required.
How to Install the Best Door Speaker For Bass? [Step By Step Guide]
If you're here to take on the challenge of installing your new audio system, do not worry because we have prepared a generalized step-by-step guide to assist you along the way. We have divided this section into two parts for your convenience.
Getting Ready for Speaker Installation
Before anything else, here are some of the steps you need to know and follow before you proceed with the primary installation process.
Step 1: Gather the Required Tools
To perform the task effectively, you need the assistance of some handy devices. This includes, but not limited to:
Wire cutters
Allen wrenches
Crimping tool
Various screwdrivers
Hobby knife
Socket wrenches
Electrical tape
Electric drill
Soldering iron
File
Step 2: Disconnect the Battery
Because you'll be working with your car doors open, it is necessary to disconnect the battery's negative terminal. This is to prevent it from getting drained while you're in the middle of the installation process.
No one wants to get stuck in the same area without having enough power, right? Also, by doing this, you are safeguarded from short circuits as you work with the electrical system of your vehicle.
Step 3: Refer to the Instruction Manual
Not all products are the same; Take note that the steps we present here are generalized, and may not necessarily be the ideal process to install the speaker you bought. So you still need to refer to the brand's instruction manual, for it was specially made to suit their one-of-a-kind product.
Installation of New Car Speaker For Sound Quality
It will involve several steps to achieve the desired result, so make sure to read each carefully for having dynamic sound like the stock speakers.
Step 1: Prepare the Parts Needed
Get your newly bought speakers and remove them from the packaging. Different kinds of products require various installation parts. For instance, component speakers need crossovers, separate tweeters, and mounting hardware.
With this, you have to decide on how you want to position your tweeters, surface, flush, or angled. It is recommended to place them on top of your woofer, directly pointing to your ear's direction for a more realistic stereo image and soundstage.
On the other hand, if you want to replace your current audio system with full-range speakers, you will need both units, mounting screws, the wire, speed clips, and the instruction manual. Others come with grilles, but if yours don't, you can always choose to utilize your factory grilles.
Step 2: Take the Panels or Grilles Off
Before your existing speaker can be replaced, you have to remove this protective barrier off. This step is quite challenging because each vehicle requires different tools and techniques to properly remove these.
Basically, you'll need a screwdriver for the job, but you also have to remember that it varies for every type of car.
Step 3: Remove the Default or Factory Speakers
In order to access the mounts, of course, you have to remove your existing speakers. Be careful not to pull it out with force because it is usually attached to a wiring harness.
There are cases in which you have to chip the glue or adhesive foam off and/or unscrew a few bolts that keep the existing speaker in place.
Step 4: Connect the New Speakers to the Vehicle's Electrical System
In order to do this, you simply have to plug the wiring harness of your speaker to the vehicle's wiring harness. However, this is not the case most of the time. If your car doesn't have this connection type, you may have to attach your speaker using a crimped or soldered connection.
You need to match the product's connections and the vehicle's polarity for it to work effectively. Always be careful not to confuse the negative and positive wires.
Step 5: Test the Newly Connected Speakers
Why is this step necessary? Testing them right after connection helps avoid the wastage of time in the future. All you have to do is re-connect the negative terminal of the battery and turn the car stereo on. If it does not work after you played music, check the electrical connection.
Step 6: Secure the New Set of Speakers
Now that you have removed the factory speakers and the newly installed ones work well, you have to secure them properly. It may perfectly fit if the measurements are accurate and attached correctly, but if not, you can adjust it by using sections.
If this is not effective, you might need to drill holes for it to match well. Ensure that all exposed wires are covered with tape before you proceed to the next step.
Step 7: Connect and Test Your Subwoofers
These speakers are responsible for enhancing the bass sounds. You can easily install one if your vehicle has existing subwoofers because you can just place them in the previous housing and connect them to the wiring harness of the car.
Step 8: Install and Test Tweeters
If your vehicle has tweeters, now is the time to replace them. Just remove the former units and place your new ones. No built-in tweeters? Don't fret; you can choose to make a custom space for this speaker.
These products need to be placed in dry areas because water and dampness can affect their performance. It is also necessary to mount them in locations without vibrations. Make sure to insert them securely and firmly into the terminals to avoid wires from coming out because this can be the cause of crackling in the long run.
Step 9: Replace the Panels and Grilles
Now that you have successfully installed and tested your new speaker, you can now substitute the panels or grilles. Remember to screw them properly in place after.
Final Words
With all the products in the market, selecting the best car speakers for bass is indeed a very challenging task to face, especially for a first-timer.
Hopefully, with the combined information of the individual product reviews, the buying guide, and the generalized installation guide, you were able to select one for your personal need.