Car stereo remotes can be programmed to work with a variety of different cars. But, if the remote doesn't work for your car and you don't know how to program it, refer to this article.
This article will show you how to fix or program a Pioneer car stereo remote that's not working. This process is easy and takes about 5 minutes total time once you have all the right materials.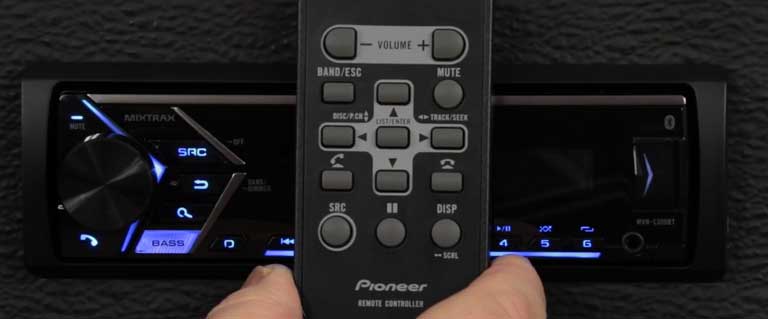 How to Fix a Pioneer Stereo Remote that's Not Working
Pioneer remotes go bad rarely. If your remote control doesn't work, it's probably something else that's causing the issue. Let's try some troubleshooting techniques–
Remove the Plastic from Battery Compartment
If the remote is new, you probably haven't removed the plastic tape out of the battery compartment of the remote control. This is the most common cause people complain about their remote doesn't work while it's brand new.
The covering is placed so that the device doesn't consume power while in-store. You need to remove that to make the device functional.
Check Batteries
If you were using the remote control unit for a fair amount of time and it suddenly stopped working, then you should check the batteries. Sometimes they can get corroded and this prevents them from powering up your device. Always make sure to use high-quality alkaline batteries when fixing a remote control unit.
Check Batteries if Remote Doesn't Work in Cold Temperature
If you live somewhere really cold, the battery performance will reduce in winter. This is because of low temperatures and you should always check if your remote isn't working due to this reason, especially if it's new!
Check Connectivity Issue
If you can see the remote control is working with all other devices, but not your car stereo unit, then there might be a connectivity issue. Try to use it with another device and make sure that there's no problem whatsoever while doing so.
Stereo Unit isn't Responding
In some cases, the stereo unit may stop responding due to overheating or other problems. In such cases, you can retry after a few hours of resting the devices. If the problem persists, try soft resetting the pioneer stereo.
Reprogram Your Device
After going through these steps if you're still having problems using your Pioneer car stereo remote control, then you might have to reprogram your device.
How to Program a Pioneer Car Stereo Remote
You may have bought a new pioneer car stereo or the remote control that came with the head unit gone bad and you are stuck with a new pioneer remote. Either way, you need to program the remote so that it syncs perfectly with the receiver-head unit.
Here are the steps that you need to follow-
First of all, you need to take the remote control unit and put it close to your receiver-head unit. Make sure that both devices are not more than 20 feet apart from each other.
Next up, press any button on your Pioneer head unit at least five times or until the LED indicator light blinks twice consecutively. This means the device has been accepted by your car stereo.
This process will program all of the buttons on your new Pioneer remote control unit at once, so you don't have to worry about programming each button separately! That's it- done! After following these simple steps, everything should work just fine.