If you are having problems with your Mercedes Comand system, one of the best things you can do is reset it.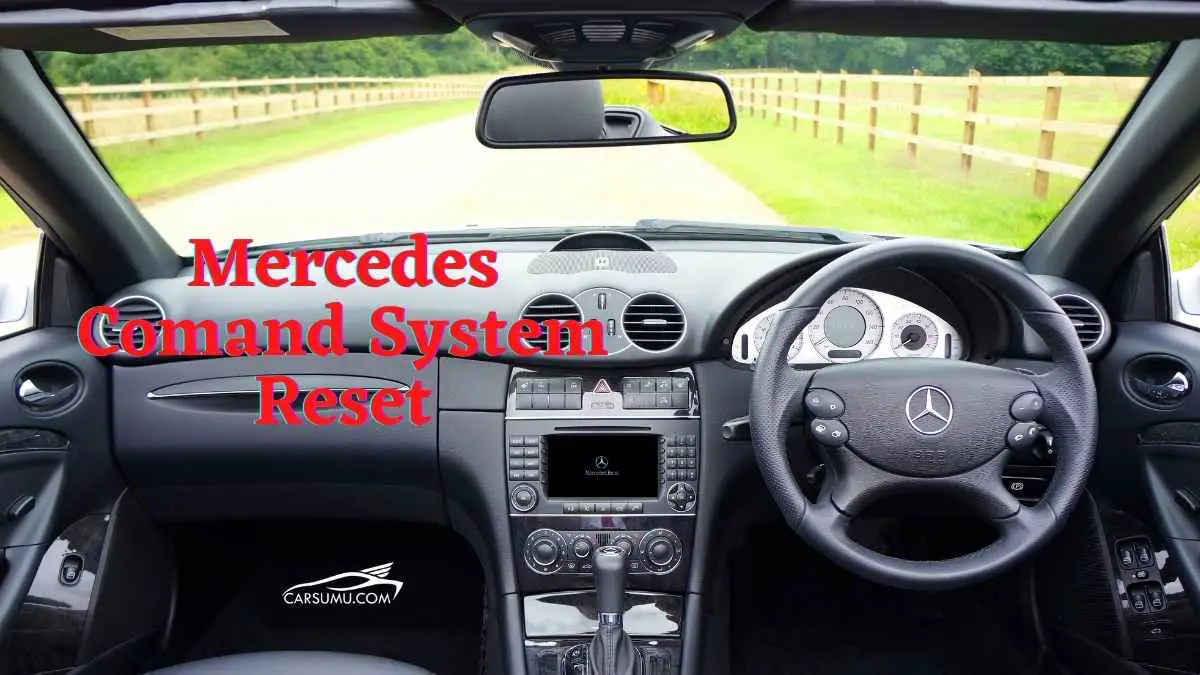 This process is relatively simple, and in most cases, it will fix any issues that you are experiencing.
In this blog post, we will walk you through the steps necessary to reset your Comand system.
Keep in mind that this process should only be used as a last resort, as it will erase all of your settings and preferences. We recommend performing a reboot first to see if the problem gets resolved before you go into reset functions.
How to Reboot Mercedes Comand?
Rebooting a Mercedes Comand is pretty easy. You'll need to find the Power button in the dashboard. Typically present below the radio unit.
Press that button [Symbol- ⏻] and let the system shut off completely. Wait for a couple of minutes and press the ⏻ button again to turn the unit on.
If you don't find a physical button for on and off, you may find an option in the Comand menu for rebooting the system.
In case that's not present as well, you can simply try turning off the ignition of the car and disconnecting the battery for a few minutes. Reconnect the battery and ignite the engine to see whether the problem persists or not.
How to Reset Mercedes Comand?
Different models have different ways to perform the reset function. I'll share a couple of common solutions that work on most Mercedes Benz models.
Method 1: Comand Unit with CD Drive
Comand units that come equipped with a CD drive have a pretty straightforward solution for resetting the device.
This works pretty well in older car models that come with a CD drive. While performing this, make sure that your car battery is functional with enough power in it. Otherwise, you may get in trouble.
However, if you have a newer model that doesn't have any CD drive, then the next solution may work.
Method 2: Using System UI for Resetting
If your car doesn't have a CD drive, you can reset the system by using the System UI.
Go to the System Menu of the Mercedes Comand by pressing the SYS button.
Now select Settings. And scroll all the way to "Reset".
Select that option, and then confirm by selecting "Yes."
The system will reset to factory default, and all of your settings and stored data will be erased including the garage door opener settings.
This method is useful when you are selling or transferring the vehicle to a new owner. Plus, when you hand over a leased Mercedes, that's a must to perform before you lose possession of the car. You don't want to have your personal information stored in that vehicle when it'll not be in your possession anymore.
Method 3: Cutting Power to the Comand System
We don't recommend this method as it doesn't work that well in fixing problems. But if you still want to give it a try, here's the process-
Use the owner's manual of your car to locate the Comand system fuse. Remove the fuse from its slot and wait for 15 minutes.
Put the fuse back in its slot and check whether it solved your problem or not.
Conclusion
The reset function is there to help fix any problems you might be experiencing with your Mercedes Comand system. The reboot function will simply turn the system off and on automatically while the reset function will erase all of the settings and preferences stored in the device, so we recommend rebooting before going into a reset if possible.
In most cases, a reboot should solve any issues that have been occurring on your car's multimedia system without having to go through such an extreme measure as resetting it back to its original state.
If you are still struggling with a problem after trying these methods, you may need to consult with an authorized service provider.