Ever spilled something in your car and noticed that it left a stain?
We all have, and we've also tried to clean up the mess with one of the many different cleaners available at our local store.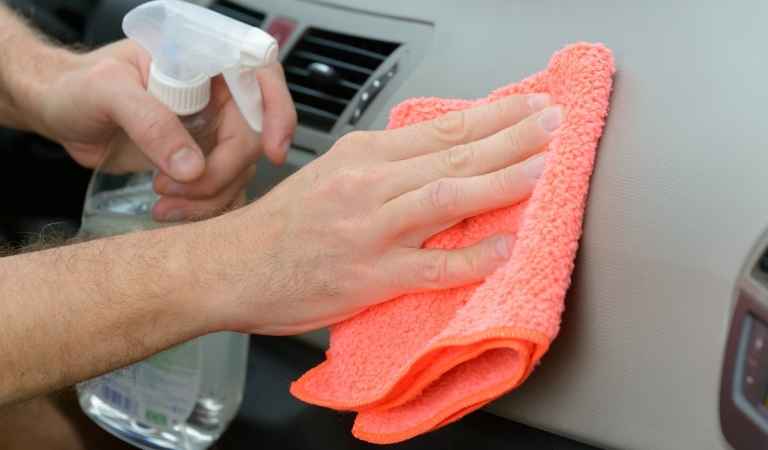 But which is best for cleaning vinyl surfaces? Can you use dish soap on vinyl?
There are so many options out there and it can be hard to know what will work best. This buying guide will help you find the perfect cleaner for your needs!
Our 10 Best Car Vinyl Cleaner Picks:
Here we go into the details of each product with its pros and cons so that you can make an informed decision-
1. Chemical Guys SPI_663 InnerClean Interior Quick Detailer and Protectant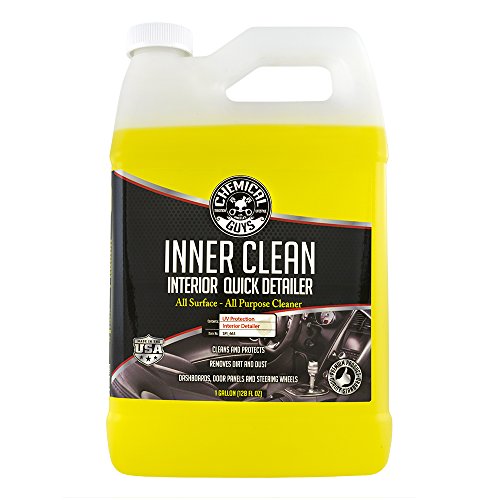 If you find your vehicle's interior stained by weeks and months (we hope it isn't years) of dirt and dust, pick up a gallon of the Chemical Guys SPI_663 InnerClean Detailer and Protectant.
It uses Chemical Guys' unique anti-static formula to repel further dirt and dust, meaning your interiors won't look quite as ghastly if you forgot to clean it last week.
The InnerClean formula is also one of the only interior cleaners that work on all types of surfaces, like plastic, vinyl, leather, and chrome, and can be used on your steering wheel and your upholstery.
Benefits:
UV protection keeps your interiors looking new by reducing UV damage
Easy to apply and leaves zero streaks after being wiped off with a microfiber pad
You can safely use it on screens like the navigation and sat-radio screens
Drawbacks:
It isn't very powerful and won't work on dirt and dust caked on for years.
CHECK PRICE ON AMAZON
2. CarGuys Super Cleaner – Effective All Purpose Cleaner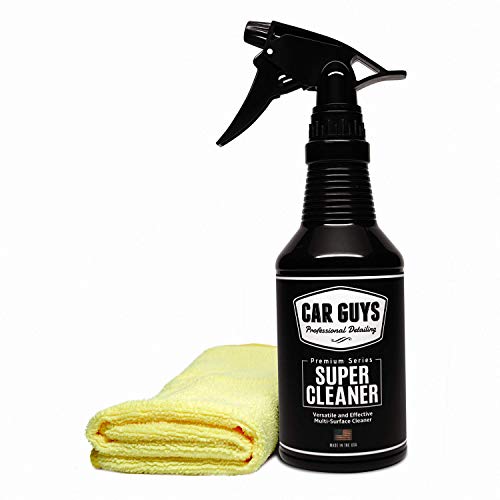 CarGuys has never disappointed us with their products before, and they aren't stopping with the CarGuys Super Cleaner.
This easy-to-use multi-surface cleaner lifts grime and oil with ease and works on every interior and exterior surface out there. And guess what? This excellent cleaner and a good-quality microfiber towel can replace your entire cabinet of cleaners!
You can use it in several ways: lightly spray it onto a microfiber towel and gently wipe for lightly soiled surfaces, or directly spray the product onto the surface directly and clean with a brush for deeper stains.
Benefits:
Can double as an exterior and garage cleaner as well as an interior cleaner
It comes with an applicator to prevent extra investment into towels and pads.
Gets rid of hard-to-remove food or oil stains that other leather cleaners can't
Drawbacks:
This product can't be used on glass and transparent plastic surfaces. This can create a problem since a bit of overspray could leave marks on your screens.
CHECK PRICE ON AMAZON
3. Leather Cleaner by Leather Honey: The Best Leather Cleaner for Vinyl and Leather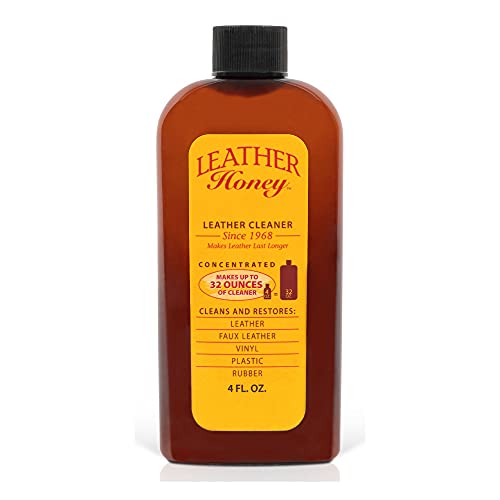 After years of use, if your leather seats are dirty, grimy, and crusty, don't go for the standard auto parts store-issue leather cleaner. Instead, opt for the Leather Cleaner by Leather Honey, said to be flat out of the best cleaners for vinyl leather seats out there.
This cleaner removes contaminants like dirt while still being easy to wipe off.
As an added benefit, if you've got beautiful cream leather seats, this is one of the only cleaners that won't discolor them. In the end, the Leather Cleaner by Leather Honey has proven to be a comprehensive cleaning solution that can leave your vinyl covers looking new!
Benefits:
Is one of the absolute best cleaners for leather seats and upholstery
Doesn't stick to clothing like the majority of leather cleaners
Won't damage the dye of leather seats and vinyl covers
Drawbacks:
Letting the product sit for a while can damage softer varieties of leather and leave stains.
CHECK PRICE ON AMAZON
4. Meguiar's M5716SP Marine/RV Vinyl & Rubber Cleaner & Protectant, 16 oz
The Meguiar's M5716SP Marine/RV Vinyl & Rubber Cleaner deserves your attention as an excellent product that works on boat exteriors while doubling as a leather cleaner and conditioner. It gives a glossy look to your leather seats while also protecting them from further grime.
This leather cleaner stands out because it protects old leather and vinyl seats that would quickly get damaged by other cleaners. This applies to vinyl mainly, where letting the product soak for 10 minutes and wiping it off will produce magical results.
If you're professionally restoring old leather upholstery or just protecting your expensive leather seats, this is the leather cleaner for you.
Benefits:
Provides excellent UV protection for boats if used for conditioning often.
Restores an attractive luster to faded and dry leather
Highly affordable when considering how well it performs
Drawbacks
It leaves a disturbing chemical smell for a few hours that makes the vehicle unsuitable for immediate use.
CHECK PRICE ON AMAZON
5. 3M 09023 Marine Vinyl Cleaner, Conditioner, & Protector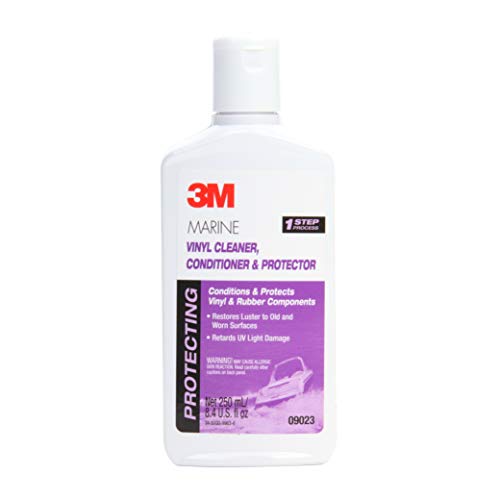 The 3M 09023 Marine Vinyl Cleaner, Conditioner, & Protector is a highly functional leather cleaner designed almost exclusively for boats.
If you're worried about protecting your boat's new seats, though, the 3M 09023 Vinyl Cleaner is the cleaner and protector solution for you. It'll do the job for car interiors, and motorcycle leather, but where it shines is protecting the plush leather seating of boats that suffer UV damage, extreme temperatures, and frequent water stains.
Aside from its usefulness for boats, the 3M Vinyl Cleaner is also great at restoring some shine and luster to old leather, though it's nowhere as good as the Leather Cleaner by Leather Honey.
Benefits:
Fit for use on boat covers, hot tub covers, and vinyl seating on boats.
Designed primarily to endure harsh marine conditions
Easy to apply formula that acts as both cleaner and protectant
Drawbacks:
This gel can sometimes cause stains on waterproof material or even melt the waterproof layering off.
CHECK PRICE ON AMAZON
6. SHINE ARMOR Car Interior Cleaner for Vehicle Detailing & Restoration
The SHINE ARMOR Car Interior Cleaner for Vehicle Detailing & Restoration is a highly rated cleaner solvent that you can use for all interior surfaces like leather, flooring, canvas, cloth, plastic, and of course, vinyl.
Like the Chemical Guys SPI_663 InnerClean cleaning product, the SHINE ARMOR Car Interior Cleaner is also anti-static, and dust repellent, which means a cleaning now will save you hard work down the line.
From our research, we noticed this product was particularly highly rated by professional auto-detailing garages. The reason isn't too hard to guess either: it restores the luster, shine, and fresh smell of your car in a single take!
Benefits:
Comes with the best anti-static properties to prevent dust from sticking to your interiors
Universal application means you can safely use it for all interior surfaces.
Drawbacks:
The only negative of this vinyl cleaner is that the hand pump occasionally misaligns, forcing you to stop and turn it back the way it should be facing.
7. Adam's Microban Interior Detailer – Advanced Car Interior Cleaner, Protectant & Dressing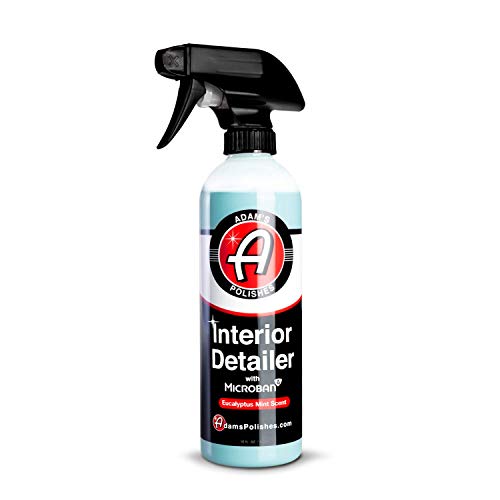 What makes the Adam's Microban Interior Detailer special isn't how well it cleans but rather the fact that Microban has consistently been the best in providing UV protection for your vehicle's interiors.
This cleaner contains all the usual bells and whistles: it protects your car against UV ray damage, includes air fresheners for that new car smell, and is anti-static to prevent dust from sticking to your interiors.
For cars, motorcycles, and boats that have faded to an ugly version of their original, the Adam's Microban Interior Detailer can help restore their original luster and shine and even make your daily drive to pick the kids up enjoyable!
Benefits:
Provides excellent UV protection for your interiors
Leaves a smooth matte finish on black and cream interiors
Is fragrant enough to remove other smells from your vehicle's interior
Drawbacks:
Adam's Microban Interior Detailer isn't a heavy-duty product, which means it won't work for dirt and dust that has been embedded for a long time.
8. 303 Interior Cleaner – All Surface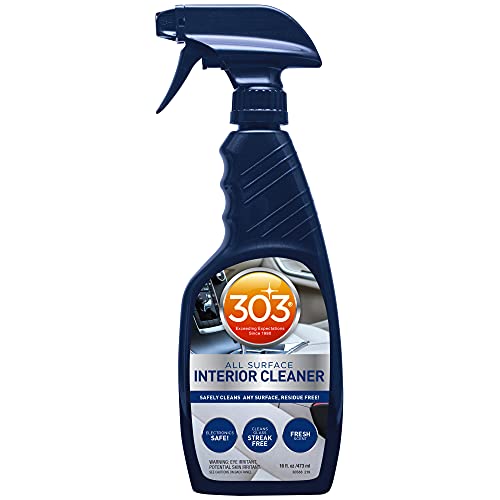 The 303 Interior Cleaner is a cleaner product that can clean touch screens without damaging them in the slightest. It's a cleaner and not a protectant, which means it's optimized to clean dirt, dust, and other contaminants from your surfaces.
A neat little feature that we thought you'd like is that this efficient cleaner product can also double as a cleaner for your house. You can use it to clean anything from laptops and TV screens to glass tables and metal shelves.
Note, though, that 303 is notorious for not correctly packing their products, meaning you might receive yours with a bit of leakage.
Benefits:
Entirely streak-free to make cleaning windows easier.
Cleans LCDs and touchscreens without damaging them
The 303 Interior Cleaner lathers up in seconds and can be sprayed directly onto the surface or applied using a microfiber towel.
Drawbacks:
Like we said, this product isn't a protectant. That means you'll either have to invest in a separate bottle of protectant or clean your car every few weeks.
9. KevianClean Interior Defense Car Vinyl Protectant Dashboard Cleaner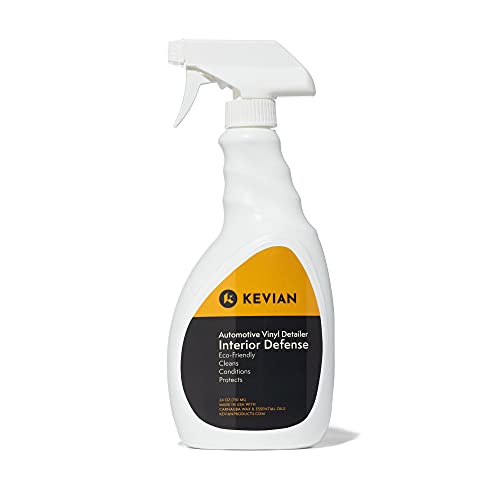 Whether you're looking for a heavy-duty interior cleaner to get rid of dust accumulated over the years or simply a conditioner, cleaner, and protectant that comes in a simple and affordable package, the KevianClean is the cleaner for you.
This highly-rated vinyl protectant cleans your dashboard, vinyl and trim will look its absolute best with this cleaner, and it'll even get rid of that annoying little smell that's been around forever (what is that really? Sweat? Oil? Nobody knows!).
KevianClean Vinyl Protectant is made with eco-friendly products that don't contain harsh chemicals, meaning you can safely use this product for cleaning older cars that have delicate leather and vinyl.
Benefits:
Can be applied on cars, motorcycles, boats, RVs, and even home furniture
It is the best product we checked out for cleaning and protecting matte black interiors.
KevianClean's customer service is open 24/7 and will gladly provide use instructions or even another bottle if the one you received is damaged.
Drawbacks:
We love this vinyl cleaner, but we have to say it's also one of the most expensive we've checked out so far.
10. Armor All Extreme Shield Protectant Spray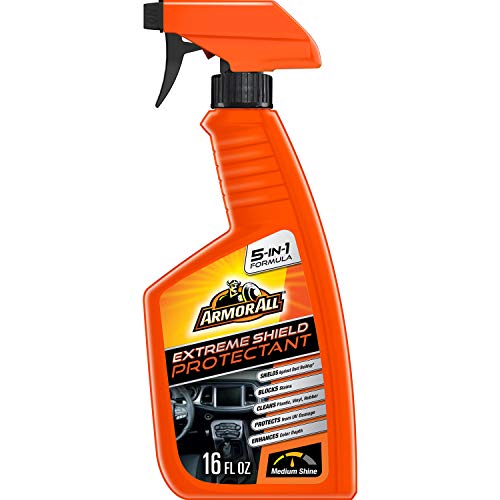 Armor All has been the accepted standard in interior cleaning for years now, and with how well the Armor All Extreme Shield Protectant Spray performs, we're not exactly surprised either.
For one, this nifty little spray is the best for windows: it lubricates the edges, allowing them to slide better when opening or shutting them. Additionally, it's not just your car that can use this product. Feel free to spray it on squeaky doors and vinyl window tracks to eliminate that annoying squeaky noise!
When it does come to your car, it doesn't exactly do a shabby job either. It easily cleans dirt, dust, and minor stains and leaves the surface attractively shiny.
Benefits:
Enhances your car's color by giving it an attractive, factory-fresh sheen
Includes stain blockers that prevent liquid spills and soils
Provides excellent UV protection to shield against fading and discoloration
Drawbacks:
Can create streak marks on glass surfaces which are very, very hard to remove.
How to Choose the Best Car Vinyl Cleaner
Cleaning a car's vinyl surfaces can be challenging, but it doesn't have to be. Here are some tips for choosing the best cleaner:
Ingredients Used in the Cleaner
You will want to check the label on your cleaner and make sure that there are no harsh chemicals or abrasive substances listed.
You don't want anything with ammonia, alcohol, chlorine bleach, hydrofluoric acid (HF), sodium hypochlorite (NaOCl), and trichloroethylene in it! These all may be helpful for certain types of stains, but they can damage the vinyl and dish strip away its protective coating.
Fast Acting
You will want to choose a cleaner that works quickly. Some products can take hours for them to fully clean and dry, which is not ideal if you've got dirt and grime stuck in your car's vinyl.
We need something that cleans up the surface in a flash.
Types of Cleaners
There are three different types of cleaners: liquids, sprays, and wipes. Each has its own benefits.
Liquid Cleaners – these are perfect for vinyl surfaces because they can be used on multiple stains and leave behind a nice shine. They also clean up the quickest out of all three options, which is great! You will need to make sure that your cleaner doesn't contain any harsh chemicals though as mentioned.
Sprays – Sprays are also liquid that come with sprayer attachments. They are great if you want to clean a larger area, but the stains may need multiple rounds of cleaning before they disappear completely!
Wipes – these wipes can be used for smaller surfaces and wipe away dirt quickly with minimal effort on your part. The downside is that sometimes it takes extra time to scrub off stubborn or old marks, which can be a pain.
Versatility
Another important factor to consider is the versatility of your cleaner. For example, if you want something that can be used on several different surfaces like vinyl and leather but also glass and metal, look for a product with these qualities!
You will need to make sure that it doesn't leave behind any residue or streaks though because we don't want anything that will damage our car's surfaces.
Price and Availability
Finally, you may want to consider your budget and how easy it is for you to find the cleaner that you need in stores or online! All of these factors should be considered when choosing a vinyl cleaning product so take some time to decide which one works best for your needs.
Final Verdict
With ten products on the list this time, you'd think we would have difficulty choosing, right? To be honest, though… wrong! While we like all the products we listed, there's a clear winner here:
The Chemical Guys Interior Detailer and Protectant!
This affordable, easy to apply, and easy to wipe off product performs the best for treating leather and vinyl surfaces out of everything we researched and even got rid of dirt and dust without any difficulty.
If you've got the budget to go for it, we recommend trying out a bottle of this almost miraculous interior cleaner.