You love your car and you want it to be clean. You probably also want the interior of your car to smell nice, not like a stale old gym bag.
It's easy for your car to get dirty and smelly because you spend so much time in there! The best way to make sure that doesn't happen is by using a good smelling cleaner on the inside of your vehicle frequently.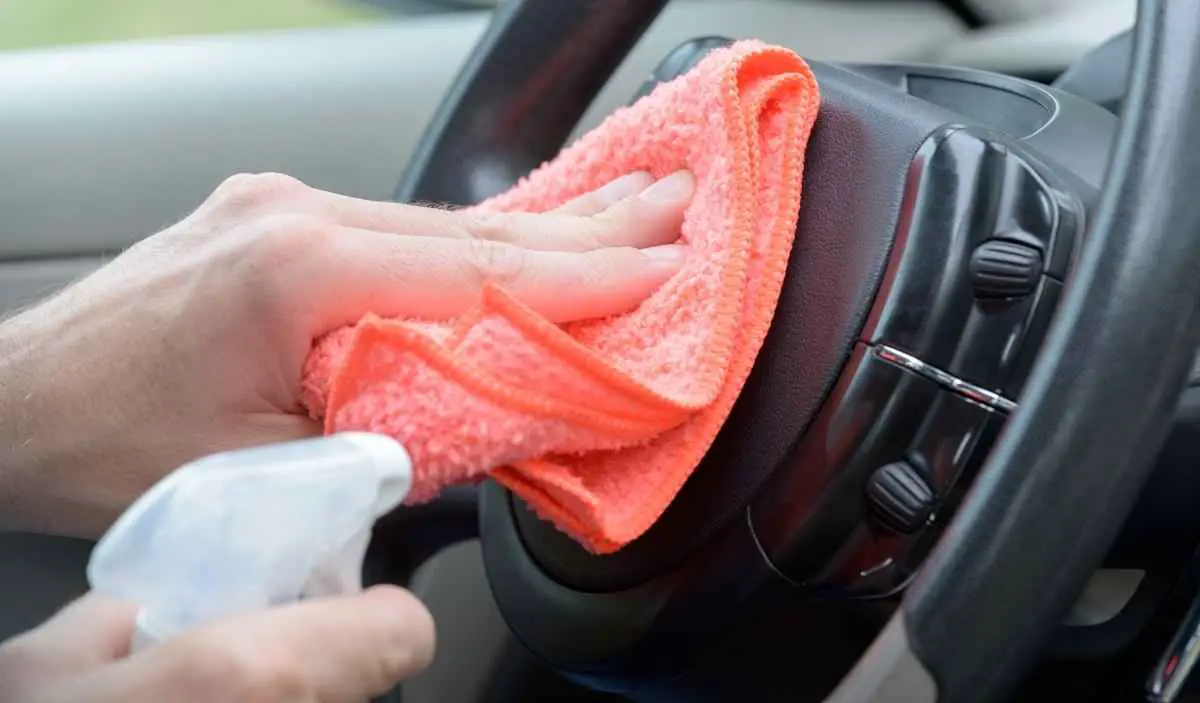 There are many different cleaners out there but we've rounded up 10 of our favorites here for you, with their pros and cons listed below each one. We hope this helps you find what works best for your needs!
Top 10 Best Smelling Car Interior Cleaners:
1. P&S Professional Detail Products – Xpress Interior Cleaner
We first looked at the Xpress Interior Cleaner as a somewhat efficient cleaner that can get the job done. Our expectations evolved with time, though, as our research pointed out that it's almost impossible to beat the Xpress Interior Cleaner!
One of the biggest reasons it's such a hit among casual and professional users worldwide is that even though it's a heavy-duty cleaning product that cleans dirt, grease, insects, oil, and other grime, it has a faint and somewhat pleasant smell.
It can restore an OEM finish to your car if you take the time to clean using this product and a microfiber towel, but it's also equally suitable for a quick wash to get rid of this week's dirt and dust.
Pros:
Great for cleaning all types of surfaces without any risk of damage
Designed for quick, easy application and effortless cleaning
Leaves a matte finish without any streaking
Cons:
We did find one big problem with the Xpress Interior Cleaner: going above a 1:1 dilution ratio makes it more or less flavored water. We really wouldn't advise doing that.
CHECK PRICE ON AMAZON
2. Chemical Guys SPI_663 InnerClean Interior Quick Detailer and Protectant
In recent years, Chemical Guys has climbed up to be one of the most well-liked manufacturers of car cleaning products, and if we're honest, we love their SPI_663 InnerClean Interior Quick Detailer!
Like all of their cleaning products, you can use it on all types of interior surfaces. This includes glass and screens, which is pretty rare for detailers since they're prone to leaving streaks.
From what we're seeing, it gives that nice sheen that you hope your detailer will provide you with and also acts as a protectant that repels dust for a good bit. This means you'll have to put in less effort for the weekly wash (or the monthly one, we don't judge).
We will say that this product isn't meant to be a one-stop solution for your cleaning needs. Use the SPI_663 InnerClean for the final finish, but invest in a leather cleaner for your seats!
Pros:
The finish is completely non-greasy
Manufactured in the US with quality materials
The pineapple scent is a huge hit among both casual users and professional garages.
Cons:
Not designed for heavy cleaning
CHECK PRICE ON AMAZON
3. 3M Leather and Vinyl Restorer
We found this product as a replacement for 3M's previous Refresh cleaner, but from our research, we have to admit that the 3M Leather and Vinyl Restorer looks like one of the best conditioners we've seen yet.
Yes, you heard us right. The product is labeled as a leather restorer, but in reality, it shines as a conditioner and protector rather than a leather cleaner. It'll still get dirt and dust off, but it won't remove the grime of years off your seats.
However, because of its low price and excellent performance, we'd say it's one of the few leather conditioners you should invest in. It'll keep your seats looking new for weeks but won't leave that weird smell that you get with most leather cleaners.
A neat little feature is that it's the best leather conditioner for hot areas where leather and vinyl tend to dry quickly. Just let it soak into your car for a bit to watch the magic happen!
Pros:
Removes the sticky residue of aged vinyl
Doesn't discolor black leather seats
Perfect for professional car restoration projects
Cons:
It will leave your car greasy for an hour or two.
CHECK PRICE ON AMAZON
4. Adam's Microban Interior Detailer – Advanced Car Interior Cleaner
Before we say anything, Adam's Microban Interior Detailer smells amazing. We asked around because we couldn't believe the good reviews this thing has, and apparently, it's a well-known fact: Adam's Polishes makes the best smelling car interior cleaners!
Like any interior cleaner worth the money you pay for it, the Adam's Microban Interior Detailer is entirely anti-static to prevent dust from sticking to your car's interiors.
It also provides moderate UV protection, keeping your leather from cracking in the harsh sun. Not just leather, though; you can use this cleaner on door panels, radios, dashboards, rugs, and even on a fair amount of mats and canvas!
Like the Chemical Guys SPI_663 product, it's for the detailing and final finish to give your interiors a luxurious shine when the cleaning is done.
Pros:
Leaves a great look on interior surfaces cleaned with this product
Faint but pleasant smell that doesn't linger for too long
So far, it's never left streaks on surfaces
Cons:
The one glaring disadvantage of the Adam's Microban Interior Detailer would be the fact that its resulting shine doesn't last more than a couple of days at the most.
CHECK PRICE ON AMAZON
5. Meguiar's G4200 New Car Scent Protectant Wipes
Meguiar's famous G4200 Protectant Wipes haven't been reviewed by a lot of the big names out there, so we thought we'd give them a try, and well, what do you know? We loved it!
For one, these wipes don't have the grease on them that you'd usually associate with interior cleaner wipes, and they get that layer of sticky dust off without relative ease. You'll find your dashboard shining again when you use Meguiar's G4200 Car Protectant Wipes.
They work just as well for cleaning car vinyl and rubber surfaces: take a wipe out, and give your vinyl a firm but easy cleaning to restore its former color.
These wipes have UV protection and Scotchguard Protector that keep your leather and vinyl from cracking or fading.
And honestly? We'd be lying if we said we didn't love the faint new-car smell from these wipes. It's just adorable!
Pros:
Very cheap and can be bought on a whim.
Towelettes let you get to cracks and grooves in leather easily.
Can be used on mirrors without leaving streaks
Cons:
The scent doesn't linger for too long, staying for anywhere from two to four hours before disappearing.
CHECK PRICE ON AMAZON
6. InterDynamics Certified A/C Pro Vent and Duct Cleaner
Finding a product that specializes in removing that weird slight smell from your ducts is rare (one that's any good, anyway). Still, we're happy to provide a highly-recommended product for cleaning your vents: the InterDynamics Certified A/C Pro Vent and Duct Cleaner!
Coming in 10 oz bottles with a spray top, this InterDynamics product is best described as an odor neutralizer. We like the big words, but in essence, what it does is make sure you don't regret entering your car by giving it a fresh, new smell.
In practical terms, though, we'd say you should have a can of this aerosol spray tucked away into the back of your garage. Rodents, insects, and other pests can leave horrible smells in your car, and this spray can get rid of them in just a few seconds.
Pros:
Easy to spray directly into your car's duct system
Mixes nicely with the fresh smells of new or little-used cars
Long-lasting odor neutralizer that lasts for well over a week
Cons:
We did have some reservations about the new rise in price InterDynamics introduced. It's good, but is it that good?
7. Chemical Guys CWS20316 Foaming Citrus Fabric Clean Carpet & Upholstery Cleaner
Both of them are Chemical Guys products, but there's a world of difference between the SPI_663 InnerClean and the CWS20316 Carpet & Upholstery Cleaner. They come highly recommended, but the CWS20316 Cleaner is the better choice for cleaning fabrics.
Instead of whipping out your vinegar and hand brush for that stubborn coffee stain on your beautiful grey seats, allow yourself the pleasure of using this spout-type spray. It uses a premium-grade foaming formula for cleaning and does an excellent job of making sure your fabric looks as good as new.
There's a neat little bonus here, too: this spray comes with an odor remover built-in. It doesn't add a fresh smell but instead removes annoying odors so you can drive in peace again.
Pros:
Very potent and can be diluted to spread out product usage
Removes stains embedded in the fabric for a long time
Foamy lather helps you clean fabrics without needing too much effort
Cons:
The Chemical Guys CWS20316 Cleaner isn't very good at cleaning oily stains. You'll still be able to get them off, but you'll need a microfiber towelette and a lot of elbow grease.
8. Armor All Air Freshening Protectant Spray
We've heard of Armor All. You've heard of Armor All. Anybody who has ever put a microfiber towel to a car has heard of Armor All. It should hardly be a surprise that they have an Air Freshening Protectant Spray, right?
The performance of this spray was surprising, though. You might have heard your local detailer talking about Armor All falling behind other brands, but this spray comes recommended as one of the best performing Air Freshening Sprays we've seen so far.
Like Adam's Microban Interior Detailer, this spray comes with extensive UV protection to protect your leather and vinyl. That's not where it stops, though.
It also comes with anti-static protective properties that keep dirt, dust, and grime from collecting on your interiors. A quick wipe with this spray and a towelette can keep your car looking (and smelling!) new for at least half a week.
It'll even get rid of that stinky wet-dog stink!
Pros:
Eliminates residual food, pet, and sports equipment odors
Doesn't give surfaces a fake shiny finish but a natural matte one
The scent lasts for a long time.
Cons:
The Cool Mist scent smells fresh but not very natural.
9. Turtle Wax T-246R1 Power Out! Upholstery Cleaner Odor Eliminator
The Turtle Wax T-246R1 Power Out Upholstery Cleaner isn't built for heavy-duty use but rather for convenience. The best thing about this spray is that you can apply it and wipe a stain off in a matter of a few minutes!
People had trouble figuring out how to use it, so we'll give you a little tutorial: apply the spray and let the foam sit for a moment. Scrub the place with a brush or towel, and we guarantee this fantastic spray will get rid of the most pervasive smells.
We checked positive and negative feedback, and everybody said the same thing: whether it was an ink, juice, or grease stain, this spray got it off without any trouble.
It does come with a slightly larger than usual spray nozzle, though, so this might not be your thing if you often need to clean small, minuscule spots or stains.
Pros:
Cheap, effective product that performs quickly
Can be used to clean household fabrics and carpets too
Significantly above-average stain-fighting power
Cons:
The cap design of the Turtle Wax T-246R1 Power Out is horrible and can get spray on your fingers.
10. SHINE ARMOR Car Interior Cleaner
Shine doesn't just make good interior cleaners. The SHINE ARMOR Car Interior Cleaner is possibly one of the most comprehensive cleaners we've seen, which is why we're topping this list off with this easy-to-use, affordable, and efficient cleaner.
To begin with, we found out the Shine Armor Interior Cleaner has the best anti-static properties we've seen yet. Our research showed that dust stayed off for weeks after a single application of this spray!
It has UV protection, though we will say it's not as comprehensive as we were expecting. Above all, though, this spray is a very efficient cleaner and the product we recommend for buffing dashboards, doors, handles, cup holders, and other interiors.
Like the Turtle Wax T-246R1 Power Out, this spray also performs well at removing stains that have had a long time to set in. It also leaves a cute, fresh smell as a bonus.
Pros:
Usable on all types of interior surfaces except glass
It leaves a subtle but non-intrusive shine on your surfaces
It prevents dirt and lint from sticking to your seats and interior surfaces
Cons:
It will, however, leave horrible streaks on glass, so be careful.
Final Verdict
Honestly? We don't even have to think about it this time: the win goes to the Turtle Wax T-246R1 Power Out! Upholstery Cleaner Odor Eliminator!
Out of all the Interior Cleaner products we checked out, this spray stood out the most for its performance. On top of that, it's available at very affordable prices, which only increases how much value it'll give you for your money.
We will give you a final tip if you decide to purchase it, though: be careful when operating the cap, as you can quickly get the product on your fingers. Maybe wear a pair of gloves?
Best Smelling Car Interior Cleaner Buying Guide
Effectiveness – How well the cleaner works, for instance being able to remove tough stains from seats or fabric.
Smell – How pleasant the scent is, whether it's a strong chemical odor or something more natural. How effective it is in eliminating bad odor and creating fresh scent inside the car.
Fast-acting – Whether it can begin work immediately and clean a few areas at a time, or if it will need a few hours to fully dry before being used again.
All-purpose – Whether the cleaner can be used to clean more than just car interiors. Some are material specific which makes it hard for car owners keep track of. So, get one that can effectively clean interior plastic, leather, metal, etc.
Reasonably priced – How much value it will bring for comparing prices of other cleaners on the market. Price may also be an indicator of how effective or safe a product is, so it's worth doing some research on companies.
How to Keep the Car Interior Smelling Fresh?
The smell of your car is mostly caused by dirt, food, or drinks that are spilled on the seats or carpets of your car interior over time. If you want to keep your car clean, you need to clean it regularly and vacuum clean the carpets in your car once a week.
Plus, keep the food and drinks out of the car as much as you can and open the windows for good ventilation. Keeping the windows shut always will make the interior feel unhealthy. Plus, you can use car air fresheners as well to get rid of bad smells and make the interior smell fresh.
How should I start the cleaning process for my car's interior?
The first step is to remove all the items from the inside of your car. After that, use a vacuum cleaner to clean up any dirt or dust. Finally, wipe down the surfaces with a microfiber cloth soaked with interior cleaner.
How can I preserve the leather interior of my car after cleaning?
It's important to keep in mind that when it comes to cleaning leather upholstery, you should only use products designed with the type of material in mind. Products specifically designed for hard surfaces and fabrics can cause damage and deterioration to leather if care is not taken.
Plus, use a conditioner after cleaning the leather to protect it from fading or getting damaged.
If your car frequently has food or drinks spilled on its interior then you may want to invest in a better quality product and clean more frequently to preserve the leather interior.