Harley Davidson motorcycles are some of the most popular bikes on the road today. They have a reputation for being loud and powerful, which is exactly what many people want!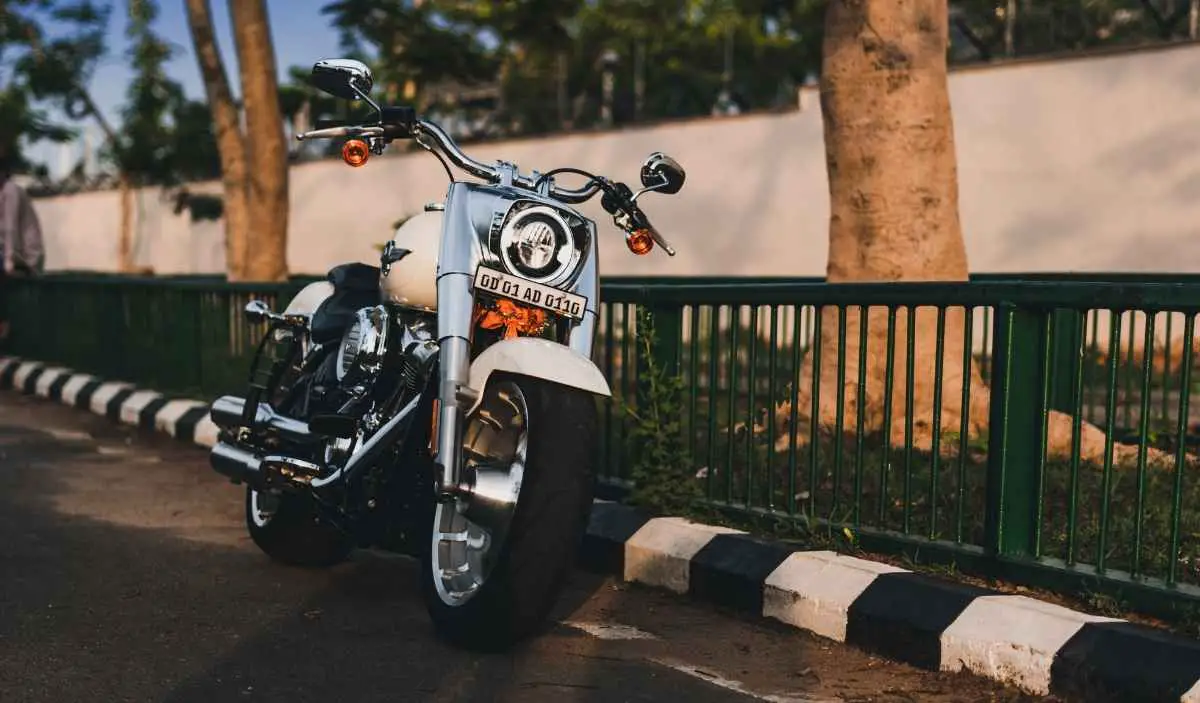 The only problem with Harley's nowadays is that they don't come with an intuitive exhaust system installed as they used to a few years ago.
There are tons of different exhaust systems available on the market, but not all of them will make your bike sound like it should.
If you're looking to get your motorcycle sounding its best, read this post to find out our top exhaust picks for your Harley Fatboy.
Top 5 Harley Fatboy Exhaust Reviews:
1. Vance & Hines Black Twin Slash 3-Inch Slip-ons
If you're tired of your new Harley Fat Boy sounding more like a sewing machine (and one of the smaller, pink ones too!), the Vance & Hines Black Twin Slash 3-Inch Slip-ons should be what you turn to for that authentic, guttural Harley sound.
These slip-ons are extremely easy to install even with a basic set of tools for a beginner, and unlike a lot of products, today comes with all the hardware you need to install them onto your Harley.
The Vance & Hines Black Twin Slash 3-Inch Slip-ons will add to the looks of your Street Bob, Lowrider S, or Fat Boy, but as we said, you'll see the most significant improvement in the sound. It won't blow your ears out, but the competition baffles included with these slip-ons give your Harley that signature Hog sound we all crave.
These mufflers will easily fit a wide variety of Harleys and not just Fat Boys. You can install these with a basic toolkit on Soft Tails, Lowriders, Fat Boys, and Breakouts.
We will warn you, however, not to go tightening up everything. Follow the instructions to the letter for the perfect fit, or these slip-ons can angle themselves a bit funnily.
Pros:
Gives your Harley a deep, guttural exhaust
It comes with high-quality competition baffles.
Extremely easy to install
Cons:
You'll lose some low-end torque with these slip-ons.
CHECK PRICE ON AMAZON
2. Vance & Hines Black Eliminator 300 Slip-ons
The Vance & Hines Black Eliminator 300 Slip-ons are another excellent choice for people who want to upgrade their Fat Boy from its default quiet hum to a nice, deep purr.
While not causing quite the uproar that the V&H Black Twin Slash 3-Inch Slip-ons did, the Eliminator 300 slip-on series is a much better choice for people living in sensitive neighborhoods. These slip-ons remain quiet when idle and only produce the loud Hog sound if you hit the throttle hard.
They also come with optional quiet inserts. From what we saw, though, most people skipped these and used the slip-ons as-is since their sound isn't too obnoxiously loud.
When taking these out of the box, though, the first thing you'll notice is that they're a much tighter fit than most V&H slip-ons. From what we're seeing, 2020 FXBB models will need an expander to make them fit, though if you ask us, we'd say it's worth it.
What makes these slip-ons such a great choice is that they're more geared towards convenience than the Twin Slash 3-Inch Slip-ons. You can install these without quiet baffles, and they still won't be intrusive enough to cause noise complaints!
Pros:
Loud but not too loud
Suitably quiet when idling
Made with precision-machined Billet End Caps
Cons:
A bigger price tag that's not worth it for relaxed neighborhoods where a little sound is okay.
CHECK PRICE ON AMAZON
3. Vance & Hines Chrome Twin Slash 3-Inch Slip-ons
If the earlier Black Twin Slash 3-Inch weren't exactly your style, we guarantee you'll come to love the Vance & Hines Chrome Twin Slash 3-Inch Slip-ons. We looked up everything we could think of for these, and so far, they've proven to be our favorite!
For one, you don't have to use a tuner when first installing these slip-ons on your Harley. As long as you're installing them on 2018-onwards Lowriders, Soft Tails, Fat Boys, and some other models, they'll slip right on. This is a very valuable benefit because Harley voids your warranty if you use any tuner not made by them.
You can slip these on over the stock manifolds for an easy and quick installation.
Our research says you might have trouble installing these on Soft Tails specifically, which are notorious for having tricky top bolts on their pipes. Keep a ¼" wrench and T30 bit handy if you're trying to get the factory mufflers off your Soft Tail.
While we're talking about bolts, be warned that while the instructions for the bolt placement might seem wrong, they're actually correct. Like other V&H, we recommend following the manual to a T.
Pros:
Cheap and affordable mufflers
Baffles are quiet enough for residential neighborhoods
Chrome finish is excellent for Soft Tails and Fat Boys
Cons:
We did notice that these can get a little loud when they're left idle.
CHECK PRICE ON AMAZON
4. Cobra 3 Inch Slip-On Chrome Mufflers
The first product on this list not manufactured by Vance and Himes, the Cobra 3 Inch Slip-On Chrome Mufflers, are an economical, affordable choice in mufflers. You'll find premium-grade billet aluminum tips on these mufflers, which usually come at an additional fee.
And that's not the only way these mufflers compete with the more popular V&H mufflers: you can rotate them to a slash-down or slash-up look as you want, and they even come with an OEM-style balance tube to improve the performance of your Harley Fat Boy.
The quality of the chrome slip-ons also came as a pleasant surprise to us. We've always seen good things from Cobra, but these mufflers are incredibly durable and can be bent a little to get them to fit onto your pipes.
Like the other products here, there are two distinct baffles available for these tubes, with both featuring a constant velocity design.
We'd say the standard baffle is exceptionally high-quality, as the baffle slips are made using a high-density bonded e-glass sleeve with a mesh wrap of stainless steel. Both give the baffle a sound quality to give V&H a run for its money while also keeping noise levels relatively low.
Pros:
Mufflers can be repacked to fine-tune the sound
Indexed and radially slashed billet tips for adaptable positioning
Sleek and shiny chrome for that high-quality look
Cons:
We wouldn't recommend these for Soft Tails and Breakout models as you'll have trouble installing them.
CHECK PRICE ON AMAZON
5. Vance & Hines Big Shots Staggered Exhaust Chrome 17911
Classy. Elegant. Expensive, but very worth its price. That's what we'd use to describe the Vance & Hines Big Shots Staggered Exhaust Chrome 17911, one of V&H's premium-grade headpipes for those with a significantly larger budget.
If you've worked with exhausts before, you've got to know that Vance and Hines aren't the best at chrome. These majestic exhausts don't only dispute that, but straight up blow it out of the water with a beautiful chrome finish that can upgrade any Fat Boy's aesthetic.
The Big Shots Staggered Exhaust head pipes come with the Power Chamber design, a stunning crossover system that pushes your horsepower and torque to the max. Like most high-grade exhausts, the billet and caps are precision machined with an attractive finish.
To make sure you're satisfied with your purchase, Vance and Hines also includes all the mounting hardware you'll need in the package. You won't need to go out for any special tools, and it takes no more than an hour to get these exhausts installed on your Harley.
Like most V&H products, the Big Shots Staggered Exhaust head pipes are made in the US, which means you won't have to deal with weak, dodgy pipes that will break at the first impact.
Pros:
Extremely high-quality, durable headpipes
Superior fit and unmatched chrome finish
Provides noticeable increases in horsepower and torque
Cons:
They're good, but these exhausts are also very, very expensive.
CHECK PRICE ON AMAZON
How to Choose the Best Exhaust For Harley Fatboy
Modern exhaust systems are no longer tubes of metal to channel exhaust. Instead, they have evolved and been engineered to perfection, letting people fine-tune their sound, increasing the outflow, and reducing obstruction for better performance.
Why Not Stock?
You might be thinking, why not use stock mufflers and exhaust systems? We certainly took a moment to consider this, and the answer is that Harley's stock exhausts are no longer the throaty rumbles of the early 2000s. After facing backlash in the US over the noise levels of their bikes, Harley Davidson changed their stock exhaust, and the result was… underwhelming, to say the least.
If you want your bike to sound like a "real" Harley, we'd recommend turning to an aftermarket muffler or exhaust system, like most Harley owners worldwide now.
More Options Than Ever
Even with the state of Harley exhausts, it's a fantastic time to own a Harley because right now, there are more aftermarket options than ever before. Some of the best aftermarket Harley exhaust options you'll find are:
Slip-Ons are the most popular type due to their ease of installation and surprisingly good performance. These are popular among both experienced riders and new owners since you can have a set of slip-ons installed on your stock pipes in just a few minutes.
2-Into-1s are a little more complicated because here, you're also replacing the head pipes. It's an aesthetic decision as much as it is a functional one since the signature single, larger muffler used in 2-Into-1s looks beautiful if done right.
2-Into-2s are almost entirely the same as the stock exhausts on more Harleys, which means… they're not really that great a choice.
Making the Choice
The first thing we'll say is that it's you choosing the exhaust for your bike. Don't get caught up in recommendations and the opinions of others, but make a choice based on what you think you need. Still, you'll find that there are a couple of things that you can use to judge exhausts and mufflers for HD bikes, like:
Budget
It would be nice not to worry about money, but we're afraid that's a luxury most of us don't have. Before you start looking for exhaust pipes, take some time to decide how much you can spend on one.
Legal Considerations
If you're a resident of California, we have some bad news for you. California and some other states have very strict noise laws, and if you don't have quiet baffles installed, you're looking at heavy fines, regular tickets, and even court summons!
Looks
Some exhausts look impressive but perform horribly, and some exhausts look like garbage but directly upgrade your bike's performance. The trick is to find one somewhere in the middle that provides tremendous exhaust outflow while improving your bike's aesthetic.
Sound!
The most important thing when looking for HD mufflers or exhausts will always be their sound. Look up the models online, call up people you know who own one, or even ask for demonstrations at auto shops, but make sure you listen to their sound before ordering a pair of pipes!
Final Verdict
This time, we had two clear choices: did we want a cheap, well-performing product that was okay for its price, or were we going to focus on a somewhat expensive but extremely high-quality pair of mufflers? We thought about what the average Joe would want, and we asked ourselves: which product kept the price low but was definitely worth the upgrade from stock mufflers?
The answer is the Vance & Hines Black Twin Slash 3-Inch Slip-ons, which we thought was the best of both worlds. It's a significantly lower price than actual exhausts and offers a deep, throaty sound that fans of the original Hog sound will love. They're also fairly durable, though their screws can get a little rusty after a couple of months.