A foam gun is a great way to make applying soap and water easier. They are inexpensive, easy to use, and will save you time in the long run.
However, there are tons of different types of foam guns on the market that all offer something slightly different than the last one- so how do you know which one is best for your needs?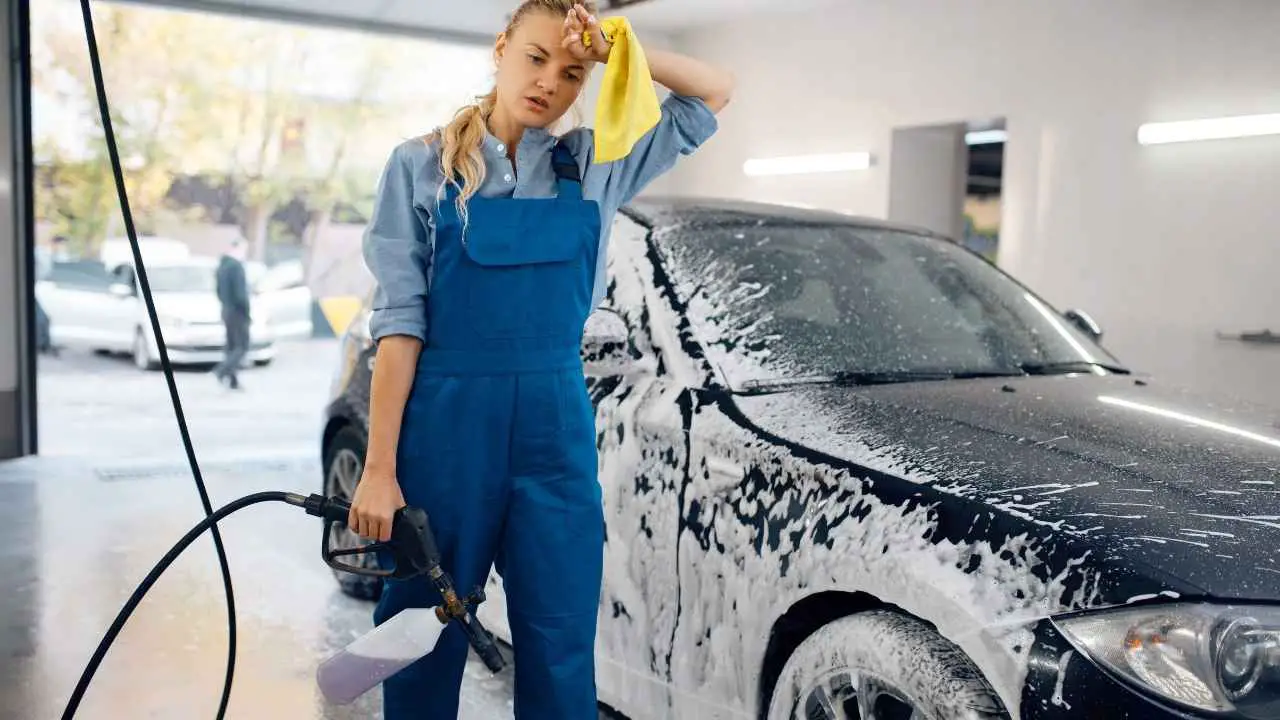 This article will cover everything from the best foam sprayer without a pressure washer to what to look for when buying a new one! Keep reading!
Top 7 Best Foam Guns without Pressure Washer:
1. Foam King Deluxe Car Wash Sprayer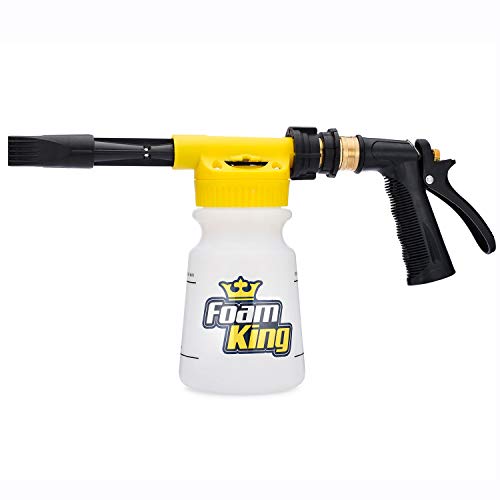 Our first recommendation, The Foam King foam gun, isn't for professionally cleaning siding, but rather for the average person who just wants to clean his car without buying an expensive pressure washer.
With good water flow, this foam gun will provide a few hundred PSI pressure, with the stream reaching approximately about afoot.
True to its promise of convenience, the Foam King is a complete low-pressure washer kit. You need only a garden or car wash hose for this washer to work, and from what we're seeing, it doesn't fall off in performance either.
When taking the top off, you'll notice there are lines inside the bottle. These lines mark the exact quantity of detergent and water to mix in the bottle, meaning you don't have to keep guessing the right amounts (and getting the overly-foamy mess we're all so used to!).
What made this one of the best products we've seen is that the connection points are all made of solid brass fittings.
There's some plastic around the sprayer part and the handle, but the high-quality brass connection points mean it won't be breaking into two anytime soon.
Pros:
A thick rubber seal protects from leakage.
Quick and easy connection with standard garden hose connections
High-quality brass fittings ensure durability
Cons:
As for cons, we only had one complaint about the Foam King: while the connections are surprisingly durable, the foam bottle itself is manufactured from really flimsy plastic.
CHECK PRICE ON AMAZON
2. Chemical Guys ACC_326 – Torq Foam Blaster 6 Foam Wash Gun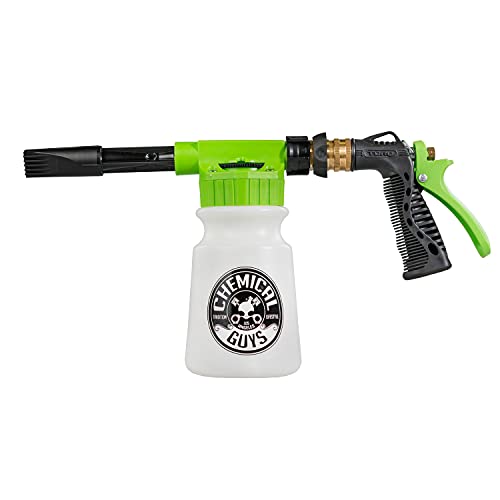 The Chemical Guys ACC_326 has to feature high on any list of foam guns for several reasons: the product connects easily and quickly to any garden hose out there. It turns a simple car wash into a foamy bath guaranteed to get the grime off your car in minutes.
The first thing we'll mention about the Chemical Guys ACC_326 foam gun is its adjustable foam concentration, which was just… amazing. You can adjust the spray's dilution ratio with the dial on the back and use whichever one you need at the moment.
It's a very easy-to-use product that links up right to your garden hose, and in most cases, you won't need to use a quick-connect. We will say that it pays to attach the bottle to the pistol handle though securely, or it has a chance of flying off and hitting your car.
Also, this one might just be us, but we also really loved how quiet this foam gun is. Pressure washers make enough noise to blow your eyes out, whereas this quick foam gun barely made any sound and even made washing the car quiet and enjoyable.
Pros:
Adjustable spray dilution ratio to save soap and water
Produces a lot of foam for thorough cleaning
Quiet performance makes washing your car less annoying.
Cons:
If you're not careful, higher settings on the dial can finish up your soap fast.
CHECK PRICE ON AMAZON
3. Torq EQP323 Snow Foam Blaster R1 Foam Gun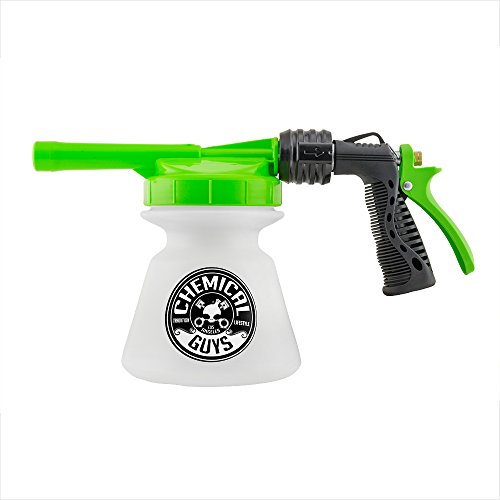 The Torq EQP323 Snow Foam Blaster R1 Foam Gun is another product from Chemical Guys, and while it does provide performance to give the ACC_326 a run for its money, it's also sold at just a fraction of the cost!
From what we researched about it, the Torq EQP323 Snow Foam Blaster R1 Foam Gun is a must-have for detailers and surface cleaners. Just like the ACC_326, you'll see a staggering amount of foam without having to use an expensive pressure washer.
It comes with a quick-connect to enable easy connections with most standard garden hoses. We did see some reports of defective quick-connects being supplied, but Chemical Guys provided replacements within about a week of being notified.
Moreover, you'll be glad for the medium size 32 oz canister that comes with this foam blaster since it's enough to hold water and car shampoo for a thorough wash and then some.
The Torq EQP323 comes with an in-line mesh screen that acts as a filter and captures abrasive particles and contaminants, preventing the annoying tiny scratches that happen all the time with foam blasters.
Pros:
In-line mesh screen captures abrasive materials
Reduces scrubbing needed for a thorough cleaning with thick, frothy foam
The package includes three pressure washer tips for different water pressures.
Cons:
The Torq EQP323 tends to eat up your soap quickly, so you might need a refill when washing an RV or large truck.
CHECK PRICE ON AMAZON
4. TOUCAN AUTO EZ FOAMER Car Wash Kit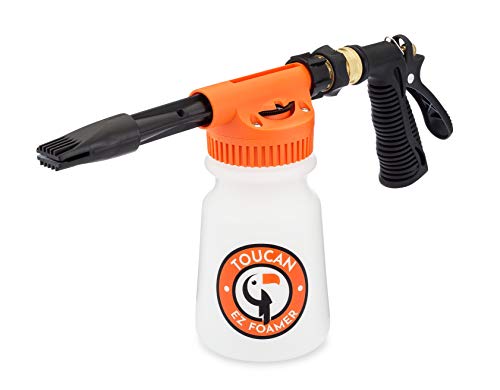 The TOUCAN AUTO EZ FOAMER Car Wash Kit comes in 4th place, but this foam washer ranks as one of the best foam washers we've seen. Not only is the plastic durable and sturdy, but it also saves on the amount of soap you need to use for a single wash!
Its durability is the first thing we noticed when researching this foam washer. The bottle itself is made of plastic, but unlike other foam washers, is highly crack-proof for easy use without any risk of spillage.
Like The Foam King foam gun, this foam washer comes with solid rubber seals and durable brass fittings. It can handle higher water pressures than the Chemical Guys foam washers without any wear and tear.
What sealed the deal is that the TOUCAN AUTO EZ FOAMER comes with an extra nozzle fitting to transform your foam washer into a sprayer with a wide variety of gardening applications, like watering trees and fertilizing your garden.
In the spirit of full disclosure, we'd be lying if we didn't say that its price also appealed to us. This foam washer is cheaper than both the Foam King and the Chemical guys washers and yet performs just as well!
Pros:
The adjustable mixer allows you to adjust the soap used in the spray.
Textured rubber handle for improved grip
It comes with a gardening hose attachment for versatility.
Cons:
The directions included with the TOUCAN AUTO EZ FOAMER are tough to figure out.
CHECK PRICE ON AMAZON
5. Adam's Standard Foam Gun – Car Wash & Car Cleaning Auto Detailing Tool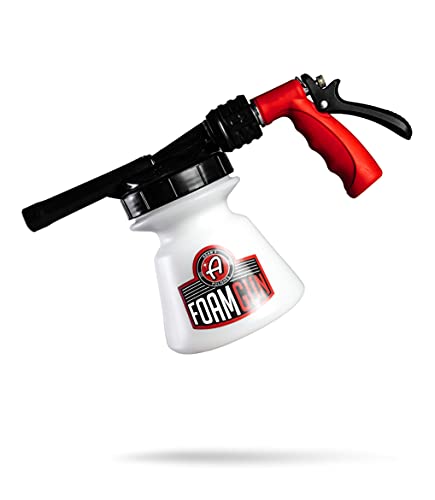 Right below the TOUCAN AUTO EZ FOAMER Car Wash Kit is the Adam's Standard Foam Gun, a tool that is recommended by both professional car-washes and casual users.
If you don't feel like using your power washer (and we can't blame you, they're very inconvenient to use), this foam washer might be your next best choice.
Compared to the Foam King foam gun, it has a lower pressure spray but makes up for it by covering your car in a layer of thick, bubbly foam, depending on your insert.
Did we mention the inserts yet? The Adam's Standard Foam Gun comes with three different inserts to adjust the level of your foam, ranging from a light, dry foam to a thick, wet foam.
Psst, here's a free tip for you guys: our research says the ideal method is starting with the Yellow tip and switching to the green or blue insert as needed. We don't recommend using the gun without a metering tip, though, or you'll use up all your soap in an instant.
Pros:
Affordable product that provides good value for your money
It comes with metering tips to customize your foam type.
Easy to put together with quick-connect and quick-disconnect features
Cons:
While it's a phenomenal foam washer, we noticed that the Adam's Standard Foam Gun doesn't have a consistent foam flow. You'll need to go over the car several times for a good, even coat.
CHECK PRICE ON AMAZON
6. McKillans Improved Design Garden Hose Foam Gun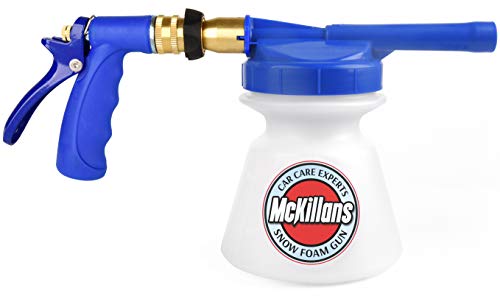 It's a little more expensive than a couple of the last foam washers we listed, but the McKillans Garden Hose Foam Gun is an excellent choice for the weekend warrior trying to get that just-washed shine on his car.
It produces a thick, sudsy foam at moderate pressures, allowing you to clean your car without getting scratches on its delicate paint. Don't let that fool you, though: the spray is still more than enough to shake the caked-on dirt loose, so you don't have to keep scrubbing for hours!
Unlike other foam washers in its price range, the McKillans Garden Hose Foam Gun comes with fittings made of solid brass and stainless steel for added durability. You can keep using it for hours without having to worry about wear and tear on the foam gun.
A neat little feature of this product is that the bottle, while made of solid plastic, is also wholly translucent, letting you see the soap and water levels inside. It sounds minor, but it's a big help when trying to decide if you need that extra refill.
It also comes with an excellent rubber grip that we thought was awesome for sweaty palms.
Pros:
It offers a 125 PSI foam spray.
A translucent bottle allows you to see soap levels.
High-quality brass and stainless steel fittings for durability
Cons:
We'd caution against fully filling up the bottle with soap and water because it can get too heavy to hold with one hand.
CHECK PRICE ON AMAZON
7. Sooprinse Car Foam Gun Foam Cannon Blaster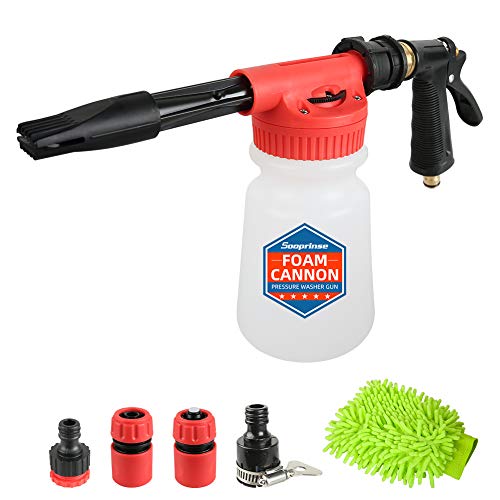 It's listed at last place, but the Sooprinse Car Foam Gun Foam Cannon is equally deserving of your attention. We'd say this is a product aimed toward casual users, and with its combination of affordability and moderate performance, it's a good choice as well!
The first thing we'll say is that the name is a little misleading. It doesn't foam anywhere near enough to be a foam cannon but instead provides a light, wet foam at low PSI that can shake loose most dirt and grime as long as you don't give it too long to set in.
Besides that, it's a high-quality product sold at an astonishingly low price as far as we see.
Both ends of the foam gun use durable copper fittings like the McKillans Garden Hose Foam Gun, letting you use the product for a while before you start seeing signs of wear and tear on the connections.
Its low PSI doesn't necessarily have to be a drawback, though. The Sooprinse Car Foam Gun Foam Cannon is perfect for delicate tasks like washing windows and watering plants!
Pros:
Ideal for both casual and professional use
Fits faucets and garden hoses with all-purpose connections
Can cover larger trucks in one go
Cons:
While the fittings are durable copper, we're pretty sure that the ABS plastic used for the canister and handle is of inferior quality.
CHECK PRICE ON AMAZON
How to Choose the Best Foam Gun without Pressure Washer
When choosing a foam gun for your needs, you want to make sure that it has all of the features and benefits that you're looking for.
To choose the best foam sprayer without a pressure washer, consider these things:
Safety Features
The last thing you want is to be spraying cleaning chemicals and foam cannon soap everywhere, so make sure that the gun has a lock on it. Then, if anyone gets into trouble or slips up somehow during use- there's no chance of injury.
Foam Pattern Adjustment
Some foam guns can spray just one specific pattern (which may be fine for you), but others allow the user to adjust the pattern. This is a great feature and will come in handy if someone needs to clean something specific without making too much of a mess.
Wand Adjustments
Many foam guns have adjustable wands so that they can be used on any sized tank or reservoir- which means that you'll be able to use them for long without refilling the bottle several times in a washing process.
Build Quality
The build quality of your new foam gun is very important, so take the time to look at all aspects of it. Some brands offer great warranties and replacements for damaged parts, but others may not be as good about that sort of thing- so make sure you're getting something solid before buying!
Versatility
Some foam sprayers only work on cars and trucks, but others can be used all around the home for a variety of different cleaning tasks. Look into what it is that you want to use your new foam gun for before buying one- because this will help with finding just the right product!
Versatility is a great thing to have as it will save you money and give you a lot of options.
Pressure and Precision
Different foam guns can spray at different pressures and in a variety of patterns. If you're looking for something that is going to be gentle on your car or truck, then consider getting one with low-pressure settings- but if you just want the best soap gun without any bells and whistles (or need more power), look into high-pressure foam guns.
Price
Last but not least, you'll want to look at the price. The more bells and whistles that are included in a foam gun, the higher the price will be- so make sure it has all of your must-haves before buying!
Final Verdict
A winner? You guys want a winner? It isn't even the usual pick-one-out-of-a-hat this time since there's a product that provides the best combination of efficient performance and affordability:
The Chemical Guys ACC_326 – Torq Foam Blaster 6 Foam Wash Gun!
Trust us on this one. We spent hours checking up on various articles and reviews about this Chemical Guys foam washer. While it didn't make for exciting reading, it got glowing reviews from thousands of users all over the globe.
It's also sold for an amazingly low price, so you don't have to break the bank to get a clean shine on your car. Don't believe us? Try it out to see how thick this washer's sudsy foam is (and how fast your soap disappears)!