Kenwood is a name that's been associated with quality electronics for over seventy years. Whether you need an in-dash car stereo or something to help power your home theater, Kenwood can deliver the best.
They've got everything from CD players and digital media receivers to Bluetooth speakers and amplifiers, all of which are designed with cutting-edge technology and innovative features.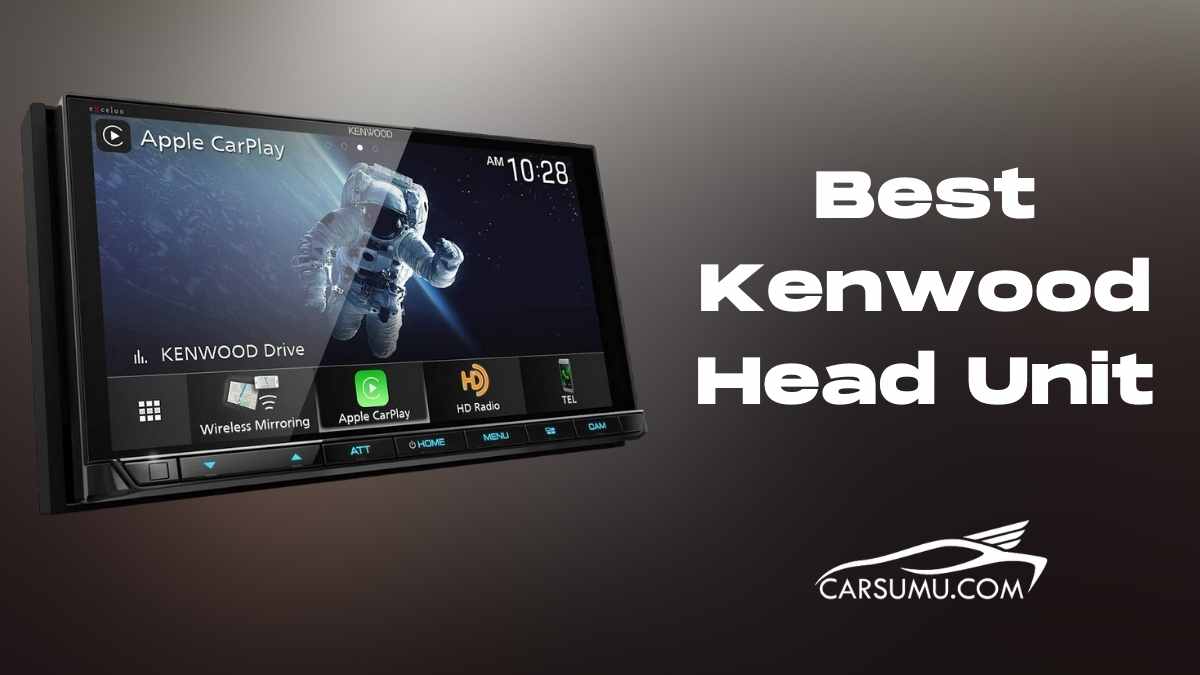 For people who want their head units to last as long as possible without breaking down, Kenwood has never let them down. If you're looking for the best in car audio system, look no further than this respected brand name. You won't be sorry!
8 Best Kenwood Car Stereos – Quick Summary:
In a hurry? We got you covered! Have a look at the gist of the reviews here-
1. Best All-Rounder 1-DIN: Kenwood Excelon KMM-X704 Digital Media Receiver
If you're looking for lossless audio, Bluetooth connectivity, and great sound at low prices, check out the Kenwood Excelon KMM-X704 Digital Media Receiver.
2. Easiest to Install: Kenwood KDC-BT278U Single DIN CD Car Stereo
It's a little lacking in audio sources with no radio, but the Kenwood KDC-BT278U CD Car StereoKenwood KDC-BT278U CD Car Stereo's best feature is it's easy installation process.
3. For Best Visuals: Kenwood DPX504BT Double DIN in-Dash CD Receiver
It comes with all the usual Kenwood bells and whistles, but what makes the Kenwood DPX504BT absolutely great is 24 different LED color options.
4. Best Sound Quality: Kenwood KMM-BT328 Digital Media Car Stereo
The unit provides impressive sound quality without costing much. It will provide deep bass and crisp notes when you play a soundtrack.
5. Best for Video Content: Kenwood DMX125 / DMX125BT / DMX125BT 6.8 Digital Multimedia Receiver
The Kenwood DMX125 Digital Multimedia Receiver is one of the only cheaper Kenwood stereos to feature Android USB mirroring.
6. Best Mid-Range: Kenwood DDX376BT 6.2″ in-Dash Car DVD Monitor Bluetooth Receiver w/USB/AUX
The Kenwood DDX376BT provides all the features of more expensive models at just half the price. Sadly, you're giving up USB connectivity for your Android.
7. Best Upscale Stereo: Kenwood Excelon DMX706S 6.95″ WVGA Touchscreen Digital Multimedia Receiver
The upscale Kenwood Excelon DMX706S comes with nothing but the best, like a 6.95-inch display, amazing audio quality, and support for both CarPlay and Android Auto.
8. Best Stereo for Smaller Dashboards: Kenwood KDC-BT34 CD/BT Audio Receiver
It has lots of good points, but the best thing about the Kenwood KDC-BT34 CD/BT is that it'll fit any dashboard you want it to!
Top 3 Kenwood Head Units Compared
8 Best Kenwood Car Stereos:
1. Kenwood Excelon KMM-X704 Digital Media Receiver with Bluetooth & HD Radio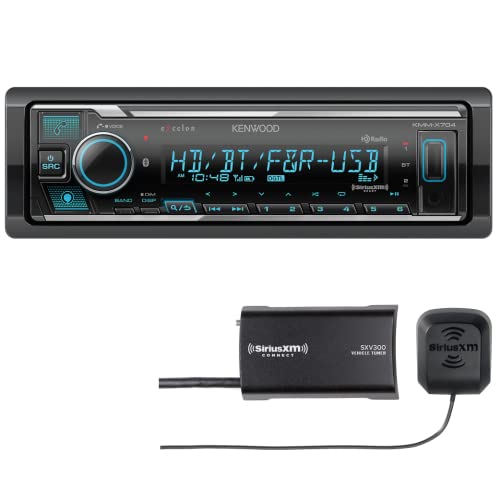 Out of all the Kenwood stereos we looked at, the first we're going to show you is the KMM-X704, a model that's gained popularity for being just about the best Kenwood Car Stereo you could want.
It comes with a shorter audio receiver than usual Kenwood stereos, meaning it's both easy to install and compatible with a wide range of makes and models.
The KMM-X704 offers both Bluetooth and USB connectivity for your devices (and supports both Android and iPhone), with easy front-panel USB connectivity so you can quickly get some music going while driving.
You can either use popular music apps like Spotify or Pandora or plug-and-play your music files, as this stereo supports a broad range of audio file formats like MP3, FLAC, WMA, WAV, and AAC.
People who like voice control will appreciate the built-in Alexa, letting you play music, make calls, listen to the news, an audiobook, or a podcast, get directions, and even find parking by just asking Alexa.
The KMM-X704 also lets you switch between different devices connected through Bluetooth with the touch of a button, making inter-device navigation much more accessible. All-in-all, we love this!
Pros:
Stereo comes with built-in Amazon Alexa.
Easy front-panel USB connectivity
Switch between two devices connected through Bluetooth with a single button
Compatible with a broad range of audio files like FLAC, WMA, and AAC
No CD slot and a shorter audio receiver makes it easier to install
Includes high and low pass filters for people who use subwoofers with their car's music system
Cons:
From what we hear, this stereo doesn't do all that good at producing a rich treble sound.
We also didn't like that Kenwood discontinued their traditional remote with this stereo.
CHECK PRICE ON AMAZON
2. Kenwood DDX376BT 6.2″ in-Dash Car DVD Monitor Bluetooth Receiver w/USB/AUX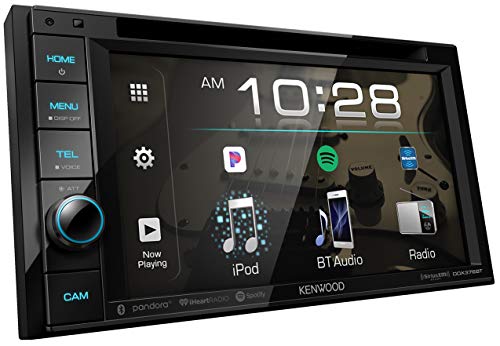 Coming in second is the Kenwood DDX376BT Dash Car DVD Monitor, an upscale alternative to the all-rounder functionality of the KMM-X704. If you are looking for a Kenwood double DIN stereo, this is something you should consider getting.
The DDX376BT comes with a 6.2-inch clear resistive touchscreen for convenience, better usability, and more convenience overall. When paired with iDatalink's Maestro Interface (keep in mind, it doesn't come included), you can display engine data on the screen.
The stereo also has an input slot for a rear cam, which displays parking instructions if you take the time to hook it up. Talking of hooking it up, the DDX376BT stereo supports multiple-device connectivity (up to a total of 5) using Bluetooth and a multipurpose USB slot.
The best part, though, is that if you're a music enthusiast who likes some control over their music, the Kenwood DDX376BT stereo comes with a 13-band equalizer for added tuning capabilities.
We wanted to say this last because it's more of a personal preference: we loved the lit-up volume knob. Nobody likes having to pick up the phone to turn the music down while driving, and this stereo takes care of that problem in style.
Pros:
Clear 6.2-inch resistive touchscreen for easy usability
Rear camera input with parking guidelines available
Connects up to five Android devices through Bluetooth at the same time
13-band Equalizer for tuning your music
Rapid-charge USB slot for charging your phones on-the-go
You can control the stereo through the Remote Kenwood app.
Cons:
Didn't find any negative point till now.
CHECK PRICE ON AMAZON
3. Kenwood KMM-BT328 Digital Media Car Stereo w/Bluetooth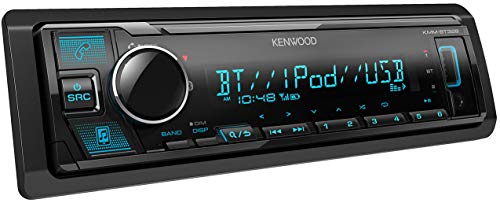 The Kenwood KMM-BT328 Digital Media Car Stereo is a cheaper alternative to both Kenwood stereos listed above. It's the go-to product for anybody who doesn't want to spend too much on their car stereo if we're any judge.
The Kenwood KMM-BT328 Car Stereo outperforms most of its peers in the one area that matters the most: sound quality. It offers deep, rich bass and crisp mid to high notes, rivaling most mid-range home music systems.
Surprisingly, this stereo also comes with iAP2 support to enable iTunes Radio and Apple Music playback alongside the usual support for Spotify, Pandora, and Internet Radio.
Like the Kenwood KMM-X704, this stereo has built-in Alexa for voice control.
Besides the Alexa, you'll find that the KMM-BT328 Car Stereo comes with many quality-of-life features. It has Kenwood's traditional rapid-charge USB slot and can connect up to five phones through Bluetooth connectivity features.
An extra little goodie is that this Kenwood receiver comes with a Bluetooth mic. It's not the best mic you could ask for, but if you don't want your voice to sound like it's been recorded in a studio, it does the job perfectly.
Pros:
Highly affordable and reasonably priced product
25 watts per channel for solid mid-range sound volume
Unlike most cheap stereos, it doesn't need an amp for loud volume
Includes 13-band Equalizer and Drive Equalizer for better sound quality
Auxiliary and USB ports are located on the front face to make them easier to find
Provides high quality sound when you stream music.
Cons:
The included directions are horrible and leave a lot to the installer's knowledge. If you haven't installed stereos before, get it professionally done.
Also, the Bluetooth mic is of somewhat low quality. It's not horrible, but it doesn't take more than fifty bucks to get something nicer.
CHECK PRICE ON AMAZON
4. Kenwood DPX504BT Double DIN in-Dash CD Receiver with Bluetooth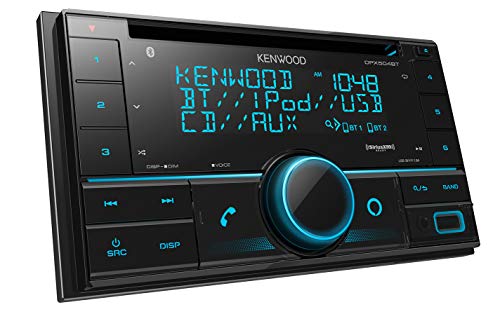 Next up is the Kenwood DPX504BT Car Stereo, a mid-range stereo that stands between the Kenwood KMM-BT328's low-cost functionality and the Kenwood DDX376BT's high-cost luxurious features.
You'll come to appreciate this stereo's rich sound even with factory speakers. There aren't any annoying grounding loops, and with the stereo's Drive Equalizer, you won't notice much of the noise from driving.
Like most of Kenwood's upper-range models, the Kenwood DDX376BT comes integrated with support for Amazon Alexa.
Connectivity is mainly achieved through a USB slot (located on the front) and the stereo's Bluetooth feature. While Android mobiles have to be connected with Bluetooth, iPhones can be connected using the USB slot.
There's also an iPod input. We're… not quite sure why.
This stereo has an expanded interface, with extra buttons for dialing, making, or ending a call.
The Kenwood DPX504BT also comes with a CD slot that can play CD-Audio and CD-R or CD-RW discs. Yes, discs are a little old-fashioned, but you can't tell us that listening to your vintage MJ disc doesn't feel great!
Pros:
Stereo sounds great, even with factory speakers.
Easily reachable volume knob in the interface's center
Supports both Android, iPhone, iPod, and CD-DVD playback
Expanded interface with buttons for different functions
LED lighting can be changed to any one of 24 colors or scan through all 24 continuously
Unit includes a 3-line LCD screen for displaying clock, playback source, and artist name.
Cons:
It's not clear what some of the buttons do at the start, and the manual isn't much of a help either.
You have to click a button and then wait for a playback source to load, making switching to a different source kind of a pain.
CHECK PRICE ON AMAZON
5. Kenwood KDC-BT34 CD/BT Audio Receiver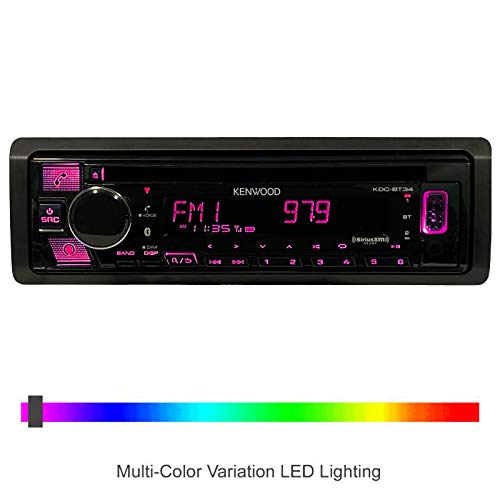 It's not a tremendously loud stereo, but if you're looking for something compact with decent volume and good sound quality at a low price, you won't do much better than the Kenwood KDC-BT34 CD/BT Audio Receiver.
The first thing you'll notice here is just how compact the unit is. This means that while it's not the best choice for people with extensive dashboards, this is just the stereo for you if having no space is an issue.
Besides that, the connectivity features aren't too different from the usual mid-range Kenwood stereo. You can connect Android devices through Bluetooth and iPhone (or iPod) devices through either Bluetooth or a USB port.
The rapid-charge USB port is a great feature from previous models, and believe us, if you're in a hurry, you're going to appreciate it. This particular stereo also comes with a Bluetooth upgrade to version 4.2.
The KDC-BT34 doesn't have a CD-DVD slot and instead mainly supports sources like Spotify, Pandora, FM Radio, iTunes Radio, and Android Music support through an iAP2 integration.
Pros:
Compact interface perfect for smaller dashboard sizes
Independent X-overs for greater freedom in how you play your music
Dedicated Alexa button to bring up Alexa's voice control quickly
Spotify, Pandora, Internet Radio, Apple Music, iTunes Radio, and SiriusXM-ready
It comes with a medium-quality mic, so you don't have to spend extra.
Cons:
Like many Kenwood stereos these days, the KDC-BT34 doesn't come with a remote control.
It also looks weirdly small on bigger dashboard sizes, but that's expected given the stereo's compact size.
CHECK PRICE ON AMAZON
6. Kenwood Excelon DMX706S 6.95″ WVGA Touchscreen Digital Multimedia Receiver
For the people who want nothing but the best Kenwood stereo they can find, we're happy to say that the Kenwood DDX376BT isn't as upscale as it goes. Instead, the upper ceiling is the Kenwood Excelon DMX706S, an expensive and luxurious pick for the best Kenwood Car Stereo title.
When we say the word 'luxury,' we mean it: car stereos don't get any better than this one. To start with, the Kenwood Excelon DMX706S comes with a 6.95-inch clear restrictive touchscreen and weighs a lightweight 4 pounds only.
Not only did this stereo support most lossless audio formats, like FLAC, WMA, AAC, and others, but it also amps up your factory speakers and makes them feel like new.
You'll get a multimedia player (with video capabilities because of the larger screen), and with Kenwood's 13-band Digital Equalizer and Driver Equalizer, you won't be missing out on any low notes or bass.
The Kenwood Excelon DMX706S takes connectivity to a new level with both Apple CarPlay and Android Auto for hands-free use, though you'll have to connect to your phone using USB.
People with iOS 12.0 or higher (PIE and higher for Android phones) can also use navigation apps like Google Maps and Waze. Oh, and like usual, the stereo's Bluetooth supports up to five devices at once.
Pros:
Supports Siri for using the multimedia stereo hands-free
A greater level of connectivity with both Apple CarPlay and Android Auto
You can use Google Maps and Waze with Android PIE/higher or iOS 12.0/higher
Shallow chassis makes the unit much easier to install on a broader range of cars
Upgrades the sound quality on your factory speakers
Anti-glare screen for easy usage on bright, sunny days
Cons:
The Android Auto can sometimes conflict with the Spotify app. It's a rare occurrence, but you'll have to power the unit down to stop the glitch.
Volume is controlled through buttons instead of a dial, which isn't easy to use.
CHECK PRICE ON AMAZON
7. Kenwood DMX125 / DMX125BT / DMX125BT 6.8 Digital Multimedia Receiver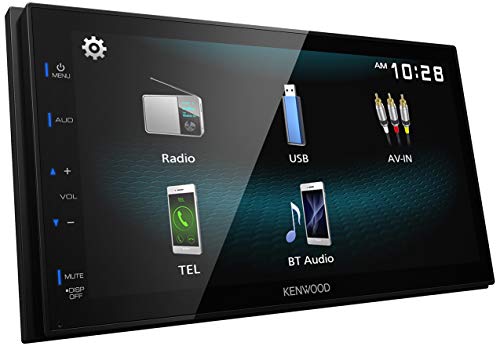 This one's a bit buggy (at least, from what we hear), but it's one of Kenwood's better models. We're talking about the Kenwood DMX125, a model that comes with both glowing and disappointing reviews.
Let's talk about the good things first. The 6.8-inch WVGA monitor is almost as large as the Kenwood Excelon DMX706S's monitor and offers much the same level of viewability and easy usage. Surprisingly, the touchscreen is capacitive, which we thought was a nice change.
This stereo's music capabilities are a significant plus, as it supports MPS, WMA, FLAC, and AAC file formats along with Kenwood's traditional 13-band Equalizer and Drive Equalizer to get rid of that annoying road hum.
Like the Kenwood DDX376BT, this stereo also comes with a rearview camera input slot with parking guidelines, making it a pretty good all-rounder for its pretty hefty price.
In fact, the Kenwood Excelon DMX706S is also one of the only stereos on this list to support Android USB Mirroring, a feature we sorely missed in almost all the other stereos on this list.
Like, come on. Why have a large monitor if you're not going to watch a movie on it?
Pros:
Supports full-HD (720p and 1080p) video playback
Android USB-Mirroring ready to easily control your Android phone
The capacitive touchscreen is a definite upgrade over resistive screens in previous models.
Extremely high music quality even with factory speakers
Shallow chassis for easier installation on most dashboards
Cons:
We're not denying it's a good product, but is it worth the hefty price tag? We didn't think so.
The rear camera input is a pain to set up from what we're seeing. Chances are you'll have to get it professionally done.
CHECK PRICE ON AMAZON
8. Kenwood KDC-BT278U CD Car Stereo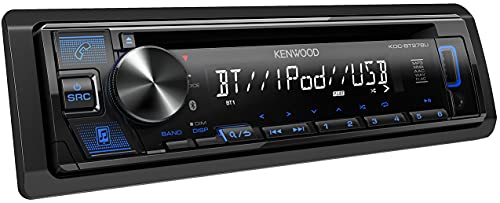 The last stereo on this list, the Kenwood KDC-BT278U CD Car Stereo, isn't great because of the pages of features it brings to the table, but rather the fact that if you want a convenient and easy-to-use stereo, this is it.
It offers the usual Bluetooth connectivity for playing music and making calls and supports Spotify and Pandora out-of-the-box in addition to a CD-DVD slot. It's not the broadest range of sources, but it's more than enough for somebody's first stereo.
The inputs are perhaps the best part of the stereo. Alongside the standard front-panel USB port and aux input, you'll also find 2-channel preamp outputs (2.5 volt rear/subwoofer).
You also get a good external microphone with the Kenwood KDC-BT278U CD Car Stereo.
It's also straightforward to set up, and for once, the manual was surprisingly helpful. If you're even a little handy with your tools, you can probably install the stereo at home.
Pros:
Inexpensive stereo with surprisingly decent performance
You can install it at home with the right tools.
It fits a wide range of car makes and models because of its compact size.
Above-average sound quality considering its price range
It comes with USB connection and a CD-DVD slot for extra playback options.
Cons:
If you're willing to shell out like twenty dollars more, you can quickly get a much better Kenwood stereo.
The Kenwood KDC-BT278U also doesn't connect to satellite radio.
CHECK PRICE ON AMAZON
Does Kenwood Make Good Car Stereos?
Kenwood is a well-known brand for car stereos. They offer a wide range of products, from entry-level to high-end models. So, does Kenwood make good car stereos?
Overall, Kenwood makes decent car stereos. Their lower-priced models are generally good value for money, offering features that are on par with other brands in that price range. However, their higher-end models can be a bit overpriced compared to the competing brands.
That said, Kenwood is a reputable brand, and its products are generally reliable. If you're looking for a decent car stereo at an affordable price, then Kenwood is a good option.
What Does Kenwood Excelon Mean?
The Kenwood Excelon brand is their top-of-the-line car stereo range. It offers superior sound quality, features, and design compared to its other ranges.
Excelon car stereos are typically more expensive than the other ranges, but they offer a lot of value for the money. If you're looking for the best car stereo that Kenwood has to offer, then the Excelon series products are definitely worth considering.
Final Verdict
This time, the winner was a little easier to pick. There were lots of good options among the eight we listed, but one won over the rest when it came to a mixture of affordability, decent features, and the rich sound that we wanted the winner to have:
The Kenwood Excelon KMM-X704! Even with units triple the price of this great stereo listed here, the KMM-X704 wins out because it offers impressive sound quality with almost the same features as some of the high-end models of the Kenwood brand at a much lower price.
What about video quality, you ask? What happened to us saying who doesn't love watching a movie on their widescreen stereo? Well, we like movies, sure. But would we pay almost double the amount to watch it on our car stereo?
Nope, we don't think so either. But if you want that perk, the best head unit for you will be the Kenwood DMX 125.