Are you struggling with night visibility due to poor headlights? Do you think it's only a matter of time before you slam into an unsuspecting pedestrian due to this poor visibility?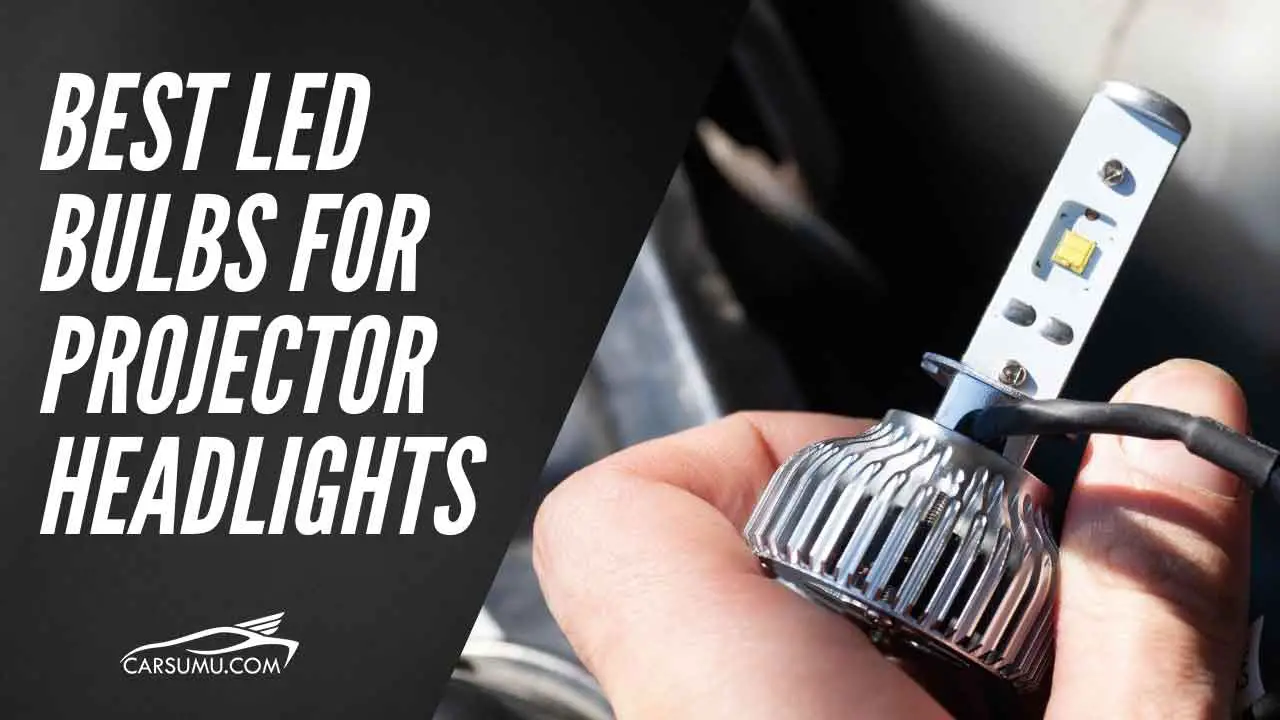 If yes, then it's probably time you should consider a pair of LED bulbs for projector headlights. They might be costly, but they'll be worth every dime.
To make your job easier in finding the perfect pair, we have reviewed the 10 best LED bulbs for projector headlights. So, without any further ado – Let's get started!
Top 10 Best LED Bulb For Projector Headlights:
Here are the detailed reviews of the top 10 LED bulbs that you can use in your projector headlights housing for better visibility in front of the car, truck, SUV, and others.
1. Sealight Xenower LED Headlight Bulb Kit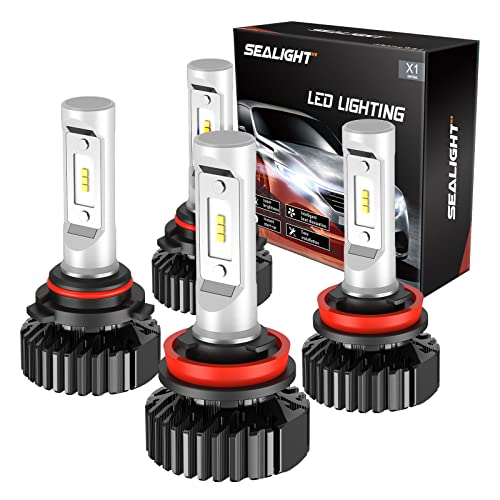 Imagine headlight bulbs that enable you to react to out-of-the-blue situations quickly. Well, that's what the Sealight Xenower does thanks to its 300% brightness.
There are several reasons we think the Sealight stakes its claim to being among the best LED bulbs for the projector headlights. Chief among them is that it is straightforward to install. The design is such that it fits easily into any vehicle's headlight housing.
One of the coolest features of this bulb kit is the 6000 kelvin white headlights. With their superior lighting, they give brightness akin to daylight. Therefore, you will have peace of mind on the road as you can see whatever is coming at you.
One of the disadvantages of halogen lights is that they tend to blind other drivers. That's because they usually aren't focused on the road. The Sealight bulb kit doesn't have such concerns thanks to their optimized beam light.
You will get to enjoy these project headlight bulbs for a long time due to their proven longevity. The 12000-rpm turbofan that cools the system when in peak performance ensures it doesn't overheat.
Ever been caught by the rain while on the highway? Fog dues to the rain might cause poor visibility for halogen lights but not this one. The enhanced visibility in the rain ensures you have the perfect view of all oncoming traffic.
If you are a late-night driver looking for perfect navigation lights, you need not look further than the Sealight Xenower headlight bulb kit. You, however, have to put up with flickering whenever you are driving at high speed.
Pros
Twelve thousand RPM turbofan cools the system for enhanced lifespan
Aluminum heat dissipation structure for superior heat controlling
Durable LED bulb infrastructure
Over 50,000 hours of extended life
Easy to install bulbs that fit on any vehicle
Cons
Sometimes, the beam flickers when the car/truck runs at high speed
Low beams aren't that bright
CHECK PRICE ON AMAZON
2. Cowone 60W Rectangular LED Bulb Headlights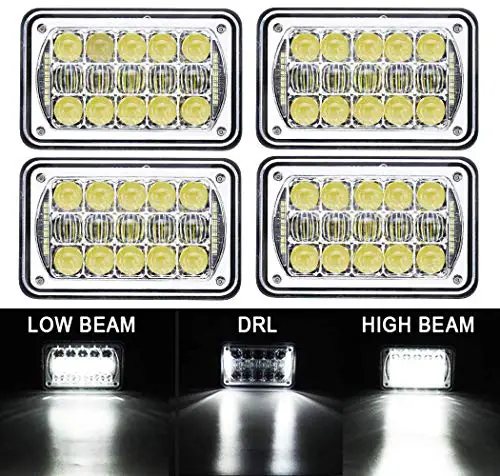 Consisting of a wattage power of 60W, Hi-beam 4800 light meters, and 6000K color temperature, it is relatively easy to see why the Cowone makes our list.
Cowone has been making excellent headlights for some time now. Thus, the Cowone 60w is just the latest from a line of many. That explains why it is brighter than the preceding headlight.
This headlight is also a direct fit for any car. You don't need any additional tools to modify them during installation. Instead, they fit directly into the allocated four by six headlight position on the vehicle.
There is no doubt the Cowone LED Headlights toolkit is a welcome partner for any professional driver looking to navigate complicated junctions, terminals, and highways at night.
Because of the superior object detection capabilities, it is easy to identify objects on the road even on the darkest night. All you have to do is simply activate your LED bulbs for object detection.
The light is more transparent than that from your old stock halogen bulbs and doesn't deflect off objects. The deflection of light is quite a common occurrence with halogen bulbs.
In its packaging, you get four pieces of LED lights, each with an extended lifespan of over 50,000 hours. Still, worried they might spoil after just a short time? Worry no more.
Want to optimize visibility at night? This headlight would fit in quite nicely. The 6000k color temperature enables it to recreate daytime at night, giving you perfect visibility.
There is little doubt this headlight kit will make your night driving safer and more assured.
Pros
Projector lens of the LED light offers a transparent and clutter-free vision to drive car/truck safe
Good heat dissipation to ensure the longer lifespan
High beam quickly lights up the darkened lanes/curves of the roads and ditches
Low beam is comfortable for eyes without glaring
Cons
Wire configuration issues may arise sometimes
Low beam light is so much less bright than the high beam
CHECK PRICE ON AMAZON
3. JDM ASTAR M2 High-Performance LED Headlights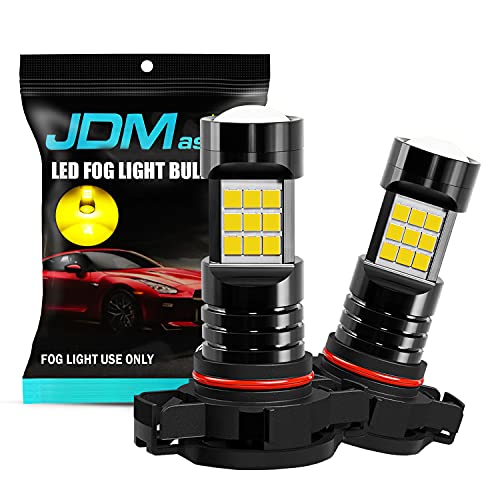 Do you desperately want to move to the more advanced LED headlights but can't just get over the halogen bulbs? Well, it seems the designers of the JDM Astar led light bulbs heard you.
The JDM Astar follows the same basic principle of light distribution as the traditional halogen bulbs. See now? That's like having the best of both worlds, like Superman and Clark Kent.
Suppose you think that isn't traditional enough, they also come in the same sizes as halogen bulbs. Can it get any better? You bet it does! Installation is so straightforward and requires no extra modifications or tools.
However, the halogen inspired lighting makes this headlight kit so appealing, but their enhanced downward visibility. These headlights enable you to see down the darkest alleys and valleys thanks to the 6000k color.
You don't have to worry about them blinding oncoming drivers thanks to the antiglare light. They also don't have those dark spots you'd associate with halogen bulbs. The similarity with halogen lights ended at the light distribution.
Most headlights' bane is the heat they emit as they light your path on a dark or foggy night. The heat greatly influences headlights' lifespan, which is why most have heat dissipation systems.
For cooling purposes, the JDW has an aluminum heat dissipation system that steps in to cool the LED bulbs whenever they overheat. In that way, they can last for a longer time.
Don't you want your car to have that modern LED light look yet the slightly nostalgic feel of the traditional halogen bulbs? The JDW would be a decent choice if that is what you are looking for.
Pros
Easy installation
Excellent brightness without dark spots
It is easy to align and adjust the light after installation
12000 RPM duplex bearing keeps low temperature dissipating heat
Cons
There is no rubber seal cap with the LED bulb kit for easy installation
Not compatible with a Subaru Legacy
CHECK PRICE ON AMAZON
4. Glowteck High Performance Headlight Bulbs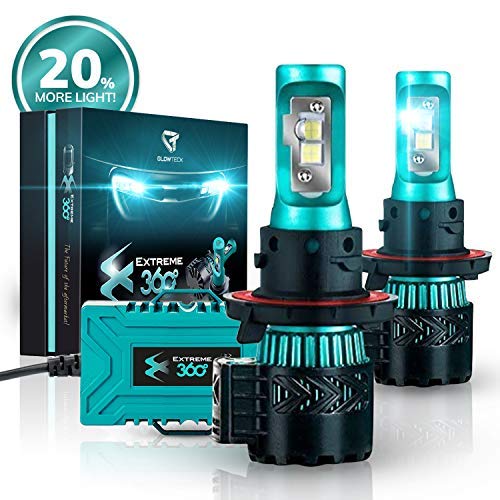 The Glowteck LED headlights quite rightly live up to their name. They glow in the dark, illuminating the road ahead with apparent whiteness you'd think it's daytime! Now imagine that for 40,000 hours.
Thanks to their SC5 technology, you get to enjoy brilliant and distinctive light delivered with unerring consistency. If you think they are too much, you can just adjust them while still ensuring a perfectly balanced beam.
With the dual cooling system, you can be sure of owning it for a longer time. Little worry of the heat destroying this one. The fan has also been made in such a way that too much dust doesn't impair its functioning.
If you need the perfect anti-glaring beam without unsteady flickering, Glowteck LED projector Headlight rightly serves you that.
As has proven a trend with most of the headlights on our list, Glowteck is also easy to install. You don't require any fancy tools to fix them in. As easy as frying an egg, we'd say. Not the right simile, but you get the point?
One thing to remember, though: Ensure you pick the right size for your car. You don't want to buy headlights that might be too big or too small for your vehicle. Small LED bulbs might fall off at the slightest vibration.
With great light beam, this highly recommended kit is one of the best LED headlight bulbs available today.
Pros
It has an adjustable beam technology, which is excellent for projector or reflector headlight housing.
It generates a brighter white beam with no spot
The beam clarity is optimum
No need to hire technicians to install or fix as it is easy to install
Cons
They tend to flicker at times.
CHECK PRICE ON AMAZON
5. HIKARI Ultra LED Headlight Bulbs Conversion Kit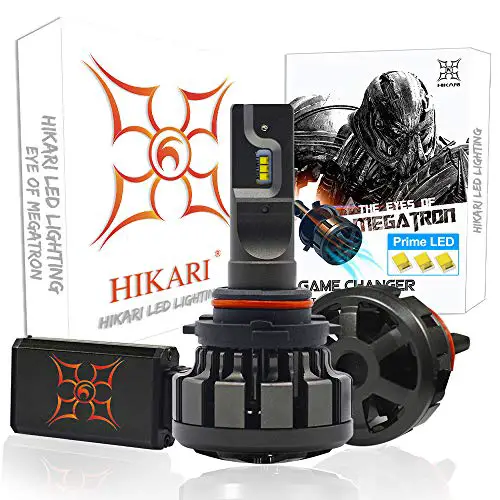 If you're looking for LED bulbs with impeccable irradiation distance, then the Hikari bulbs should quite tick all the boxes for you. The Hikari LED bulbs offer you better vision thanks to the uniform beam pattern.
What makes the light beam pattern all that better is that you can adjust it. You can comfortably switch between the low beam and fog light.
It is almost the same size as the halogen lamps but burns up to 270% brighter. To prevent the light from blinding oncoming drivers, it comes with a great cut-off.
It has an ultra-thin heat sink that maximizes light utilization by cooling down the circuit board while working.
Better than HID bulbs in producing bright light, this has a comprehensive application aviation aluminum body system that works in tandem with an upgraded cooling system. The technology enhances its lifespan by preventing damage due to heat.
The maximum light output you can get from this bulb is 12000 light meters of 6000k color temperature. That should be enough to light up the darkest corners of highways.
It is crucial to note that the sizes aren't a fit for all. You have to look up the correct size for your vehicle to avoid mistakenly buying small or large bulbs.
Pros
Maximum output of 12000LM ensures the utmost brightness
Excellent and adjustable beam pattern
Heat sink for fast heat dissipation and longevity
It has an anti-flicker coating
Cons
Tends to have low light patterns at times
Less bright light when compared to other LED bulbs of the same price.
CHECK PRICE ON AMAZON
6. Lightening Dark 10,000 Lumens LED Headlight Bulbs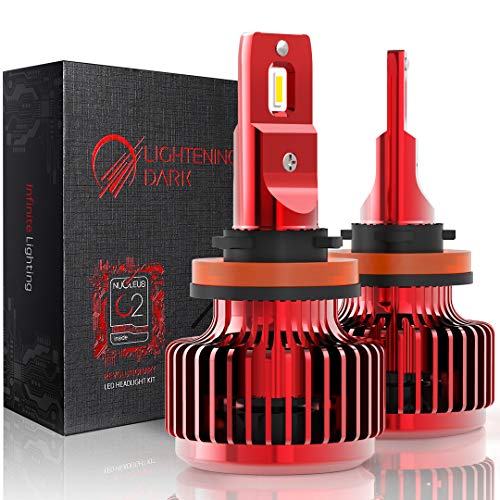 The Lightening dark LED headlight bulbs come with a highly efficient CREE LED system to provide brighter lighting for you.
The 10,000 lumens ensure the bulb emits higher focused light and covers a broader area. It is 170% brighter than the industry average and can light farther distances with bright white light due to its 6000 kelvin color temperature.
Unlike halogen bulbs, it has neither dark spots nor does it emit foggy light. With the 360 degrees adjustable beam pattern, you can adjust the bulbs to fit the design and angle of lighting you are looking for.
It has advanced thermal analysis technology that monitors and limits the temperature of the replacement bulbs. Therefore, they last longer on account of the heat being monitored and controlled from spiraling out of control.
This headlight kit falls in the category of LED bulb kits with plug-and-play installation. That means that they are easy to install and require no extra modifications or tools.
With this headlight kit, you are assured of up to 50,000 hours of brilliant and consistent light. This kit's light doesn't blind fellow drivers since it is antiglare and focuses on the road instead of ahead.
Pros
Remarkable visibility for road tracking
6000k cool and whitebeam
Absence of foggy or smoky beam with cool white light
Beam pattern is easy to align to have the optimum qualitative bright beam
360° beam pattern with a light adjustment feature
Cons
Lose light intensity overtime.
CHECK PRICE ON AMAZON
7. Cougar LED Headlights Bulb Kit
The Cougar motor LED lights are your go-to if you need bulbs with high power and luminous efficacy. It offers up to 200% more than the average halogen headlights and has the most recent technology that ensures no dark spots or shadows.
It comes with a 7000 RPM turbofan, which together with the aluminum casing ensures heat doesn't build up to dangerous levels. They are also responsible for the system providing shining light for 50,000 hours.
The cougar motor LED lights are relatively easy to install. You need not call a technician to help as you can do it by yourself. You won't need any extra attachments, just plug and play.
Cougar headlights are also quite versatile. They wouldn't have issues working with any vehicle's computer system. Still, you should first confirm compatibility before purchasing.
It is made to work even in the most rugged of environments. The fan is resistant to water, shock, and dust. The CREE LED chips give massive power to light up the darkest of nights.
The only issue worth noting with this kit is that it might be limited in the distance it covers.
Pros
Excellent heat controlling makes it durable
Waterproof body of the LED bulb toolkit stays resilient even in rain, storm and rough weather
Extended lifespan of up to 50,000 hours
Simple plug and play kits without any problem to install the LED bulb
There is no polarity problem when you adjust or reset the Cougar Motor LED Headlight Bulbs All-in-One Conversion Kit
Cons
Distance illumination is not standard
It might be too bright at times.
CHECK PRICE ON AMAZON
8. Marsauto LED Bulb Conversion Kit with Fan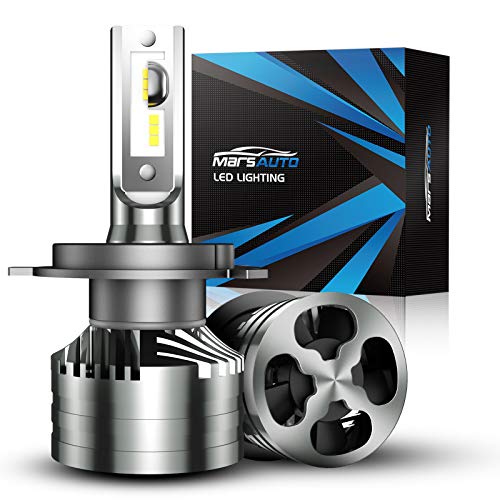 Compared to local factory bulbs, the Marsauto LED Headlight Bulbs Conversion Kit with Fan toolkit ranks way better by giving you up to 250% more brightness. You can, therefore, see further with this bulb.
The projector bulbs have the same filament design as the traditional halogen bulbs. That enables them to provide a safe beam pattern with sharper cutoffs and doesn't blind oncoming traffic.
The Marsauto LED bulb kit is made with a sturdy design that renders the headlights shockproof and dustproof. The aluminum heat sinks and the turbo cooling fans prevent the buildup of heat, leading to damage.
These headlights are compatible with various vehicles and don't require any special tools to install. All you have to do is plug it in and play.
Numerous factory tests on the bulbs have shown that they can shine for 50,000 hours for more extended lighting.
The perfect beam pattern focuses light on the path ahead, leaving no dark spots or shadows for a clearer road.
They, however, might have a little bit of scattering on certain vehicles. Their brightness could also do with an upgrade as they are only 25w bulbs.
Pros
Marsauto 9003 bulbs give you safe beam pattern
Good focal length for lighting up the road
They are antiglare and therefore don't blind oncoming traffic
Marsauto 9003 bulbs have extended lighting lifespan of 50,000 hours
Cons
The light's brightness is not up to the expectation
The light tends to scatter.
CHECK PRICE ON AMAZON
9. OXILAM H11 LED Headlight Bulbs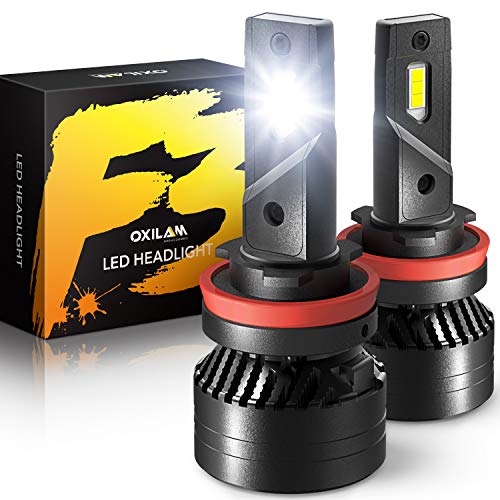 With up to 400 percent brightness compared to the ordinary halogen bulbs, the Oxilam LED headlight bulbs are an unbelievably awesome headlights kit. The 16000 lumens just serve to underline how powerful it is.
The Oxilam Headlights kit is made in a compact and small design that would take you a maximum of fifteen-minute to install. It is almost as little as the halogen bulbs though brighter.
With these headlights, you are assured of safer driving due to their reach and visibility. Because they are antiglare lights, they won't blind oncoming traffic. They also give out clear visibility in foggy or snowy weather.
The Oxilam kit provides 360 degrees illumination giving out safe patterns of beams. They don't have dark spots or leave behind shadows that might cause visibility problems.
The energy-efficient kit also comes with a top-notch cooling system that consists of a special liquid cooling vacuum that ensures heat doesn't build up to harmful levels. The fan also works in tandem with the cooling system to ensure the longevity of the LED bulbs.
The kit is compatible with over 98% of vehicles. That is because it has an intelligent drive that ensures it provides stable performance for any vehicle type with great light efficiency.
You must remember to test the compatibility with your vehicle before purchasing the kit, though.
Pros
Intelligent Drive ensures compatibility with 98% of vehicles
LED bulbs have a good focal length with high beam output without blinding people/other car drivers.
Can bus ready feature prevents the unsteady flickering issue which can be an issue at times
It is 400 percent extra shiny and radiant
Cons
Can be quite short-lived in some vehicles.
CHECK PRICE ON AMAZON
10. Fahren 9008/H13 LED Headlight Bulbs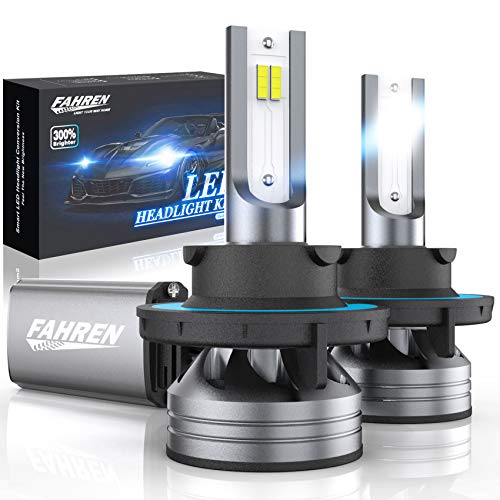 The Fahren gives a super focused pattern of beams that reaches far and wide in its lighting range. The super-focused beam enables the Fahren LED bulb kit to give up to three times the light of a standard halogen bulb.
The top-grade LED chips with 60 watts and twelve thousand light meters ensure you not only see approaching corners but also down a sloping road. They form no dark spots or shadows that might interfere with visibility.
This kit comes with supercooling ability given by the twelve thousand-rpm turbofan. The aluminum body works in concert with the fan to cool the heat produced by the LED light. That significantly boosts the lifespan of the kit.
It is relatively easy to install, as no modifications are required. You just plug it in and play. Typically, it wouldn't take someone more than twenty minutes to install it. It perfectly fits into the vehicle headlights housing.
The can-bus ready system ensures its compatibility with over 98% of vehicle systems. However, some car models might require an additional CAN bus decoder for them wot work.
Pros
CAN-bus system makes it compatible with a wide array of vehicles
Easy to install
Super Cooling system enhances its lifespan
Forms no dark spots or shadows
Cons
Lights start flickering after sometime
Might be quite short-lived.
CHECK PRICE ON AMAZON
Best LED Bulbs for Projector Headlights Buying Guide
When it comes to choosing LED bulbs for your projector headlights, you want to make sure that you are getting the best bulbs that will not only work on most vehicles but also last a long time. There are many different types of bulbs out there for clear vision and each has its own benefits when it comes to increased visibility, energy consumption, low-cost bulb, and more. It is important to do some research into which type of bulb is going to be a bit brighter for your car before making any purchase!
Brightness Level
LED bulbs come in a wide range of light output levels, measured in lumens. This is important since the higher the lumen level, the brighter your vehicle headlights will be and the more visible you'll be on the road at night.
However, you should go for reasonably bright lights rather than unbelievably bright lights. Too much brightness can cause the other drivers to blind out which may end up in accidents.
Around 8000 to 12000 lumens is a good number.
LEB Bulbs Cost
LEDs are more expensive initially than halogen bulbs but they last much longer and therefore save you money in the long run! Some higher-end models can cost as high as $300 per bulb while others may be closer to $100, depending on how many you need to replace.
However, we recommend not to go for the higher-end products as the difference in quality is negligible. You should go with the product that provides the best value for money.
Replacement Time
LEDs last much longer than other types of light bulbs so it's not necessary as often to replace them. Some Halogens only last up to one year while others might have a life span of three years. But with LED bulbs, you'll get around 10000 hours of lifespan which is quite good compared to halogens. You'll find some coming with a 30000 hours lifespan guarantee as well.
Anything above 10000 hours lifespan is good for you.
Power Consumption
LEDs are typically lower watt than Halogen bulbs and therefore they will not produce as much heat. Most LEDs have a watt rating of less than 60 while others may range from 20 to 100 watts.
You should find the lowest wattage product with the highest lumen output so that you pay less for high brightness.
Cooling Fan Quality
The LED bulbs become hot when it runs for a few moments. So, the quality of the cooling fan is a big factor in purchasing LED bulbs for your headlights. Make sure that the cooling fan is not loud because it will cause some noise in your ride.
The LED lights should come with an aluminum heat-sink and a copper core to ensure that they're able to dissipate heat efficiently without becoming too hot – this ensures the longevity of the product as well!
Read our take on the best car speakers for bass so that you get better quality sound when driving alone at night.
Our Verdict
All the products we have reviewed have several notable features that would confuse the majority of buyers. We, however, have picked one that came as close as possible to ticking all the boxes.
With 16000 lumens, 90 watts, and 12 pcs high output; the Oxilam LED Headlights Kit is our recommended pick. Though it trails a few others in the number of lifetime hours (30,000), it dwarfs them in almost every other department.
It is easy to install, has antiglare lights, and boasts 360 degrees illumination. The exclusive cooling system is also one reason we think it is the best LED headlight bulbs.
Don't even get us started on the intelligent drove that ensures it is compatible with many vehicles.
Little doubt, this would be a good deal.