Auto body work is a field that many people don't know how to do. It requires knowledge and skills that takes years, if not decades to master.
But what are the steps of learning auto body work? What are the things an auto body repairer have to do for their job? And what benefits and detriments come from being an auto body repairer?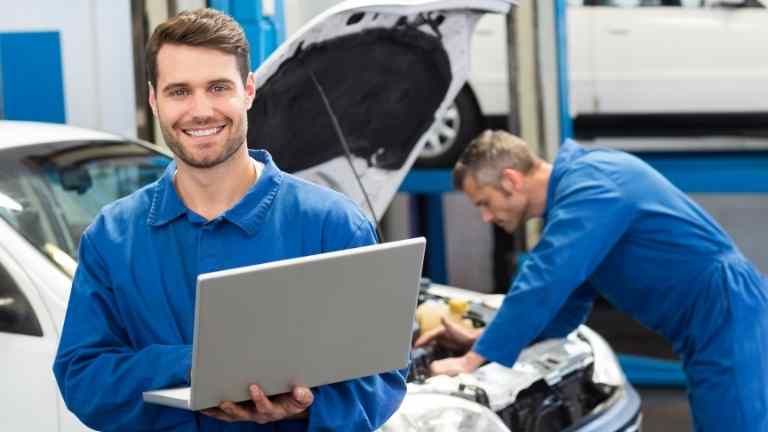 In this blog post, we will explore these questions in detail so you can decide whether or not you want to pursue your career as one!
Skills Needed for Auto Body Work
We have divided the skills and subskills into different categories so that you can understand why the skill is required and when will you need to apply those skills in the profession.
Collision Inspection and Repair
Collision inspection and repair is a key skill for an auto body repairer. They are responsible for inspecting the damage on both sides of the car, finding out if it's fixable or not, ordering parts that need to be replaced, and repairing any other issues while making sure everything looks good.
A collision inspector can't just look at what they see- they have to know how cars work in order to discern which part is broken so they can replace them with new ones! The best way to learn about this field is by taking courses related specifically towards collision inspection and repair.
Many schools offer these classes as electives during their study periods when students aren't required to take specific subjects due to personal interests. It also helps if students are enrolled in a community college that offers courses on collision repair.
In addition to taking these classes, it's important for people interested in this field to read up about the different types of injuries caused by car accidents and learn how they can be repaired so as to better understand what their job would entail.
A few other skillsets that repairers need include being able to wear many hats- from order parts and scheduling jobs with customers, all the way down to washing cars after repairs are completed. They have to make sure everything is tidy and pleasant before handing things off!
When you're repairing someone else's vehicle, there needs to be no evidence whatsoever of any damages or previous damage done; otherwise not only will your customer not be happy, but you'll also face more repair work to undo the damage.
Parts Repair
In order to become a good auto body parts repairer, you need the following skills and knowledge:
1. Ability to read diagrams
2. Knowing how car parts work
3. Knowledge of chemical compounds used in industrial processes like sanding or sealing paint. Your hands are your most important tool when doing this type of work so protection needs to be taken into consideration as well.
4. You also need basic reading and writing comprehension because you will have many different types of instructions on a variety of topics from what tools you should use at which times, where certain materials can be found inside vehicles that require repair, etc. You may also find yourself having to contact suppliers for information about prices or part availability if you are working with a team.
5. Ability to learn electrical wiring diagrams for older vehicles
6. Understanding mechanics: This profession requires understanding mechanical systems which means it's important for those interested in becoming car body repairers to be familiar with topics such as basic physics, chemistry, and engineering principles.
7. Mechanical aptitude: The ability to learn how mechanical systems work is one of the most important skills for this profession because it could be necessary to fix a system that has gone haywire on your own with only the tools you have available.
What are the Skills Needed for Dents and Scratch Repair?
An individual needs to know how and where to use sandpaper, which is used for smoothing out bumps on a car. They also need an eye for detail so they can see any scratches in the paint. If there are dents that require fixing, then they will need knowledge of metal clamps or suction cups. It's not just about physical labor either; most repairers have some sort of computer software like AutoCAD or Solid Edge to help them create accurate estimates and repair designs.
In order to work at this job you must be able to do all these things:
1. Knowledge of different types of tools including sanding machines
2. Ability to use computers for estimating and creating repair designs
3. The ability to work on a team or independently. This is important because they need to be able to get things done quickly with other people, but also have the skills necessary when working alone.
4. Being detail-oriented as this job requires looking over cars closely for scratches or dents and then repairing them accordingly. They must take into account what type of paint will do best at hiding those flaws too. It's not just about physical labor either; you need to be analytical, sharp-minded to ace in dents and scratch repair in cars.
For doing perfect paint job after repairing scratch and dents, here are the skills you need to have-
1. Skilled in using paint sprayer, paint brush, and sponges
2. Keen eye for detail and accuracy
3. Good attention to safety regulations like wearing protective gear when necessary.
Understanding safety standards
You'll need an understanding of safety standards in order to know what guidelines are expected by employers and clients when they come into contact with car body repairers. This industry can expose workers to some dangerous situations so staying up-to-date on these topics will help keep them safe from harm or injury at their jobs.
Dedication and Passion for the Job
Most importantly, An honest dedication not just to learning about auto body repair but also doing it. There are a lot of people who want to be car body repairers but don't have the patience necessary for that line of work.
The education process
It takes time and energy to learn how to fix cars, so it's important not only to devote this much effort into understanding what tools you need and what safety standards apply, but also in learning about the job itself through reading books, taking classes at technical schools, or by working as an apprentice with someone already doing the work.
What is needed on day one?
No matter where you're starting from – whether fresh out of school or just looking for a change in careers – there are some things every automotive technician needs right away when they start their new job. This includes a solid set of tools, protective clothing, and safety equipment such as goggles.
How Much Does Auto Body Repairer Earn?
Income levels depend on many factors: whether or not your employer is self-employed and how big their clientele is, for example. On average though, a body repairer can expect to make an hourly rate of $25-$40 per hour (or even higher), with salary rates averaging about $40k-$45k annually.
When it comes down to it, people who want to go into this profession should know that there are benefits and disadvantages in every job out there; what matters most is which one speaks best for them!
What are the Benefits of Being an Auto Body Repair Technician?
There are many benefits to being an automotive technician that make it attractive for those who want to pursue this career path. For starters, there's the opportunity to work in a variety of settings – from dealerships to independent shops or even at home if you're handy enough.
Another benefit is typically higher pay than most other fields – which means more discretionary income after taxes and expenses.
An interesting fact about car body repair is that generally speaking, technicians don't have specific hours they need to adhere to because often times their jobs are needed around the clock when someone has been in an accident or their vehicle just needs an oil change.
The only restriction is usually on weekends because people don't drive as much then and they may have their own garages to work in themselves if need be. That means more flexibility for those who want it.
A final benefit of being a car body technician (or any other type of automotive professional) is the satisfaction you get from repairing someone's vehicle when they can't do it themselves – fixing what was broken or damaged by others makes them feel like new again!
Disadvantages of being an Auto Body Repair Technician
Because auto technicians are so important to society, some face danger on a daily basis depending on where they're employed.
Technicians who work on highways often have to deal with high-speed traffic, which can be dangerous and potentially fatal if a vehicle is traveling too fast or swerves in the wrong direction.
In addition, auto repair shops are sometimes targeted by thieves – they will come prepared for violence because of how much money is inside.
Technicians need to wear annoying safety equipment like goggles, gloves, and ear protection when working on cars.
A final disadvantage that some people may find troubling about being an automotive technician (or any other type of mechanic) is their contact with oil spills; while it's not as dirty as most jobs out there these days, some might still want to avoid this aspect of auto repair altogether.