If you're just starting out or are a seasoned professional, it's important to have good quality tools that will last and do your job well.
After all, there's nothing worse than being in the middle of a repair project only to find out you don't have the right tool to work with!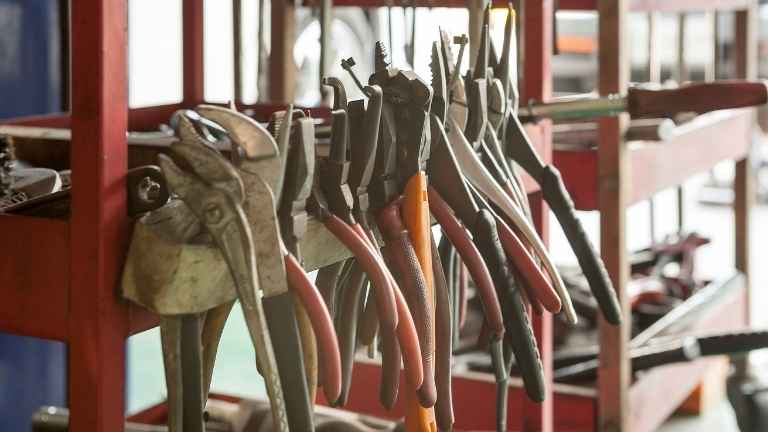 In this blog post, we'll be talking about 37 essential tools that any Auto Body Repair Technician should have in possession. Whether it's for repairing dents and scratches or replacing panels and parts, these thirty-seven items should be in every auto body shop's inventory!
1. Random Orbital Sander
Random orbital sanders are a must-have for any body shop. They're used to prepare a surface or remove excess materials from it, and can be found on virtually every professional's workbench!
Random orbital sanders vary in size and power – the more powerful versions used by professionals have variable speeds of up to 18000 orbits per minute and offer much greater control when removing material than their lower-powered counterparts which often run at around 3000 RPM.
The most popular type is the dual-action random orbital sander because they use both an orbit motion as well as a rotary motion with each pass. This gives them better contact between the pad and the surface being worked on, giving you smoother results without swirl marks.
When looking for your next new tool purchase, consider the sandpaper grits you need. I also recommend using a standard hook and loop backing plate to ensure the paper doesn't slip off in use – it can be easy for this to happen, especially if you are working on an uneven surface!
If you are specifically into paint removal, a sander for car paint removal is a must as well.
2. Paint Sprayer
Having a paint sprayer is a must in any auto body repair shop. The sprayer will come in handy when applying a coat of primer or paint, overspray during sanding, and filling the cracks with filler material to create a smooth surface.
There are different types of sprayers, depending on the desired texture of the material. A high-pressure airless paint sprayer is used for spraying a thick coat of primer or filler and covers large areas quickly.
A low-pressure gravity feed paint gun will be better suited if you are trying to create a smooth finish with minimal overspill. Low-pressure guns have an even flow rate that doesn't allow for too much overspray either so they're perfect when using one can of color each time!
Wet Paint Gun: best suited for less viscous finishes that will dry more quickly – can be used for gloss, semi-gloss, eggshell finish, etc. You'll need wet paint guns in order to cover your cars properly and avoid having them drip everywhere as they're drying!
Pressure pot: These types of guns work best for high viscosity paints that take a lot of time to dry, but you'll need more than one paint gun if you want different colors on your car!
High-performance gravity feed HVLP Gun: this type of spray gun is perfect for those who want to use it as their main paint gun because its gravity feed system ensures that the paint will never be clogged which means there's no need to clean or prime!
HVLP Dual Action Spray Gun With Air Compressor: these types of guns are great if you're constantly painting your cars since they'll provide constant pressure even when applying the base coat, mid-coat, and clear coat paints all at once.
3. Air Compressor
You will need an air compressor to power your air tools. This can be a portable compressor or stationary one that sits on the floor of your shop.
An air compressor is needed to power all types of pneumatic equipment, including:
Air gun
Paint sprayer (also known as an HVLP)
Air die grinder
Air wrenches (also called air ratchet)
Pneumatic chisels and punches, etc.
When you get an air compressor for your shop, make sure to choose a professional grade 60 or 80-gallon model with enough flexibility in air pressure and delivery. This will help you save space in your shop while providing enough power to run multiple air-powered machines at the same time. We have two separate guides on this tool, check according to your purpose-
4. Fender Repair Tools
A set of fender repair tools will come with a variety of different tools to make sure that the job is done right. A typical kit includes roller, pliers, wire cutters, an assortment of screwdrivers in assorted sizes, and Phillips head bits.
Some kits also include a few hammers for tapping out dents or prying up nails from around body panels. The more advanced kits might contain some power drivers and air guns as well.
None of these are expensive items so they're worth getting even if you don't plan on using them too often since every now and then someone needs one at the worst possible moment when all other equipment has been left somewhere else!
Fender roller is an integral part of the fender repair process. You can adjust tire clearance or repair a bent or cracked fender with these tools.
5. Bumper Retainer Clips
Bumper Retainer Clips are used to keep a vehicle's bumper in place and from bouncing around. They're usually installed by attaching them to the car's main body panels with screws or glue, depending on what you prefer for your repair technique.
These clips are great for those who want to make a quick and easy repair as they can be bought in packs of four or more, so you don't have to worry about running out when doing a big job.
These clips are also quite inexpensive, usually costing around $0.50 per clip.
Bumper Retainer Clips come in many different sizes depending on the vehicle's bumper size. You'll need these for any car-related project that involves installing new bumpers onto vehicles with smaller parts.
6. Trim Replacement Tool
This tool is used to remove trim in order for a new one to be installed. It's often necessary when the old trim needs replacing because it has been broken, worn, or damaged by corrosion. The tool will make removal of the existing material quick and easy without causing any damage whatsoever.
It features an ergonomic handle with two different blades: one for cutting plastic trims and another blade that cuts metal ones. This allows you to choose the best blade depending on what type of trim you need to be removed from your vehicle. You'll have access to both types of tools at all times thanks to this convenient design!
The point where these two blades meet also acts as a pivot point which means that there's no risk of scratching the paintwork of your vehicle.
If you've been looking for a way to get rid of that old trim, then this is it!
7. Suction Tools For Dent Repair
A suction tool is a power-driven air pump that creates steady suction to remove substances from the surface of an object. A vacuum cleaner, for example, operates on this principle. It contains a fan and impeller which rotate in opposite directions. The spinning action sucks up dust particles through one side while blowing out filtered air or exhaust gases at high velocity towards the other.
Suction tools remove the dents without putting the body panel at any risk of damage. You can use a suction tool for dent repair.
These tools come at a cheap price but provide greater value when it comes to their usage. You can do dent removal without removing paint pretty easily with these machines.
8. Auto Body Line Marker Tool
The Auto Body Line Marker Tool is used for drawing straight lines over body panels. It's helpful when repairing auto body damage and you want to maintain a uniform distance from the panel edge. This tool has an adjustable needle, generally with two different widths: ¼" and ½". There are also other features that make it an indispensable addition to your garage tools, such as its compact size which makes this tool easy to store in your vehicle or on-site while working at the vehicle shop.
9. Collision Repair Pulling Tie Tool Hook
The purpose is to remove and replace damaged metal in a collision repair. It can be used for structural repairs on the front end of cars, repairing door edges, removing the trim from around windows or other body panels.
The Collision Repair Pulling Tie Tool Hook is mainly used as an aid to pulling out dents or replacing sheet metal in automotive bodywork. The hook has two ends that are curved at one end with pointed tips so they can easily become embedded into a hole drilled into steel without slipping off (one side being left-handed). This tool also aids when opening up holes by inserting them through from both sides then twisting while applying pressure until you hear a click which lets you know it's been set properly (pulling out the tool will create a clean, round hole).
10. Sanding Pads
Sanding pads are something you should always have on hand. It's not uncommon for somebody to find rust or other issues with a vehicle before painting and need some quick sanding done. Sanding pads will allow them to do this quickly without needing special tools that would be required otherwise. This is because they can just use the same pad over again which has already been used, so there is no waste involved in these types of supplies as well!
However, you'll need to get different grit pads to be able to do any job perfectly as not all come with the same coarse grit. Get low to high grit pads, low grits are more coarse where the high grit number means finer sand particles.
11. Polishing Pads
Polishing pads are mandatory for autobody finishing. These pads are typically made of cotton, and sometimes use synthetic or natural wool.
These pads allow you to get the desired shine with precision. They come in different shapes, sizes and materials. For an auto body repair shop, we recommend going with all sizes and types as all will have different use cases. For beginner and DIY users, small-sized wool-made products will work better. You will be able to use them on almost any kind of surface.
12. Automotive Body Filler
Automotive body filler is a type of putty that's used to fill crevices and holes on the exterior surfaces. Body filler can be easily sanded, providing you with an excellent opportunity for making necessary adjustments before painting.
Once it has dried out, simply use paint thinner or another solvent-based material as a final step in order to give your car its desired finish.
This product comes pre-mixed with a hardener so there won't be any need to mix anything up yourself beforehand. It also contains rubber additives which are essential when filling larger gaps in order to avoid leakage due to pressure buildup within them after application. Automotive body filler allows for easy repair work since it takes less time than using other products such as epoxy.
In other words, this product is a great option for those who are inexperienced or have little time to spare when it comes to repairing their car's exterior. This is because of the fact that there won't be any need for rough sanding before painting can take place since the body filler dries out quickly and evenly when applied correctly.
13. Windshield Crack Repair Kit
This kit has adhesive and primer to repair a chip or small crack in the windshield. When fixing cracks, it is important not to use too much sealant, or else you will have difficulty removing any excess from around the edges of the glass when finished. You also want to make sure that all air bubbles are removed before curing with ultraviolet light as this can leave permanent marks on your windshield if they aren't removed completely.
While using windshield crack repair kits, make sure you read the product instructions carefully as different products require different application processes to be followed. Any deviation from the recommended application process can lead to greater damage to the windshield.
14. Paint Curing Infrared Lamp
This tool is used to cure wet paint quickly and evenly. This will prevent the paint from drying in a blotchy or uneven manner, which would result in poor quality results. The lamp can be set up on any flat surface for easy access to your workstation and comes with an AC plug-in so there's no need to purchase a heavy-duty extension cord (expensive!). It has a light-sensitive touch switch that allows you to use it at night without having to turn on bright lights all around your workspace.
These come in handy when you got clients who are in a hurry to get things fixed or when you are late for work. Either way, these will reduce the time for paint curation so that you can deliver a finely finished car faster.
15. Jigsaw
A jigsaw is another tool that you should have in your arsenal as an auto body repair technician.
This saw can be used for a variety of things but is most commonly used to cut curves and shapes into materials like wood or drywall, including the metal on car doors before sanding them down to remove any scratches from daily use.
This type of blade will not need to be replaced very often because it's made out of much harder material than other blades which means they last longer without being dulled by contact with softer surfaces too quickly.
The size range varies greatly amongst models so make sure you know what kind of work you'll mostly be doing when choosing which one to buy – something small enough for intricate detail work may not be large enough for cutting out larger shapes.
This is a good choice for you if: You do mostly fine detail work like sanding or polishing the metal on car doors until they're spotless and smooth after being cut with an oscillating saw blade. If your primary concern is adhering to tight deadlines then this type of machinery may not be right for you because it can take longer than other types of tools depending on what you need to accomplish in order to get the job done.
16. Angle Grinding Tool
An angle grinder is a power tool that has the ability to cut almost anything efficiently. It's most commonly used for removing paint, metal, fiberglass, and concrete material from various surfaces like cars or buildings as well as cutting through the asphalt in construction projects.
They are also often used by law enforcement officers to remove locks on doors when they need access quickly.
This device typically comes with many different types of blades which can be attached to the end of it including grinding wheel disks and saw-type blade discs made out of tungsten carbide or diamond grits – this allows you to use an angle grinder for more than just one job task! Angle grinders vary greatly in terms of their variable speed rating.
You can use these machines to grind and cut through materials with ease.
17. Extended Reach Air Cut-off Tool
One of the most important tools for an auto body repair technician is a good air cut-off tool. This will allow you to make quick, clean cuts with minimal effort and little potential damage.
The extended reach version offers up more than double the distance between your cutting hand and the edge of the material being worked on thus making it much easier to control where that sharp blade goes while still in motion.
The extended reach cut-off tool allows you to reach areas of your car like the trunk, engine compartment, or even under the car.
Cut-off tools are especially helpful for body repair professionals because they can make quick work of sheet metal without causing any damage to it like some other cutting methods might.
This means that you will be able to use less labor in order to get a clean cut and also speed up the finishing process.
18. Reciprocating Saw
A reciprocating saw is used for cutting through various materials. You can use it to cut things such as metal, wood, or drywall. This tool does not usually come with different types of blades and will need a number of different blades in order to do everything well without additional purchases, however, you may be able to get the blade that cuts what you want when you buy it if possible.
A brushless motor on this type of saw is going to have less vibration than one with a brushed motor because they are more powerful while using less energy which means the user gets tired faster but has better precision control over their movements.
You can buy different blade types to cut a wide range of materials with this machine without needing another machine. So, a great value for money product is a quality reciprocating saw.
19. Interchangeable Metal Forming Kit
The interchangeable metal forming kit is a useful tool for creating custom automotive parts. The set includes five basic punches, one each of round, square, oblong shape and two different sizes of rectangular shapes – all made from high-quality steel. Some advanced kits nowadays come with way more tools than the mentioned five.
These are used in combination with the included anvils to form sheet metal into any desired shape needed by auto body technicians. This is a valuable addition to your workshop or garage that can help you get out of tough jams when working on cars!
20. Heat Gun
A heat gun is a tool that blows hot air. It's used to shrink plastic and loosen frozen bolts or nuts, for example. They're also great at removing paint because the intense heat will cause it to bubble and blister before eventually turning into dust.
The heat evenly distributes (when applied correctly) so it doesn't damage the surrounding parts of your car like some sandpaper products might do. Heat guns can take time to reach their full temperature levels but they'll warm up quickly when you start using them on warmer surfaces such as plastics or rubber trim pieces like window seals.
Heat Guns are useful tools in an autobody technician garage because they provide versatility with shaping materials while being able to create a variety of textures depending on how you use the product.
Not only for auto mechanics, but any DIY guy must also have a heat gun as well to do his works perfectly. These machines are so versatile that you will find them in almost all industries, no matter whether it is plumbing, painting, car repair, or jewelry making.
21. Sanding Blocks
A set of sanding blocks allow you to finish edges and corners perfectly, as well as ensure that your work is even. A general four-piece kit includes one with coarse grit for major scratches, medium grit for small or deep scratch repair (or removing paint), fine grit for ultra-smooth finishes on glossy surfaces like chrome trim pieces, and an extra coarse pad which can be used wet or dry.
Like heat guns, these are also found across different industries and you won't regret buying a set of these.
22. Slide Hammer
The slide hammer is used to move heavy metal parts, such as ball joints and axles. The tool consists of two arms that are connected by a rod or bar with the top arm fixed in place. When you push down on the lower arm it moves up pushing against an object and forcing it to slide out from its position.
These are not required primarily but will come in handy when you start working on various types of projects.
23. Gloves
Gloves are essential items for repair and maintenance work. They keep your hands from getting dirty, which saves you time in the long run when cleaning up after a job is done.
For instance, if you're working with paint, there's no need to worry about smearing it all over everything else-if your gloves have built-in grip pads on their palms.
When buying gloves, be sure that they're made out of nitrile or rubber; latex will likely just break down into powdery bits under high heat conditions like those found at an auto body shop! These gloves often come powdered for easy donning and doffing but can also be bought pre-powdered.
There are many types of gloves to choose from, and it largely depends on what your needs will be. However, the two general types you'll need for auto bodywork are
a) Mechanics Gloves – These have textured palms or fingertips which make gripping tools easier.
b) Nitrile-coated fabric gloves – This type is coated with nitrile so they're thicker than mechanic's gloves but still allow precise tasks like working automotive wiring harnesses without getting burnt. They also protect against abrasion (wear at the hands).
Beware that buying too many pairs of gloves might not always be necessary–though some people prefer to stock up in case one pair ever wears out! If this isn't an issue then you can get gloves of different thicknesses depending on what you might be doing.
The only downside to nitrile-coated fabric gloves is that they don't last as long as other types of work gloves, so it's important to keep an eye out for wear and tear or the need for replacement.
It's also possible that jobs require disposable nitrile rubber gloves – these are perfect when cleaning up spills since they won't transfer anything they touch to your hands.
If you're not sure what the difference is, it's that disposable gloves are intended for one-time use only and should be thrown away after completing a task. Nitrile rubber gloves can be reused many times over before needing replacement if necessary – although in most cases these will last much longer than nitrile-coated fabric gloves because they aren't as prone to wear and tear from frequent usage.
The Advantages of Working with Gloves:
It might sound like we work under ideal circumstances all day long–but every job has some drawbacks! Using protective gear such as gloves helps protect us against harsh chemicals that would otherwise cause skin irritation or worse (as well as giving us protection when we're working with rough materials such as saws, sandpapers, car parts, which can lead to cuts and scrapes without gloves).
24. Goggles
If you are working with chemicals, they will go into your eyes. Safety goggles protect the eye from these substances and keep objects out of them.
Goggles should be a part of any good auto body repair kit because their protective qualities can prevent injury to the eye that could lead to blindness or scarring over time.
These safety accessories form an important step in prevention for many workplace injuries such as chemical burns and particle inhalation. This is why it's necessary to wear them when handling corrosive materials like old car parts, parts washing solvents, etc.
25. Masking tape
This is used to mask off areas of the vehicle that are in need of repair. There are two types, blue for use with water-based paints and yellow for oil-based paint (Be sure to check on the purchased product).
It can also be used as a temporary fix on rust stains or damage until more permanent repairs can be made.
Masking tapes provide an inexpensive solution to many problems, but they should not be left too long before being removed so that no residue remains when it is time to apply new paint coatings down the road. The cost ranges from $0 – $20 depending on how much you buy at one time and where you purchase your supplies from.
Like many other products in this list, masking tape also have a wide range of use cases and you will find them almost everywhere in the world, no matter you are in the white house or in a hut.
26. Automotive Paints
Paints are used to provide new colors and protection for surfaces. There are many different types of paint, but the most popular types you will come across in an auto-body shop are enamel and acrylic paints.
Ordinary or epoxy paints can also be found at home improvement stores such as Home Depot or Lowes. In addition, they have some reflective coatings that keep your vehicle cool on those hot days while parked outside during the summertime hours without the air conditioning running. These materials are usually affordable because it's not too hard to find them when needed if you know where to look!
The main difference between these two kinds of paint is their final finish appearance after dried up: Enamels give a glossy shine while acrylics are more of a flat coat.
A very important tool to have in your garage or shop is some kind of bucket that you can put all the paint in and mix it up together, which will help prevent clumping on the roller brush. You'll need an air compressor with at least five-gallon capacity so you can fill up sprayers without wasting too much time waiting for them to refill themselves after each use. This helps make sure that everyone gets done as quickly as possible while also saving money by not having to buy another expensive piece of equipment!
27. Wax Pads or Polishing Compound
Wax pads are used to create a smooth and shiny surface on your car. It leaves the paint job looking like new! Waxing, however, can be very time-consuming since it is typically necessary for every wash. There is also a risk of over-waxing which will leave excess wax that could cause runoff on other sensitive areas of the vehicle such as headlights or body panels.
A quick way to avoid this dilemma is by using an orbital buffer with a polishing compound instead; it's much quicker and less messy than wax pads but still creates a beautiful finish while removing swirls and scratches from even non-painted parts such as chrome trim pieces.
The average cost for these two items combined together would be around $150.
A buffer is typically used to create a smooth and shiny surface on your car. It leaves the paint job looking like new!
28. Mig Welder
A MIG welder is an industrial welding tool that uses a wire feed to melt metal together. Welds are made by moving the torch over the joint and using electrode as filler material for any gaps in the arc. The fuel gas mixes with air from a compressor, which creates an electric spark inside of an insulated nozzle on top of the machine. When they come into contact with each other, it generates heat so hot you can instantly see it through the glasses.
This type of welder is often used to repair sheet metal objects like car bodies because its easy maneuverability means that this tool can be moved around easily without occupying too much space. They also work better than TIG welders when repairing thin pieces or small ones.
29. Plasma Cutter
A plasma cutter is an electric arc welder which uses high-intensity ultraviolet light to cut through metal.
The process of cutting steel and other metals with plasma starts when the air is ionized by a powerful electrical charge creating intense heat, melting the material at its point of contact.
This allows for deep cuts without needing much pressure or prolonged contact! If you're looking for a fast way to make big cuts on your vehicle then this tool will do wonders. However, if you plan on using it constantly there's always room for error – so be careful!
And these machines can pose life-threatening risks if handled incorrectly. So, you must be prepared and skilled to operate these machines before you buy one.
30. Car Lift
This is a tool that lifts vehicles so they can be repaired from underneath. Some are powered by hydraulics, while others use electricity and take about 15 minutes to set up.
The car lift connects to the chassis of your vehicle with either metal J-hooks or clamps built into its frame. It has two arms that hold onto both sides of your auto body on each side in order for it not to drop back down when you remove the support pins.
Car Lifts come in various types: hydraulic jack style, scissor arm type, and electric type (which takes less than 30 seconds). The right kind will depend on what you want out of it – if durability is important then go with the hydraulic type, if it's the aesthetics that interest you then go with the electric type.
A car lift is an important tool for anyone who wants to do auto body repairs at home and save money on garage fees. It may seem expensive upfront but remember that a lot of garages charge $50 per hour – which means you'll be spending over $600 just to put up your vehicle without even fixing any problems! The cost of purchasing one will pay for itself in no time.
The hydraulic car lift can be used for more than just cars, too – they're perfect for shops that also do light work on trucks or other types of vehicles.
31. Tape and Masking Supplies
Masking tape is used to hold materials in place before painting or gluing. They are available in different widths and adhesive strengths so you can choose the best one for your project. Masking tapes come with an easy peel-off backing that leaves no sticky residue on surfaces when removed, and they're also paintable which means you can use them as a stencil if needed!
Tape measures help technicians measure lengths of objects such as metal panels while still keeping their hands free (and not having to worry about getting measurements off by fractions of inches). There are even special tape measures designed specifically for auto body repair work, but any standard 18″ steel rule will do just fine too. You'll need something like these Brown & Sharpe tape measures to keep your measurements accurate and precise.
32. Rust Resisting Solvents
Rust resisting solvent is a chemical that removes the surface layer of iron oxide from ferrous metals or to control corrosion. These solvents are usually mixed with oil so that they can be applied evenly and effectively without leaving any residue behind.
They work by removing the protective, outer coating on metal surfaces and replacing it with another less corrosive substance. The process leaves your car's paint job smoother than you could achieve through polishing alone because these chemicals dissolve dirt particles into a more liquid form which then becomes absorbed in the oily solution rather than remaining on top of the surface.
Not only does this make for an easier task when washing off excess grime but it also keeps new dirt from sticking to your vehicle's exterior as well.
33. Painter Coveralls
Painter coveralls are a great way to protect your clothes from paint and other stains. It is important that you wear the appropriate protective gear, including these coveralls when working with paints or solvents. They come in different levels of protection for various jobs, so be sure to get the right one for what you need it for.
When choosing this type of outfit, make sure they have an attached hood as well as a zipper on either side at ankle height. With all-way zippers, you can easily step into them before pulling up each leg and closing the zips behind your back. This will save time because there is no need to take off shoes first if shoe covers are not being worn underneath.
34. Car Wraps
Car wraps are great for protecting the car's body, and they can be custom-made to suit your needs. And since it is possible to have a wrap professionally installed in just a few hours, there's no need to worry about a lengthy job that will cause you delays with other work or damage your car's paint finish.
Additionally, when professional installation is performed on an older vehicle, the final result will provide protection from both acid rain as well as general wear and tear over time. The sticker used in this process also possesses the ability to block out ultraviolet rays which can fade cars' color at breakneck speed.
This material has proven benefits including its resistance against fading caused by UV rays; however, if your car spends all of its time in the garage, UV exposure ceases to be an issue.
There are also disadvantages to using this material such as that it can make a vehicle look bulkier and may require professional installation which is not always feasible for amateur mechanics; additionally, if improperly installed your car's paint job could get damaged during removal.
Work with professionals when the budget permits because they will know how to properly install the wrap without damaging your automobile's original finish or leading you down a path of decreased driver visibility caused by bubbling up from under layers. The only other disadvantage we found is the price; however, there are ways around this problem including keeping an eye out for sales on vinyl wraps at online stores like Amazon where discounts of up to 60% are commonly found.
The advantages of a vinyl wrap include the long-lasting and cost-effective nature that's perfect for someone looking to get their car or truck repaired, but doesn't want it in their driveway for weeks waiting on insurance adjusters and body shops to be open.
Additionally, these materials can be easily applied by an amateur mechanic with some knowledge as well so there's no need to wait around while your vehicle is being fixed; even if you do have the professional installation done, the process will take just hours instead of days since most material kits come complete with everything you'll need from specialized cleaners/degreasers to applicator tools like knives and rollers!
35. Pliers Set
A plier set is a great tool to have for many reasons. It can be used in removing and installing bolts or nuts, as well as twisting wires together.
The best types of pliers are those that come with long handles so they don't bend when you're using them. They also need to contain the three most common sizes: medium, heavy-duty, and needle-nose (small).
The reason these features are important is that without a handle at least a feet long it's hard not to twist your wrist back too far which could cause pain later on.
Some additional features you should search for in this product include having metal loops around where each finger goes instead of just one loop like some other brands have begun doing lately.
36. Screwdriver Set
A screwdriver set is a must for any auto body repair technician because it will help loosen and tighten screws, which can be the reason why things are not working correctly.
There are different types of drivers to choose from: flathead driver, Phillips head driver, or Torx heads. I recommend going with a set that comes with 40 to 60 pieces of screwdriver heads so that you don't miss out on anything at the crucial time.
37. Wrenches
Wrenches are one of the most common tools in an automotive mechanic's toolbox. Wrench sets come in a number of different sizes and shapes, like slotted wrenches (which work best for nuts) or box-end wrenches (for fastening bolts).
You'll need them to loosen tight fittings on hydraulic brake lines, release hose clamps so you can remove the expansion tank from your car's radiator system, tighten lug nuts on tires, and more.
If you're going to invest in any wrench set at all-you might as well get a good one because imported ones will have cheap materials that won't hold up over time.
38. Drilling Tools
These tools are used to drill holes in different materials. Drills come with speed and size options, which means that they can be adjusted for the needs of a job.
They should also have an electric motor or compressed air supply. Drill bits are made out of various metals depending on the task at hand; cast iron is better suited for hard surfaces while titanium works well on other surfaces. The most important part to look for is how many times it can spin before you need another one – this will help determine if your tool has enough torque to handle the material being drilled into without breaking down quickly.
39. Ratchets
Another thing you will want to have in your toolset is a ratchet. A ratchet allows for quick and convenient tightening or loosening of bolts because it has the ability to go in either direction without having to take off what was already tightened down.
It can also be used as an extension on other tools such as wrenches, sockets, etc., which makes working easier when there are limited spaces that need attention or work done on them.
40. Blow-off Gun
Mechanics use these kinds of guns when removing dirt, grime, oil, grease, water from parts before painting them by blowing away any debris that could interfere with achieving a clear coat finish which would then make the parts more susceptible to corrosion.
Conclusion
The tools you need to get started with bodywork can be found online or at your local auto parts store.
It's best if you start off small and expand as needed so that the cost doesn't become unmanageable for a new business owner like yourself. Start out by purchasing basic hand tools such as hammers, screwdrivers, wrenches, pliers, etc., then move on to more specific types of equipment that will suit your needs better based on what type of repairs you'll be doing most often.
As always when it comes to in-demand items people are trying their hands at these days (car repair) there is a lot of competition which means prices fluctuate quickly so keep an eye on things before they go up.