It's important to have a good-sounding car stereo system, especially if you love bass-heavy music.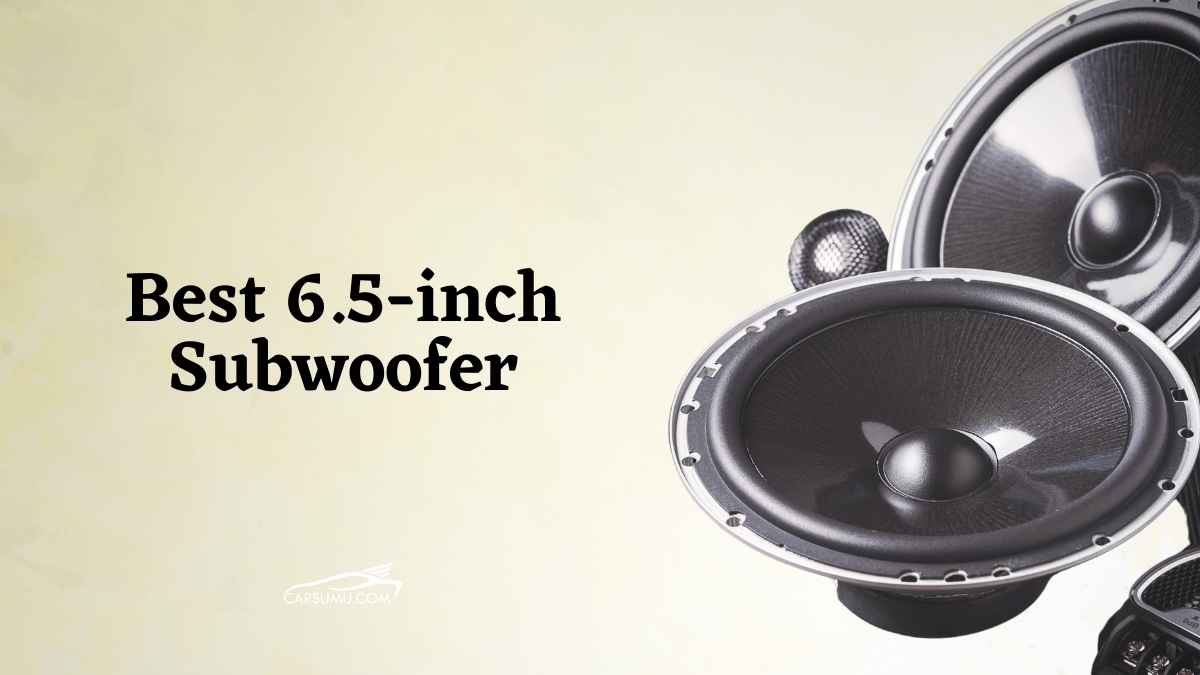 There's nothing like the feeling of bass thumping through your car's speakers, shaking the entire vehicle, and leaving your eardrums vibrating. If this is what you're looking for, you need a 6.5" subwoofer. 
Whether you're looking to power your car audio system or want some extra bass in the house, a 6.5" subwoofer will be perfect for both needs! They strike a great balance between size, performance, and price point.
If you're in the market for a new 6.5" subwoofer, then you're in luck – we've done the research and found the best options on the market today.
In this article, we'll take a look at 7 of the best 6.5" subwoofers on the market. So whether you're a music lover or an audiophile looking for better sound quality, read on to learn more about the 6.5" subwoofers available today.
Top 7 Best 6.5 Inch Subwoofers:
Here we go with the details reviews-
1. Memphis Audio MJM644 MOJO Series 6.5" Dual Subwoofer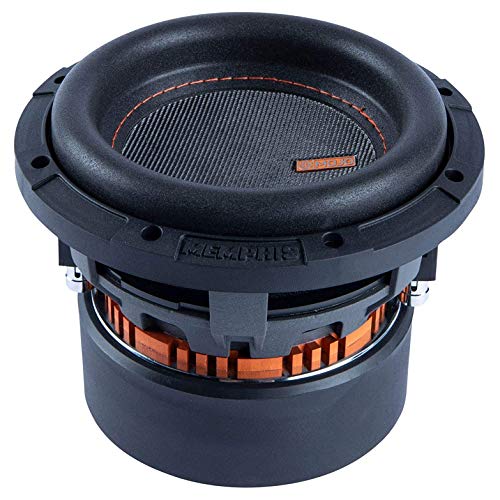 It's no secret that Memphis Audio is one of the top names in car audio systems. And their MJM644 MOJO Series 6.5" dual subwoofer lives up to the company's reputation.
Whether you're a music lover or a car audio enthusiast, the Memphis Audio MJM644 MOJO Series 6.5" dual subwoofer is sure to delight your ears. We say this because it produces some of the deepest, richest tones – it shakes cars! Plus, it is reasonably priced.
The MJM644 6.5" subwoofer features a 4-layer copper 1.5″ 4-ohm voice coil, giving it an impressive 1600 Watt peak power rating, 700 Watt RMS power handling, 82 dB sensitivity, and 48-150 Hz frequency response.
It is made with a fiberglass reinforced cone, Direct Vent Voice Coil (DVVC) design, and a heat-dissipating aluminum heat sink basket to prevent overheating. The cone and basket are surrounded by stitched foam for added protection.
With proven performance and reliability, this bad boy is sure to deliver the punchy bass that you crave while lasting for years to come.
The MJM644 6.5" subwoofer convenient design mounts into a 5" deep area, so it will fit in very compact enclosures (0.5 cubic feet for sealed box and 0.85 cubic feet for ported box). You'll need to get an amplifier if you want this subwoofer working its best.
Benefits
This subwoofer offers excellent value for money.
It will give your music the boost it needs, providing rich bass and a powerful sound.
It is well-made, so you can trust its durability.
It has a 5" mounting depth.
Drawbacks
It may blow up if you play it at its maximum power level.
CHECK PRICE ON AMAZON
2. Earthquake Sound SWS-6.5" X 6.5" Shallow Woofer System Subwoofers (Pair)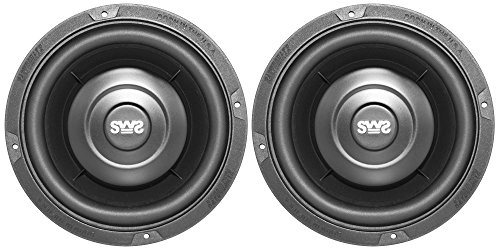 If you're looking for an impressive audio experience that will have you feeling the beat, check out Earthquake Sound's SWS-6.5X 6.5-inch shallow woofer system subwoofers.
These 6.5" subwoofers are sure to add some serious depth to your soundscape, delivering powerful lows that will have you head-banging in no time.
They have a 4-ohm impedance with a high-temperature voice coil. A pair puts up a maximum power rating of 200 Watts MAX and 100 Watts RMS.
Earthquake Sound made them with NOMEX/ROMEX spider assembly coupled with a heat-sink attachment for effective heat dissipation.
With a shallow 1¾" mounting depth and low-profile design, these subs are perfect for any music lover looking to upgrade their car audio set up without any installation setup. Note that these speakers are best mounted in sealed enclosures.
Benefits
They feature a low-profile design.
These subwoofers produce excellent bass tones.
They have a sturdy construction
They are perfect for sealed enclosures.
Drawbacks
If you install them directly in your car factory space, they won't sound nice.
They are not so durable.
CHECK PRICE ON AMAZON
3. Rockville W65K9D4 6.5″ Car Audio Dual 4-Ohm Subwoofer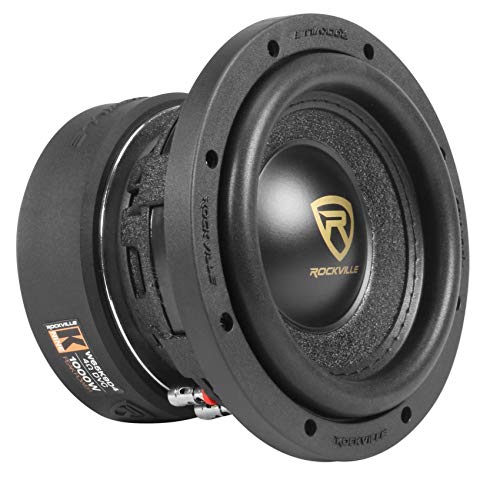 Rockville has been a leader in car audio for decades, and they're still going strong with their line of high-quality speakers. The Rockville W65K9D4 6.5″ car audio dual 4-Ohm subwoofer is designed to deliver some serious bass performance in your car audio setup.
With rugged construction and dual 4-ohm voice coil wound with OFC wire, this subwoofer is perfect for hardcore audiophiles who demand the very best bass quality sound.
This subwoofer delivers a peak power handling of 1000 Watts, 500 Watts RMS power handling, 52hz-800hz frequency response, and 2.1 dB sensitivity.
Rockville equipped it with a cast aluminum basket and a non-pressed paper cone, making it very efficient and lightweight. They surrounded it with a thick foam that provides incredible sound quality with minimal distortion.
The Rockville W65K9D4 6.5″ car audio dual 4-ohm subwoofer has a mounting depth of 4.17". If you wish to place it in a sealed enclosure, make it 0.14-0.4 cubic feet or 0.4-0.7 cubic feet in a vented/ported enclosure.
You will need a powerful amplifier to run this subwoofer efficiently. However, it is important to note that if you want your subwoofer to last for long and work properly, do not power them up at their rated level.
Benefits
This subwoofer is well-worth your money, offering serious bass performance.
It works in a sealed or vented enclosure.
It has a rugged construction that ensures its durability and reliability.
You get this beast at a very affordable price.
Drawbacks
It blows when powered to its maximum.
CHECK PRICE ON AMAZON
4. Skar Audio EVL-65 D4 6.5″ Dual 4 Ohm Car Subwoofer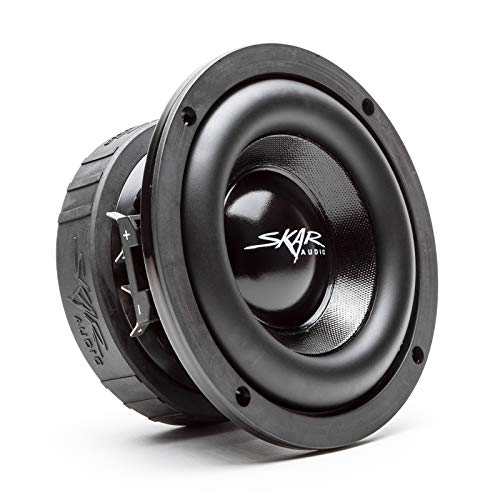 It's not often that we come across a car subwoofer that completely blows us away, but the Skar Audio EVL-65 D4 did just that. This subwoofer is an absolute monster when it comes to bass reproduction.
It is perfect for anyone who loves pushing their car audio system to the limit. If you're in the market for a new 6.5″ subwoofer and are looking for something with serious depth and punch, then you need to check out this subwoofer
The Star Audio EVL-65 is a monster subwoofer with a 4-layer 2″ pure copper dual voice coil that allows you to wire parallel, series, or independent. Plus, it has a strong 39 Oz single slug ferrite motor.
This subwoofer offers a 400 Watts peak power handling, 200 Watts RMS power handling, 50 – 250 Hz frequency response, and 83.1 dB sensitivity. Its compact size makes it fit tight spaces in any car. While the size is not exactly 6.5", it's still a great fit!
The Star Audio EVL-65 subwoofer features an aluminum diecast chassis that uses an advanced airflow cooling system to help dissipate heat. Its high-quality paper cone and high roll foam surround reduce sound distortion.
With its impressive design and clear sound quality, this subwoofer is sure to give your car's audio system a boost. Although, you may need an amplifier to bring the best out of the speaker. Note that its performance is dramatically improved when it is mounted in an enclosure.
Benefits
This subwoofer has a compact size that will fit virtually anywhere in a car.
It produces deep, thundering bass.
It has a reasonable price.
It put out tons of power.
Drawbacks
It's not exactly 6.5" in size.
CHECK PRICE ON AMAZON
5. DS18 Elite Z6 Subwoofer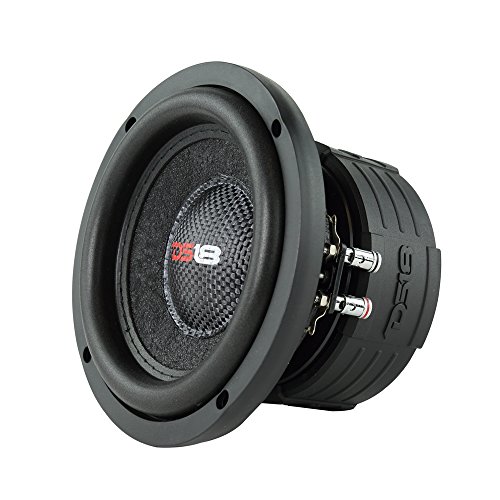 The DS18 Elite Z6 subwoofer is a high-quality product that is perfect for music lovers and car audio enthusiasts. With its deep bass tones, this subwoofer will deliver earth-shattering bass that will have your car shaking from top to bottom.
The DS18 Elite Z6 Subwoofer features a dual 1.5" 4-ohm voice coil, 600 Watts Max power, 300 Watts RMS power handling, 82 dB sensitivity, and 38Hz – 200 Hz frequency response. With it in your car, you'll feel the thunderous sound of the drums in music vibrate through your body.
This subwoofer dual voice coil offers wiring flexibility. It has double-stack magnets, a large foam surround, a Kevlar dust cap, and a pressed paper cone all at an affordable price.
It offers a sleek design and impressive performance, so you're sure not going to be disappointed!
It works well with both ported and sealed enclosures. However, the mounting holes in the speaker are not properly fitted. So, you'll need to make modifications to it before you can install it perfectly.
Benefits
This powerhouse provides enough bass that is sure to get your adrenaline going.
It works excellently well in both sealed and ported enclosures.
It is well-built and will last for a long time.
Bangs for the bucks.
Drawbacks
It's not straightforward to install due to its pre-drilled holes not being properly drilled.
CHECK PRICE ON AMAZON
6. Kicker 43CWRT672 CompRT 6.75" 2 Ohm Dual Voice Coil Shallow Slim Car Audio Subwoofer
Kicker has made a name for themselves in the world of car audio. And with good reason – their products are top-notch.
If you're looking for a subwoofer that will give you great sound and take up minimal space, the Kicker 43CWRT672 CompRT 6.75" 2-ohm dual voice coil shallow slim subwoofer is a great option.
This professional-grade 2 ohms impedance subwoofer can handle up to 300 watts of peak power and 150 Watts RMS power. It has 82.6 dB sensitivity with 60.5 Hz driver resonance frequency.
So you know it can deliver some serious bass. The manufacturer, Kicker, designed it with an injection-molded polypropylene cone and a weather-resistant rubber surround to reduce sound distortion while holding up to heavy use.
 The Kicker 43CWRT672 CompRT 6.75" 2-ohm dual voice coil subwoofer is designed with a shallow slim profile, this subwoofer can fit in almost any car without taking up too much space.
Be informed that, if you want to use an enclosure, you can mount it only inside a sealed box with a minimum volume of 0.2 cubic feet and a maximum volume of 1.0 cubic feet. Also, Kicker has a one-year warranty on it.
Benefits
Drawbacks
It doesn't work for vented enclosures.
The subwoofer isn't loud.
CHECK PRICE ON AMAZON
7. Sundown Audio SA-6.5 SW D2 6.5″ Dual 2-Ohm SA Series Subwoofers
Sundown Audio is a professional car audio manufacturer with years of experience. Their Sundown Audio SA-6.5 SW D2 6.5″ Dual 2-Ohm SA Series subwoofers are high-quality additions to your car audio system.
They will give you that thumping low end you crave. Each subwoofer features a 1.5" coil with 1" winding that delivers 200W RMS power handling, 81.6 dB sensitivity, and 48.9 frequency response.
They offer precise and powerful bass thanks to their full height magnet ID shorting ring for less inductive distortion.
The Sundown Audio SA-6.5 SW D2 6.5″ subwoofers can resist even the most severe listening sessions because of their professional build. They have a 10mm enlarged top plate and extended pole piece with cooling channels for effective heat dissipation.
Sundown Audio designed the subwoofers to be mounted in a sealed (0.15 cu ft) or ported enclosure (0.3 cu ft).
Benefits
These subwoofers' bass production is top-notch. 
They have a professional construction, which ensures durability.
They are designed to work with both sealed and vented enclosures.
Drawbacks
CHECK PRICE ON AMAZON
Final Thoughts
The 7 subwoofers we reviewed are all great choices, but they differ in their design and features. We hope this list has helped you narrow down your options to find the best option for your needs!
Our team of experts has spent hours researching these speakers and listening to them ourselves so that we can offer an accurate review from someone who knows what they are talking about!
Pro Advice: When you're looking for a new subwoofer, it can be hard to know what's right. You might think that all speakers work in the same way, but they don't – each type has its unique features and benefits, which will depend on how YOU plan on using them!
So, ensure you know how you'll mount the subwoofers before purchasing.