Installing a car audio system in your home can be a great way to improve the sound quality of your music and movies.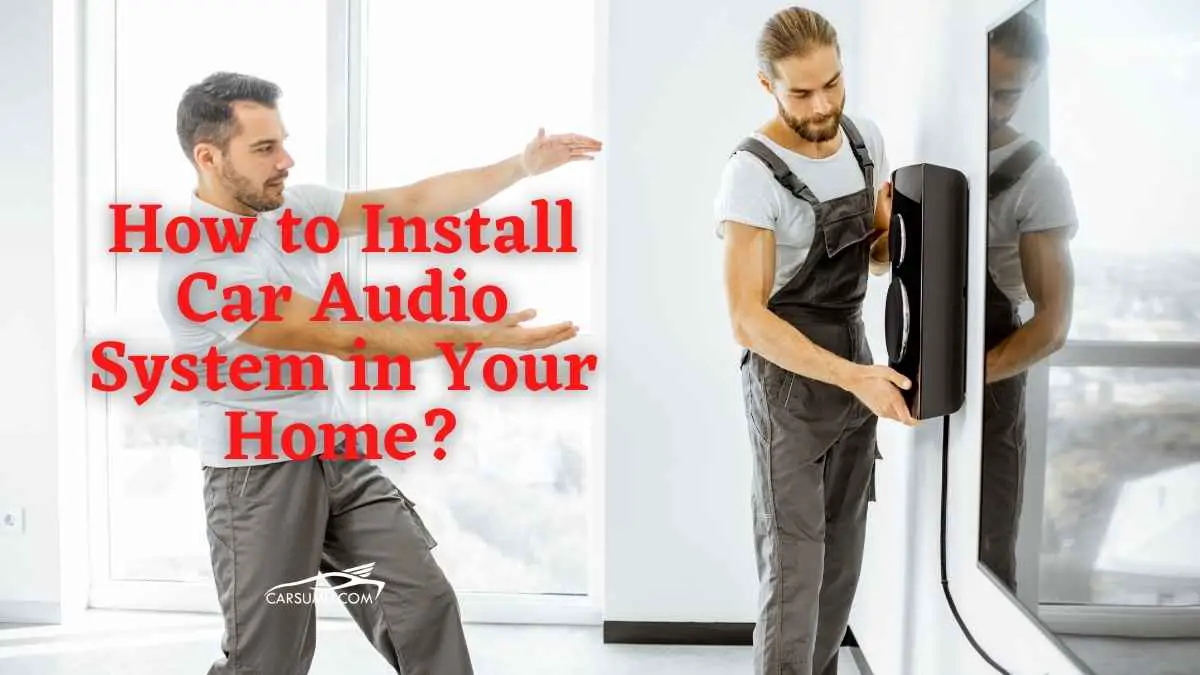 In this blog post, we will discuss the steps that you need to take to install a car audio system in your home.
We will also provide some tips on how to choose the right car audio system for your needs. So, if you are interested in improving the sound quality of your entertainment, keep reading!
Things You Want to Connect
The first step in installing a car audio system in your home is to choose the right components.
In general, you will need the following components:
Amplifier: This component amplifies the signal from your music or movie source.
Receiver: This component decodes the audio signal and sends it to the speakers.
Speakers: These components convert the audio signal into sound waves.
Subwoofer: This component adds bass to your music or movie soundtrack.
Once you have all the components in hand, let's start with the actual process.
Finding the Right Place for the Audio System
The most common places to install an audio system are in the living room, den, or home theater room.
However, you can install the system in any room that you want. But we don't recommend using DIY car audio systems in any of the areas where you want things to look tidy. It's because the car audio system won't look as nice as a dedicated home audio setup on your home.
After all, components are not made for your house, right?
Requirements for the DIY Setup
You'll need a 12 volt AC adapter to provide power to your car audio system. You can buy one from any hardware store or online retailer. Or you can use a car battery or a 12 volts computer supply.
After that, you'll also need cables and connectors like-
Speaker wire
RCA Cable
Power supply cable
Connect All the Subwoofer and Speaker Cables to the Amplifier
You'll find the terminals for all speakers in one place. Connect them with corresponding color codes on your amplifier. Make sure to attach the negative and positive cables correctly, or else it might damage your system.
Then connect the subwoofer cable to the subwoofer channel on your amplifier. You can use a mono or stereo channel as long as you have enough power output from it to drive both subs simultaneously.
Connect the Power Cable to the Amplifier
Connect the power cable to your amplifier, and then connect it with a 12 volts AC adapter. While connecting make sure to double-check so that you connect the positive cable to the positive terminal and the negative cable to the negative terminal.
After that, take a small cable to insert into the positive terminal along with the positive power cable and insert the other end of that cable to the remote terminal.
Connect the Input Device with RCA Cable
Now it's time to connect the input device, like a DVD player or music player with an RCA cable.
RCA cables have red and white plugs on each end. The red plug is for the right channel and the white plug is for the left channel. So make sure that you connect the correct channel to the corresponding input on your receiver.
You can use a two female RCA to one adapter for connecting the amp to a laptop or phone.
Final Steps
Once everything is connected, turn on your amplifier by switching it to the "on" position. Then press the "source" button and select which component you want to use as your audio source.
If everything is set up correctly, you should be able to hear some great sound coming from your new car audio system!
Precautions to Take
While there are not many technicalities involved in it unless you are using an unorthodox power supply system, it's still recommended that you take proper precautionary measures before attempting this.
Make sure the power supply is disconnected until the final step so that there remains no risk of electrocution.
Plus, double-check everything for correct cable connections. Small mistakes in connecting cables can lead to severe damage to the components.
And don't forget to insulate the connections or any other open wires.
Conclusion
If you have a passion for car audio and don't want to change your old speakers, then this is the best way to enjoy music in your home.
It's a nice way to utilize a system that you may not be utilizing in the car. The setup is easy and it can be used in rooms where you want a basic sound system without spending a dime.
This method is commonly used in basements and garages. Especially, in a garage where you spend a good amount of time but don't want to spend money on it, you can use the method to hook up a car stereo in your garage.
We hope this blog post was helpful in getting you started on your own audio system installation project! Should you have any questions or need any assistance, feel free to comment below.