It's the 21st century, and it seems like everyone is addicted to their phone. It doesn't matter if you're driving down the highway or sitting at home watching TV – your phone is always in reach.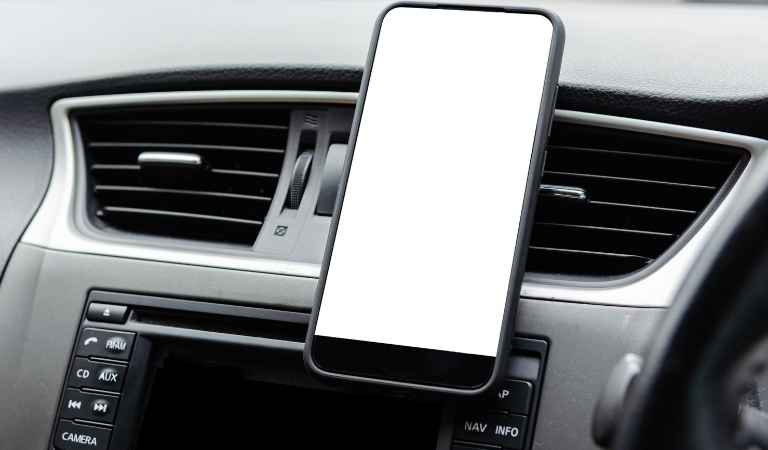 But what happens when you want to use your phone for something that requires both hands? That's where screen sharing comes into play! Here are some of the best ways to mirror a phone to the car screen. Keep reading!
How Can I Mirror My Phone Screen to Car?
Whether it's an iPhone, Android, or another phone- you can mirror your device's screen by downloading the right app.
As an Android user, just make sure that both your car and phone are compatible with Mirrorlink or Android Auto. If they are not, then you will need additional equipment to do so. If you own an iPhone, CarPlay should solve all your problems in one go!
Regardless of which method you choose though, have fun seeing all of your navigation apps with turn-by-turn directions on the bigger screen!
Car Stereo with Screen Mirroring
If your stock stereo isn't capable of mirroring the phone to car, you can upgrade it with our recommended Pioneer AVH-W4500NEX car stereo that comes with built-in screen mirroring feature-
How to Mirror an iPhone to Car Display?
The best way to mirror an iPhone screen to your car screen is to use CarPlay. Apple's CarPlay is a way to get Siri into your car, allowing you to use all of the features that are normally reserved for phones.
To mirror an iPhone screen using CarPlay, first make sure your phone and car are compatible with it. Generally, all car brands that are popular on the road are compatible with CarPlay. And if you have an iPhone 5 or newer version, your phone is compatible to mirror the screen to your car.
Don't worry if your car isn't compatible. You can always get an aftermarket CarPlay enabled Screen Mirroring Car Stereo device to make the vehicle compatible with this modern technology.
Steps to Follow to Mirror Screen through Apple CarPlay (Wired Connection)
Plugin the iPhone through a Lightning cable and connect the other end of the USB port to your car system.
You should see a popup in your car screen with a warning, accept that to proceed to the next step.
In some car systems, you'll directly get to see your iPhone screen mirrored in the car display.
If you are still not seeing, find something called "Mobile connection" or "Phone Connection", or a simple Mobile or CarPlay icon to access the phone from the car computer.
In the next step, you should see options like Phone, Apple CarPlay, Radio, etc. Select Apple CarPlay and enjoy mirrored iPhone screen on your car.
Mirroring an iPhone Screen via Wireless Connection
Although Apply CarPlay is made for wired connections, you can use it just like a wireless connection by using a simple Wireless CarPlay Adapter. Follow these simple steps-
Plugin the iPhone mirroring wireless CarPlay adapter into your car stereo.
Turn on Bluetooth and Wifi in your iPhone and pair the device with the car.
You're done! You can now mirror your iPhone screen wirelessly to the car.
Since there are a lot of adapters and some of those doesn't work well and has issues like disconnect abruptly, we recommend this-
Using Mirrorlink on iPhone to Mirror Phone to Car Screen
Many people won't believe this is possible, but it is possible to utilize Mirrorlink on an iPhone to share display to car screen. Here's how-
Find an app on your car screen called "EasyConnection".
Now, Turn on 'Personal Hotspot' on your iPhone to wirelessly connect your device to the car.
After you turned personal hotspot, it's time to pair the car with the iPhone. Simply go to the EasyConnection App again and connect to your iPhone hotspot.
As both devices are now connected, you are one step away from mirrorlinking iPhone. From the control center on your smartphone, tap "Screen Mirroring". And finish up the process by selecting "EC-Airplay".
Your phone screen should now be mirrored to your car screen.
How to Mirror Android Phone to Car Screen?
For Android users: Mirroring an Android device is easier than you might think! There are actually a few different ways to do it, so here are some of the best-
Using Mirrorlink
Android Auto Method
Android Auto Adapter Dongle
Wireless Adapter
How to Use Mirrorlink to Mirror Android Phone to Car Screen
The Mirrorlink method is a good way to mirror your Android phone's screen to your car. In many cases, this will be the only option available as it works with several different types of vehicles and phones.
In order for it to work properly, you'll need an android device that supports Mirrorlink capabilities. You can check whether your phone and the car are Mirror link compatible on the Mirror link website.
The process is fairly simple-
Connect your android device with the car through a USB cable.
Now, open settings in your phone and search Mirrorlink to find options to mirror the screen to the car.
After you find the mirror link on your android smartphone, turn on "Connect to Car via USB".
You should now see a mirrored android display on your car dashboard.
Screen Mirroring with Android Auto (No Root)
Android Auto is a popular method for mirroring mobile phone displays to a car. Almost all car stereos nowadays come with Android Auto compatibility. So, you can skip the compatibility check if you have a modern-day device and a quality car stereo. Here is what you need to do-
Connect the phone to the car stereo via USB cable.
Select Android Auto on your stereo.
You're done!
Yes, it's that simple. However, you can't utilize the full potential of the Android Auto without root access to your android phone. Since all android phone manufacturers block root access, you can't have that access out of the box.
If you want to have all the perks of Android Auto, you can root your android device with apps like Root Master and Framaroot. However, rooting an android device will void the warranty and has the risk of damaging the phone permanently.
How to Mirror Windows Phone to Car Screen?
While there are free options for Android and ios smartphone devices to mirror screens to the car, unfortunately, windows phones don't come with that privilege. There is no default system for a windows phone to mirror the screen to the car.
However, you can still enjoy the benefits that an Android or ios user gets. You need a cheap Wifi Mirror Adapter for that. The adapter simply uses Miracast to mirror the phone screen to the car screen. The process is simple, plug in the adapter, pair with your device, and enjoy!
After researching for a good quality adapter, we now recommend this-
How to Play Video on Car Screen from Mobile
You can play video on car screen from mobile by simply mirroring your mobile phone screen to the car screen. The methods explained above works pretty well in playing video on a car screen.
However, if you want to try something new, you can try the ApowerMirror app to play videos on the car screen. The app has android and ios versions. So, whether you have an android phone or an iPhone, you can seamlessly use the app to watch videos on car screen.
Can I Use Mirrorlink on iPhone?
No, Mirrorlink is not compatible with ios. It's made for the android operating system and works only on that. So, you can't use Mirrorlink on any Apple device.
How to Use Miracast in Car?
Miracast is another unpopular way to mirror smartphone screen to the car infotainment system. Here's how you can do that-
Check both your phone and car is miracast compatible.
Now, turn on the wifi on your phone.
Open connection settings on your car screen and select Miracast.
You should now see a pop-up asking you to connect through Wifi. On Wifi settings, select your phone to make the connection.
You'll see a pop-up on your mobile phone screen to accept the connection. Accept it.
Now is the final step, find an option called "Smart View" or "Smart Cast" or anything similar (varies from device to device) and select that.
You should now see your phone screen appear on the car infotainment display.
What's the best Mylink Screen Mirroring Method?
From what we've seen to date, Wifi and Bluetooth connectivity work best in Chevrolet Mylink infotainment systems for screen mirroring from a smartphone device.
Is Uconnect Mirror Link Compatible?
Uconnect is not yet compatible with Mirror Link. However, you can seamlessly mirror your phone screen to Uconnect as it is both CarPlay and Android Auto compatible.