If you're experiencing an issue with your Apple CarPlay system where the screen goes black, don't worry – you're not alone.
This is a common problem that many people experience, and fortunately, it's easy to fix.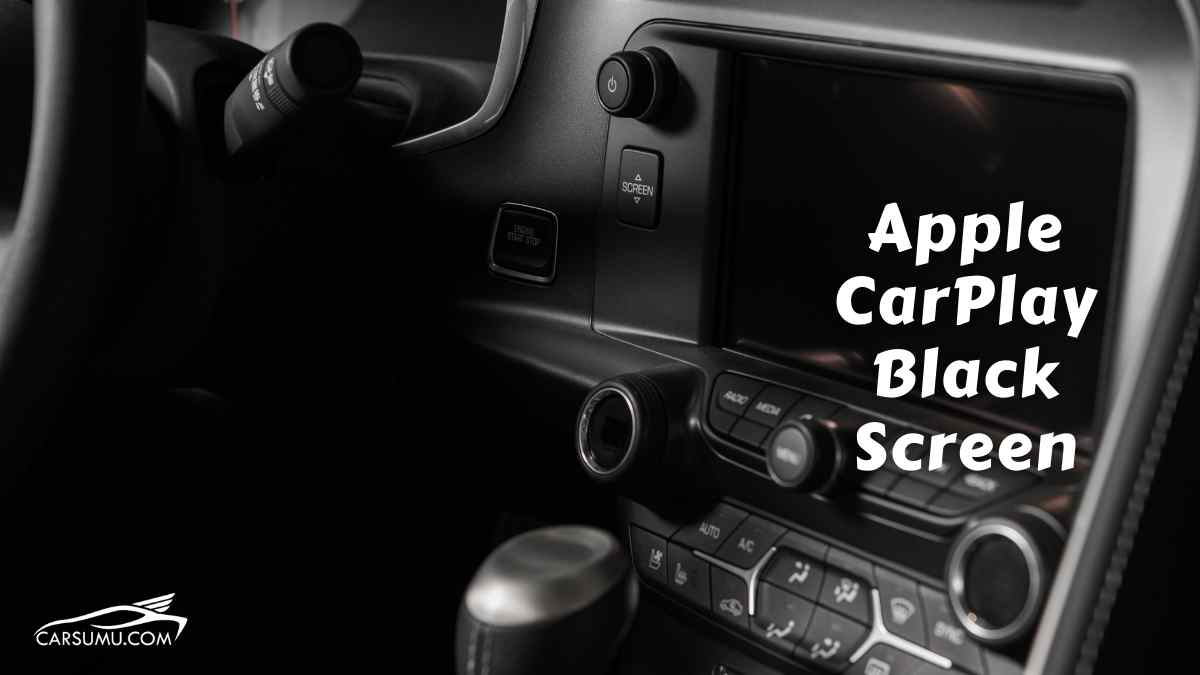 In this blog post, we will walk you through the steps to take to get your CarPlay system up and running again.
Reasons Behind Apple CarPlay Black Screen
There are a few different reasons that can cause your CarPlay system to experience a black screen.
The most common reason is a software glitch.
When this happens, the CarPlay system gets confused and doesn't know how to display the information on the screen.
Another common reason for the black screen is a hardware issue.
This could be something as simple as a loose connection or it could be something more serious like a faulty component.
In either case, there are some easy steps you can take to fix the problem.
Fixing Apple CarPlay Black Screen – The Steps:
There are multiple ways that you can try to fix the black screen on your Apple CarPlay enabled device-
1. Check Your Connection
The first thing you want to do when you're troubleshooting your Carplay system is to check the connection.
Make sure that your device is properly connected to your car's infotainment system.
If you're using a wired connection, check to make sure the cable is plugged in securely on both ends. Sometimes a loose connection is all that causes all sorts of unusual problems.
If you're using a wireless connection, make sure that your phone is within range of the CarPlay system and that there are no obstructions between them.
While you feel that you're in the car and it can't be out of range, there can be spots where the wireless connection is poorer than other places inside your car. Make sure you keep the devices close so that the wireless connection doesn't get interfered with.
2. Reboot Both Systems
If the issue is with a software glitch, the best way to fix it is to reboot both systems.
To do this, first, turn off your car's infotainment system.
Then, turn off your phone.
Wait a few seconds and then turn both devices back on.
Connect them again. Your CarPlay system should now be working properly.
If you're still experiencing issues, try one of the other methods below.
3. Disconnect Devices and Pair them Again
Another way is to disconnect the iPhone from your car stereo. After that, remove the vehicle from the paired list and try reconnecting again from the beginning.
Start with your car stereo turned off. Then, follow the process of connecting an iPhone to a car stereo for a fresh start without the black screen issue.
4. Soft Reset the Infotainment System
If you're still having problems with your CarPlay system, you can try doing a soft reset of the infotainment system.
To do this, press and hold the power button for about 15 seconds.
Then, turn the system back on and see if the issue has been resolved.
If not, move on to the next method.
5. Hard Resetting Your Infotainment System:
In some cases, you may need to hard reset your infotainment system in order to fix the black screen on CarPlay.
The process varies a lot depending on the stereo you own but fear not, we have a bunch of articles covering this topic. Check if any of these match your stereo-
How to Factory Reset Kenwood Car Stereo: Fix Common Issues
If none matches, you should still get an idea on performing a hard reset from any of these. You'll need to do a little search in your system as things may not be in the described order and may name slightly differently.
6. Try Updating the iOS Version
One last thing you can try is to update your iPhone to the latest iOS version.
To do this, open the Settings app on your phone and tap on General. Then, tap on Software Update.
If there is an update available, install it and see if that fixes the problem with your CarPlay system.
Since CarPlay is an integrated iOS feature, iOS updates solve most of its problems without any effort from the user's side.
7. Contact an Authorized Service Provider
If you've tried all of the methods above and you're still having issues with your CarPlay system, it's time to contact an authorized service provider.
They will be able to diagnose the problem and get your system up and running again in no time.
While most of these issues pop up due to software glitches and processor incapacity, they may be a result of some hardware failure that you can't fix at your home.
So, try the simple methods stated from 1 to 6 to see if the problem persists or not. If it persists, you should get it fixed from the authorized service center.
Conclusion
These were some of the ways you could fix the black screen issue on your Apple CarPlay system.
We hope that one of these methods was able to solve the problem for you.
In case you are not getting the results after following all these methods, check if the contact points of the connecting cables are clean or not. Sometimes small specks of dust in the contact point cause all sorts of issues while we keep trying different methods, one after another.
If everything fails, we advise you to take your car to an authorized service provider so they can take a look at it and get it fixed for you.
Have you experienced this issue with your CarPlay system? What method did you use to fix it? Let us know in the comments below!