Do you like to listen to music when you drive? If so, then it seems like a good idea to invest in a quality car stereo system.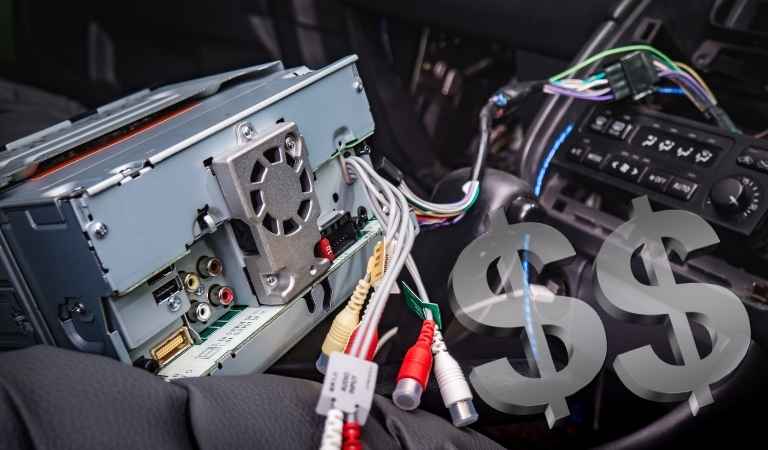 However, the reality is that installing a new car stereo can be very expensive and time-consuming. If you want to install a new car stereo in your vehicle, then there are many factors that need to be considered before just going out and buying one.
In this blog post, we will give you an overview of what it takes to install a car audio system in order for you to make an informed decision about whether or not it's worth the cost!
How Much Does it Cost to Install a Car Radio?
The installation cost depends on many factors like the cost of equipment, whether you are installing it yourself or by a professional, and possible errors after installation.
Generally speaking, the installation itself doesn't cost much in regular auto repair shops. You may get one installed for free as well when you buy from them. Other shops that charge for the installation will ask you to pay around $25 to $300 (depends on your setup).
The main cost of having a great car radio system installed on your car will be the equipment needed. We'll discuss this in detail in the next section.
What Affects the Cost of Installation?
There are many factors that affect the cost of installation and equipment. How feature-rich the system is and how it's going to fit into your vehicle defines the price mostly. As a general rule of thumb, the higher the price of your equipment, the more you need to pay to have that installed in your car.
Here are the key points that affect how much it's gonna cost you at the end-
Head Unit
The head unit is the core of any car audio system. If you want to have a killer music experience in your ride, then it's important that you choose components wisely.
Head units are available at a wide range starting from $100 and can go up to $2000 depending on what features you need for your vehicle.
There are many types – single DIN or double DIN and Touch screen stereos. These also come with different features that influence the price. For example, a car stereo with backup camera generally costs more than a basic one that doesn't come with backup camera feature. The same goes for Bluetooth, wifi, CD, USB, and other features.
If you want to add more speakers, amplifiers, etc. then there will be an additional cost for it which we'll discuss in detail later in this blog post.
Amplifiers and Speakers
Amplifiers and speakers won't cost you much, but they will need to be installed. Amplifiers can go from $50-$500 depending on the power output of your choice. The more powerful one you choose, the more expensive it gets.  
The same goes for the speakers as well. The better quality car speaker you want, the more you need to pay. Plus, popular brands charge you more. Typically, you'll have them at around $30 to $300.
Subwoofers and Sub Amps
This is where it gets exciting! If you love listening to music that has a lot of bass then this will be the most expensive part of your car audio system.
For subwoofers, you have to pay additional money on the system. These are available in various price ranges starting from $30 and can go up to $1000 as well!
Wires and Connectors
It's important that you have a quality wiring system in your car audio. Without proper wire and connectors, they won't work properly no matter how expensive the equipment is!
For this purpose, it will cost you around $20 to get all of them installed. However, if there are any errors on installation that can happen because not everyone is an expert, then you'll have to pay more on that.
Tools and Accessories
All of these components can't be installed without the help of tools and accessories. A flat head screwdriver is a must, along with wire cutters and pliers.
Tools cost around $20-30, but if you're planning on installing them yourself! If not, you'll only spend money when hiring a professional audio installer.
As for accessories, they are available at very low prices starting from $20 and can be as expensive as your equipment!
DIY vs Professional Installation
Although it may feel complicated, DIY installation is more viable in the long run. You'll be able to fix minor issues here and there without any hassle once you know how this works.
On the other hand, professionals will charge you around $25 to $300, depending on how complicated the setup is. But they will ensure you get a perfectly installed system without any error popping up.
So, What's the Actual Cost I Need to Bear?
If you're planning to install a basic setup yourself, it should cost you around $150 to $250. If you go all high-end products for best results, it can cost you from $1500 to a whopping $5000.
Issues That You May Experience While Installing a Car Radio [With Fix]
There are a few common issues that you might experience while installing a car radio. We'll discuss them in detail below-
Car Radio Has No Power
You turned the ignition on, but there's no power getting into your system! This can happen if your battery is drained or corroded leading to a poor connection between the system and other components. Or, it may be because you forgot to connect the power cables or connected the cables incorrectly. For this issue, you may experience stereo keeps resetting on and off repeatedly as well.
Either way, this requires you to open up the system again and check the wires. If you find any loose wiring, fix it by following the user manual.
For corroded battery terminals, you can use sandpaper to rub off the corrosion on your battery posts and clamps. Follow this with a coat of grease for better protection from corrosion in the future!
Speakers Making No Sound
Speakers are an integral part of your car audio system. If you can't hear anything coming out from them, then something is wrong!
For this problem, first, check the wires and connectors for any loose wiring or corrosion on connection points. Make sure all your speakers have power output through their terminals as well.
This happens mostly due to cable connection issues, so you should carefully check that first.
Overheating Issue
If the newly installed radio system is overheating, then you'll need to check whether there's any open cable that's shorting out the system. If not, carefully scrutinize the ports and cable connections to see if any loose connection is causing the system to run abnormally.
If that's not the case, try turning the stereo off and on to see if it goes away.
Dos and Don'ts While Installing a Car Stereo
While installing a car stereo yourself, you need to follow some key things that can make the process a lot easier for you. Here's what you should follow-
Don't throw away the paper works when you unbox the systems. Read the manual carefully, it will help you in installation as well as any future issue.
Plan your work and go according to the plan. This will help you manage the workload without messing things up.
Use a organizer for tools, accessories, screws, and fuses so that you can use them when needed, without any extra hassle.
Keep a flat head screwdriver, plier, and wire cutter in the car to use them when needed.
Don't mess with any wiring or connections unless you know what you're doing.
Make sure to double check each connection after you make them.
Tape up all the open wires separately to prevent them from coming in contact with any other thing and shorting the whole system.
Should I Install My Own Car Stereo?
You can install your own car stereo as it is fairly easy once you know how everything works together. Plus, there are tons of tutorials on YouTube as well!
But if you're not confident enough, there's nothing wrong with hiring a professional for this job. In fact, I would suggest you hire one if it is your first time and don't want to mess things up or have any issues while installing the system in your car!
Besides that, professionals will ensure that everything goes according to plan without any hassle on your end.
Whether you choose to install it yourself or hire a professional, make sure that your system functions well and is performing as per the user manual. Finally, don't forget to wire up everything properly beforehand!
How Long Does it Take to Install a Car Stereo?
The time taken to install a car stereo system depends on the complexity of your vehicle, and its audio system.
A basic single DIN system shouldn't take more than 15 minutes to install while a complex one like flip out car stereo with multiple units can take up to an hour from start to end.
Conclusion
So, in a nutshell – installing a new car stereo system can be very expensive. However, it's worth the money if you love listening to good music!
The key is to do your research and pick out equipment that will give you great sound quality with all possible features for which you are willing to pay.
In addition, make sure you hire a professional and always check what works best for your vehicle.