Competition is fierce in the car stereo world, but one thing's for certain: there are many brands to choose from. If you're looking for a new system, it can be tough to decide which one will suit your needs best.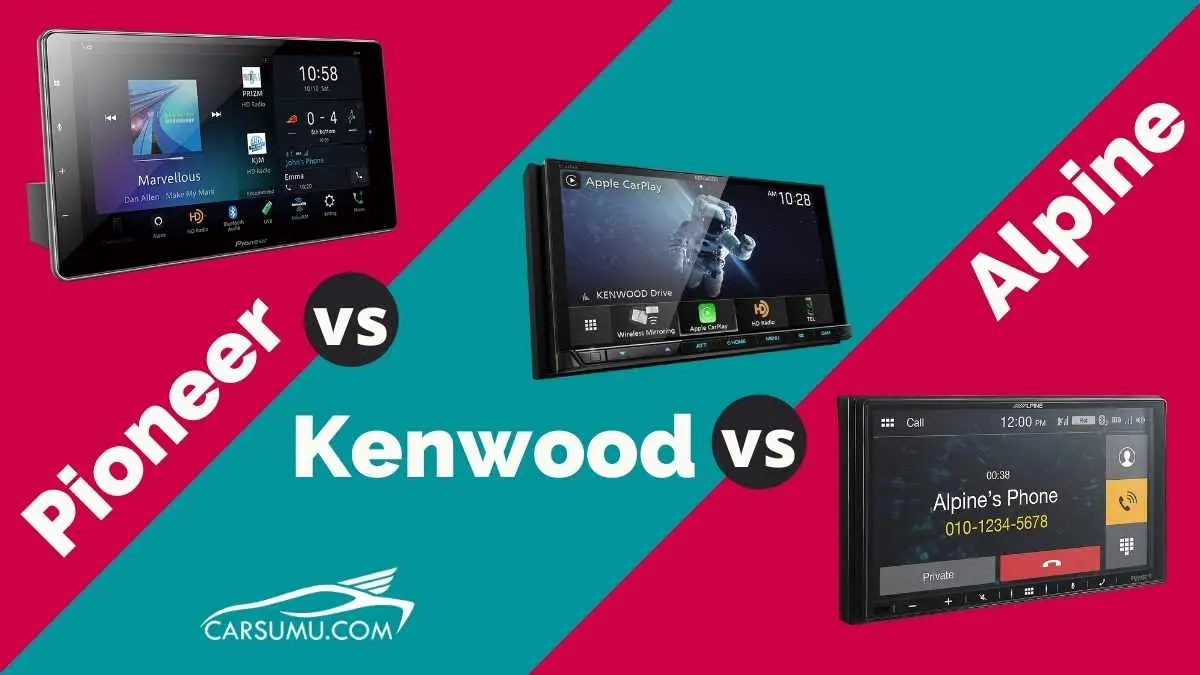 So we're here to break down the pros and cons of three major players in this space: Kenwood, Pioneer, and Alpine. We'll give you all the information you need to make an informed decision!
About the Top Car Stereo Brands
Kenwood, Pioneer, and Alpine are all well-known for their car audio products. They offer a wide range of features and options, so you're sure to find something that fits your needs.
Each brand has its own strengths and weaknesses, so it's important to do your research before making a purchase. Let's take a closer look at each one.
Brief on Kenwood Brand
Kenwood is a Japanese brand that's been around since 1947. They offer a wide range of audio products, from car stereos to portable speakers.
Overall, Kenwood is known for its quality and durability. Their products are often expensive but worth the investment.
One of Kenwood's strengths is its focus on innovation. They continue to release new and exciting products that keep up with the latest trends.
Quality and durable products
Wide range of features and options
Good customer service and warranty program
Expensive
Brief on Pioneer Brand
Pioneer is a well-known and respected Japanese brand that's been in the car audio industry since 1938. They offer a wide range of products, from entry-level to high-end.
One of Pioneer's strengths is its variety of features. If you're looking for a system with lots of great functionalities, a Pioneer system should be the perfect choice for you.
However, they are slightly on the expensive side compared to the other two brands on this list.
One of Pioneer's strengths is its excellent customer support. Their products are fairly reliable, but if something does go wrong, they'll do whatever it takes to make you happy!
Uncompromised quality
Excellent performance
Good warranty program and focus on great service after the sale
Expensive
Brief on Alpine Brand
Established in 1967, the Japanese brand Alpine has always focused on building high-quality car stereos. It is known for its unique sound technologies. Alpine creates superior quality products at a reasonable price, making them one of the most popular brands in the world of car audio equipment!
Reasonable price
Unique sound technologies
Superior quality products
Wide range of features and options
Great customer service and warranty program
So there you have it: a brief overview of the three biggest players in the car stereo world. Now it's time to get into product-based head-to-head comparisons.
Kenwood vs Pioneer vs Alpine Products Comparison
Here we compare similarly specced products from all three of the brands so that you can get a better understanding of what to choose.
Car Head Unit Brands Compared
Car Speaker Brands Comparison
Car Amplifier Brands
Kenwood vs Pioneer vs Alpine: What's Best for Head Unit?
Kenwood and Pioneer both offer a wide range of head units, from basic single-DIN models to high-end double DIN decks with all the bells and whistles. So which one is right for you?
Pioneer offers more options when it comes to features, while Kenwood focuses on simplicity. If you want a double DIN head unit that has everything under the sun, Pioneer is a better choice.
If you want something simple, Kenwood units are the way to go – but if you're looking for more advanced features and options, consider going with Pioneer!
Alpine offers a limited number of head units, but they're all high quality. If you're looking for something that's durable and sounds great, Alpine is the way to go!
All these brands are great and you shouldn't worry about their quality. One thing that I recommend you to check is 'Whether the product meets your requirements or not.
If multiple products meet your requirements, you can certainly go for the most economical one among these three reputed brands. I recommend going with a unit that accommodates Apple CarPlay, Android Auto, Built-in Bluetooth Connectivity, SD Card Slot, USB, and other modern wireless connectivity features.
For a better comparison, here are three head units that are priced almost similarly just under 140 bucks.
Pioneer DEH1100UB In-Dash Receiver
The Pioneer DEH1100UB in-dash receiver is perfect for anyone looking for a car audio system that offers great sound quality and intuitive controls.
The single-line, multi-segmented LCD display with LED backlight is 35% larger than standard displays, making it easy to read whatever information you need while driving.
The CEA-2006 Compliant amplifier ensures powerful sound output, while the detachable faceplate allows for easy installation and removal. Plus, the included wireless remote control means you can easily adjust settings without having to take your eyes off the road.
Read more Pioneer Car Stereo Reviews
Kenwood KMM-BT328 Digital Media Receiver
Kenwood has outdone themselves with their new KMM-BT328 Digital Media Receiver! Not only does this device have all of the features you need to get the most out of your music streaming, but it also comes with Amazon Alexa and iPhone control built-in.
Plus, the rapid-charging USB connection means that you can quickly power up your smartphones. And for those who love to take their music on the go, the Music Mix feature allows streaming playback and control from up to five paired smartphones.
Last but not least, Pandora and Spotify fans will appreciate being able to control Internet radio playback with their iPhones and Android devices. What else do you need?
Alpine Electronics UTE-200BT Receiver
With its high-speed USB port, the Alpine UTE-200BT Receiver can easily be connected to a wide variety of devices.
The 4 x 50W high power output ensures that your music sounds great with an amplifier, while the Bluetooth module lets you take calls and control your music with ease.
The Made for iPod/ iPhone certification also guarantees compatibility with your Apple products. And if that's not enough, the Variable RGB illumination of the buttons adds an extra touch of style to this already impressive receiver.
Read more Alpine Car Stereo Reviews
Alpine vs Kenwood vs Pioneer: Head to Head on Car Speakers
Alpine, Pioneer, and Kenwood all offer great quality speakers for your car. To be honest, It's hard to compare them since the specs are different and music tastes are diverse among people. What may sound good to me, may not sound good to you. But from general research on this, here are some things that you may take into account:
Kenwood Speakers
Kenwood speakers are known for their durability and high quality. They offer a wide range of speaker models to choose from with different sensitivity levels, so you can easily find the ones that suit your vehicle and sound preferences.
Pioneer Speakers
As compared to Kenwood's speakers Pioneer is more sensitive in terms of overall power handling. They are better suited for high-powered applications, but this also means that they will be less efficient.
Alpine Speakers
Although Alpine speakers don't have as many models to choose from as Pioneer or Kenwood does, their products excel at the sound quality and power handling. They are known for their great bass response so if you listen to a lot of music with deep basslines, then Alpine may be the best option for you.
In conclusion, all three brands offer great car speaker products and it ultimately comes down to personal preference when deciding which one is right for you. Do your research, listen to some demos, and find what suits your needs the best!
Similar to the receivers, we're going to review three similarly priced car speakers to let you compare them head to head according to your preferences:
Kenwood KFC-1666S 300 Watts 6.5″ 2-Way Car Coaxial Speakers
Kenwood has always been a trusted brand in audio equipment, and these coaxial speakers are no exception.
They provide great sound quality whether you're blasting your favorite songs on the highway or just listening to the news. With a peak input power of 300 watts and a sensitivity of 92 dB/w, you can be sure that these babies will pack a punch without distorting the sound.
The 6-1/2inch PP cone woofer ensures accurate reproduction of bass notes, while the 1inch balanced dome tweeter delivers clear highs. And with an impedance of 4 ohms, they can be used with practically any car stereo.
So if you're looking for an affordable way to improve your driving experience, this pair can be the pick for you.
Pioneer TS-G1620F 6-1/2″ 2-Way 300W Coaxial Speaker
Listen up! Pioneer's TS-G1620F 6-1/2″ 2-Way Coaxial Speaker is here and it's ready to rock your world.
This bad boy delivers 300 max watts of power, making it the perfect choice for anyone looking for a serious upgrade in sound quality.
The injected molded polypropylene cone woofer ensures precise bass reproduction, while the patented P. F. S. S spider provides superior stability. And don't forget about that sweet 1-3/16″ balanced dome tweeter – perfect for high notes and crystal clear vocals. So what are you waiting for?
Alpine SXE-1726S 6.5″ 220 Watt 2-Way Car Audio Coaxial Speakers
Looking for a great new sound system for your car? These Alpine SXE-1726S 6.5″ 220-watt 2-way car audio coaxial speakers might just be the perfect option!
With RMS power of 40 watts and peak power of 220 watts, these speakers can really pack a punch. And with a frequency response of 60Hz to 20kHz, they deliver quality sound that you'll love.
Plus, the nominal impedance of 4 ohms ensures that they can handle even the most powerful amps. So if you're looking for an upgrade to your car audio system, this may be the perfect shot!
Alpine vs Pioneer vs Kenwood Car Amplifiers
Pioneer amps are known for their great sound quality, making them a perfect choice if you're looking for a good mix of power and audio fidelity. However, they are not suitable for high-powered applications where maximum efficiency is required from the amp.
Alpine amps provide an excellent balance between price and performance but aren't typically as durable or efficient as Kenwood amplifiers.
Kenwood amps generally do not have the same reputation in terms of their sound quality compared to Pioneer's offerings. They excel at being cost-effective while still providing decent audio quality with increased power handling capabilities compared to Alpine amplification systems which make them more versatile when paired with different vehicles.
Here we go with 3 products for you to compare yourself, obviously in the same price range so that the comparison is reliable-
Kenwood KAC-M3004 Compact 4 Channel Digital Amplifier
The Kenwood KAC-M3004 Compact 4 Channel Digital Amplifier is a great choice for anyone looking for an amp that is both powerful and affordable.
This amp delivers 50 watts of power per channel at 4 ohms, making it perfect for powering most car speakers. It also features a signal sensing turn-on, which means it will automatically power on when it detects an input signal from your car's audio system.
Plus, its sleek design makes it a great addition to any vehicle. So if you're in need of an amplifier that offers great performance and value, the Kenwood KAC-M3004 Compact 4 Channel Digital Amplifier is definitely worth considering.
Alpine KTP-445U 4-channel Power Pack Amplifier
Looking for a compact amplifier to power your car's factory or aftermarket receiver? Look no further than the Alpine KTP-445U 4-channel Power Pack Amplifier.
This little powerhouse is designed to run off the same power circuit as your receiver, and it features universal RCA inputs so you can send signals from either RCA outputs or speaker-level wiring.
Plus, with 45 watts RMS x 4 of power at 4 ohms, this amp will give you plenty of juice to crank up the tunes.
Pioneer GM-A4704 4-Channel Bridgeable Amplifier
Pioneer GM-A4704 4-Channel Bridgeable Amplifier is a great piece of equipment that will provide your sound system with all the power it needs.
With 520 watts max power, this amplifier is sure to deliver quality sound that you can enjoy. It also features an automatic signal sensing and turn-on, so you don't have to worry about powering it on or off manually.
Plus, the variable high pass filter ensures that your music sounds just the way you want it to. And if you need more inputs, no problem! This amplifier also includes speaker-level inputs.
What are the Specialties of top Car Audio Brands?
Pioneer Specialty
Pioneer Specialty is Pioneer's line of car audio components. These are typically the higher-end models with all the bells and whistles you'd expect from a high-end stereo manufacturer like tweeters, subwoofers, amplifiers or wiring harnesses for an aftermarket installation. They also make some pretty good stereos too!
A lot of their speakers use what's called "carbon composite" woofer cones which help to provide more bass response than your traditional paper cone speaker (or polypropylene).
Pioneer also uses what's called a "Dual Voice Coil" which essentially means that each speaker has two separate voice coils. This helps to create more accurate sound reproduction, particularly in the higher frequencies.
Kenwood Specialty
Kenwood is another big player in the car audio market and they make some pretty good stuff too! Kenwood is known for its high-quality audio products, and they specialize in creating car audio amplifiers, speakers, and subwoofers.
Their products are designed to provide great sound quality, regardless of your driving environment. So if you're looking for a way to improve your car's sound system, Kenwood may be the perfect choice for you!
However, the price point of their products can be a bit higher than some of the other brands on the market.
A lot of their speakers use what's called a "Mica Reinforced Cone" which is designed to help reduce distortion and improve bass response. They also have some models that use an extra-large magnet structure (called a "Neodymium Magnet") for increased power handling and better sound quality.
Alpine Specialty
Alpine is a brand that's known for its expertise in creating high-end car audio equipment. They make some of the best amplifiers, subwoofers, and speakers on the market today.
One of the things that set Alpine apart from other brands is its use of special cooling mechanisms which help to keep your amplifier running cool even when it's pushed to its limits. This helps to prevent malfunctions and prolong the life of your amp!
They also have some models that come with built-in digital signal processors (DSPs) which allow you to customize the sound of your music according to your own preferences. This can be really helpful if you're not happy with the way your system currently sounds!
Their specialty is producing the "Ready-Made" kits which provide you with an easy way to get your hands on some high-quality equipment for your ride without having to do any kind of customization yourself!
Frequently Asked Questions on Car Audio Brands
Is Kenwood better than Pioneer?
Kenwood excels in high-quality sound reproduction, but it has always failed to get the same media support that Pioneer enjoys. For example, the Kenwood DDX672BH gets a better overall rating than the comparable Pioneer AVIC F60BT on, while both head units are very similar.
Yes, they are both good brands and you could go with either one of them depending on what features fit your needs best!
It's clear that each brand is trying their hardest to keep up with each other when releasing new products – so making this decision can be tough! The key thing here would definitely be doing some research before deciding which model will work best for you; all car audio brands have their own unique features that might make one stand out more to you than the others.
Is Alpine better than Kenwood and Pioneer?
Alpine is not as popular as Kenwood and Pioneer, but it has its loyal followers. The company offers a wide range of products at different price points, catering to everyone from entry-level buyers to those looking for high-end gear. Alpine also makes some great head units with innovative features.
Again – all three brands are good options! But if you're looking for something with innovative features then Alpine might be the best choice for you. They definitely cater to a wider range of people – from those just starting out, to those who are looking for a high-end audio experience.
Do your research and see what fits your needs best! No one car audio brand is the "best" – it really depends on what you're looking for.
Are Pioneer and Kenwood the same?
No, they are not the same. Although it has been rumored that Pioneer and Kenwood have some sort of agreement between them to prevent direct head-to-head competition – this is a myth!
The two brands might share some technologies from time to time, but they don't work together when developing products or anything like that.
Is Alpine better than Sony?
Sony is quite a big brand and they have been around for a long time, so their products are definitely going to be well-made. However, if you're looking for something with average features at a decent price – then Alpine might just fit the bill better than Sony does.
However, there are some receiver units from Alpine that defeat Sony receivers by a mile when you consider their price tags.
Are Kenwood and JVC the same company?
While these two were different companies, they hooked up in 2008 and are now known as JVCKenwood.
But, most people still refer to them as their original names – which makes sense since they are both established and well-known. So in short: no – they were two different companies that merged in 2008. But for all intents and purposes, you can call them the same company now!
Final Verdict
Overall, Kenwood is the most popular of the three brands. However, Pioneer and Alpine are both reputable companies that produce high-quality products at a variety of price points for different types of customers. It might be difficult to make a decision between which brand's product suits your needs best as they offer extremely competitive price tags for their cool car audio lineups!
It's ultimately up to your needs and preference on which you want to rely for the car audio setup.