If you're thinking of enhancing your car's security, then you might want to consider purchasing a rear-view dash cam.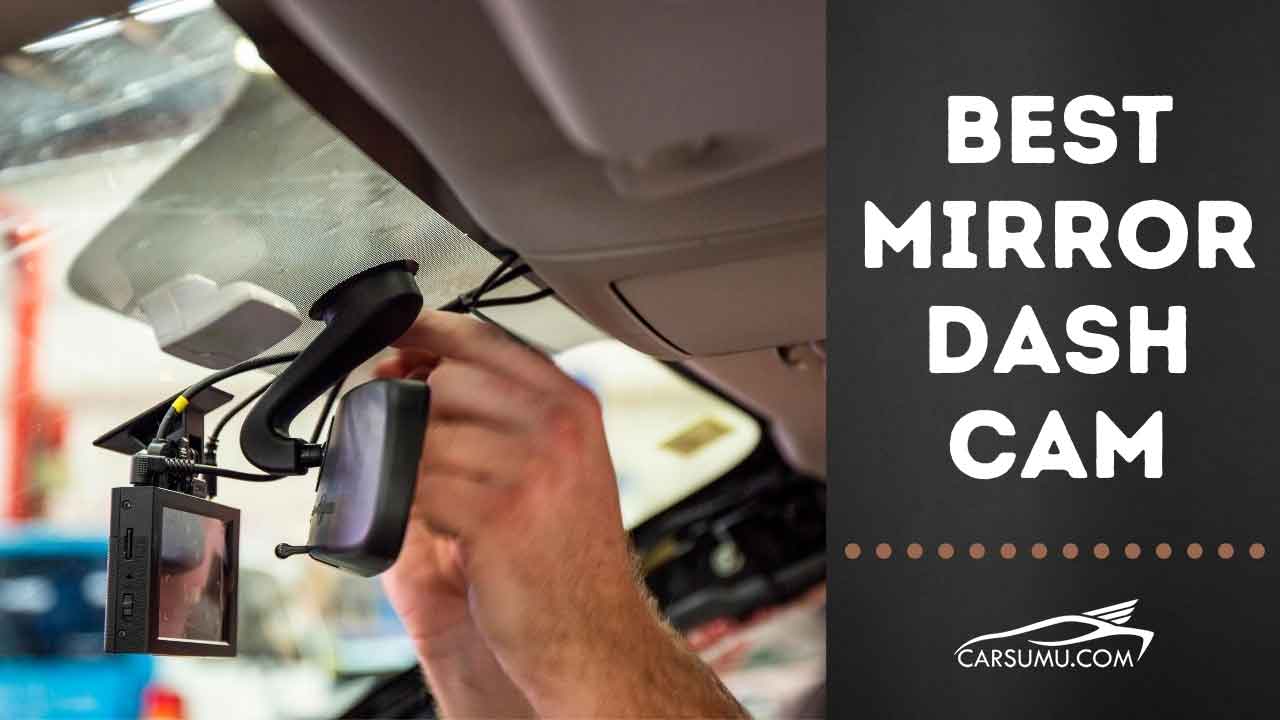 This accessory eliminates blind spots, improves your vision at night, and records everything around your car. Also, it has a GPS feature, parking guides, lane change detector, and is easy to install.
You don't need to worry about it blocking your visibility — you just have to fix it in place. With all the amazing features a dash cam has for you, you may want to have the best rear view mirror dash cam of your own.
If that is the case, then let's uncover which product will fit you just right. Just read on!
Our 10 Best Rear View Mirror Dash Cam Reviews:
Do you want to purchase a rear-view mirror dash cam but struggling to do so? With all the products offered by different manufacturers, choosing the right one seems difficult. Indeed, shopping is enjoyable yet frustrating.
With this review, we already chose the dashcam, making your experience as stress-free as ever!
1. AUTO-VOX V5 Mirror Dash Cam Review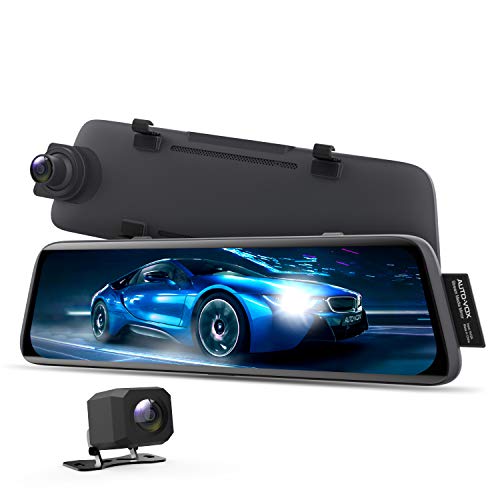 Roads are becoming more and more vulnerable to accidents than before. Being able to clearly see what's behind and in front of your car is indeed important. And the AUTO-VOX 5 will enable you to drive safely. Outstanding quality was obviously given importance to gain the trust of the drivers.
Using Dual 1080P, you can have a superb vision of the road. It works well during the day and even at night, so it means a quality guarantee for the driver's safety. The dashcam works to upgrade the resolution of the backup camera for you to record and catch a great view of everything on your way.
It adjusts the sharpness of every detail so license plates are clearer, and road signs are more comprehensible. Therefore, the confidence that you can safely reach your destination is an advantage.
If ever accidents happen, the G-sensor detects the bump. Also, a violent movement activates the camera and records a 30-second video. Using a 30 fps/25 fps resolution, you are assured that the video footage will not let you miss important information.
Also, the footage locks immediately, so you don't fear the odds of overwriting video files. Hence, having this product is a great way of documenting evidence if ever legal actions to defend your interests are necessary.
V5 is well-designed to help you conserve energy because it can automatically deactivate when the engine stops working. Even so, when the car is parked, the camera can still stand by and monitor risks up to 24 hours while using less power- 5 mAh.
Thus, even if you don't attend to your car, the dashcam devotes itself to keeping incidents documented. In addition, the brand assures the lifespan of the product through the IP68 waterproof feature that prevents damage due to dust and water.
Pros
Excellent vision with two cameras
Conserves energy
Built-in G-sensor works well
Waterproof and weather-resistant
Documents even if your car is parked
Easiest installation
Cons
Some may find this an expensive camera
CHECK PRICE ON AMAZON
2. VAVA Dual Dash Cam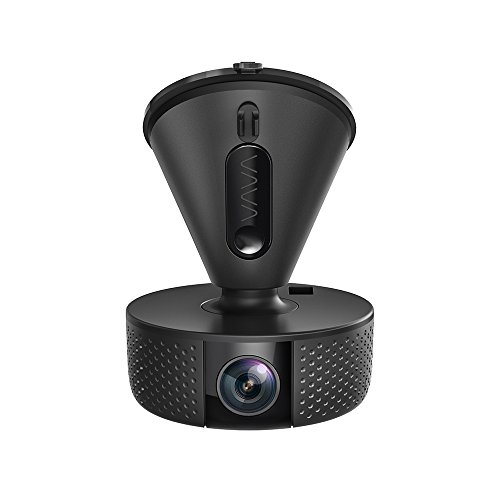 Driving is never an easy job, and doing so without a rear dash cam is even more challenging. So, you need to own one for having a safe and accident-free journey. VAVA dual dash cam offers a high degree of satisfaction. It's a product that doesn't only provide you confidence, but also quality and convenience.
While other dash cameras are using a maximum resolution of 720p, this product stands out with its 1920pX1080p resolution at 3FPS. Therefore, you can expect so much from the quality and clarity of the images projected.
Since the purchase will give you dual dash cameras, you can set up one at the back window or the cabin. This would allow you to have a view on different angles and reduce blind spots to avoid unexpected incidents.
Sony sensor and the combination of F18 and 6 glass lenses have taken the night vision to a higher level. It is indeed gratifying that it achieves accuracy even without auxiliary lights. More than anything, it gives you the confidence to pass through dark areas.
Another unique feature that can exceed your expectations is the REC mode. Not only it does provide you footage when you can't see your car, but it also uses an advanced technology tool to directly send the video to authorities. Through Wi-Fi, you can save the video evidence on your phone.
Much more, with the built-in 330mAh battery, your car can be active for as much as 24 hours even if you won't turn the engine on. Also, VAVA dual dash camera features the Snapchat button.
This revolutionary design is integrated on your mobile phones to capture unexpected incidents that may come your way with just a click. To record a 20-second video, all you have to do is to press the button longer.
Pros
Unique resolution with super night vision
Projects an accurate image
With advanced REC Mode
Uses built-in battery
Features unique Snapchat button
Cons
Installation might be a little complicated
CHECK PRICE ON AMAZON
3. VanTop H610 10" 2.5K Mirror Dash Cam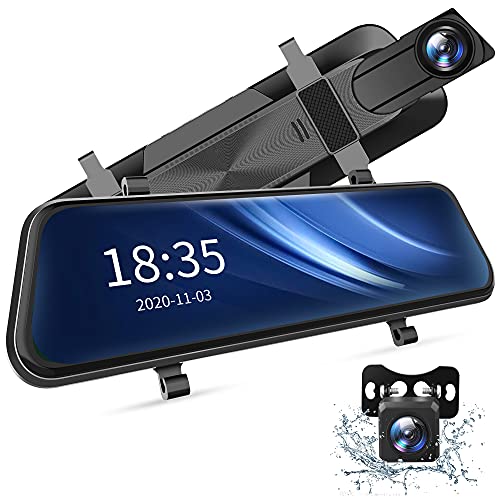 Driving just gets easier if you have your rear camera. VanTop H610 features a lot of modern tools to let you see images clearly. Now you can drive safely and smoothly by just having glances on the screen.
H610 lets you see the current condition of the traffic on the road. It enhances the image quality and upgrades the coverage of your sight up to 3 times wider than the conventional cameras. This technology truly reduces the chances of road crashes.
Its 2.5k resolution and Sony sensor mean a very clear vision. Hence, you can easily determine your distance from other cars. Excellent clarity aids you to avoid factors that may cause accidents.
VanTop H610 also features the modern IPS touch screen display. This tool is created to give you broader coverage on different angles. Also, it takes the image quality to a different level, displaying more accurate details of the road traffic condition.
Even at night, the screen lets you vividly see other vehicles, their car plates, and traffic signs as well. This is because the Starvis sensor devotes to functioning effectively, even with the shortage of lights.
If you wish to swap the resolutions of the front and back cameras, from 2.5k to 1080P,  you can do it anytime without worrying that one of the night display footage will have lower quality.
In order to assure you that your car is safe even if parked, the G-Sensor stands by and takes responsibility for monitoring physical movements. It also stimulates the camera to record a 20-second video. With this sensor, the device can remain active for up to 24 hours without using much power.
If further and nonstop collisions occur, your dashcam will keep on recording to supply you with more documentation. At the time the movements are not anymore detected, they will be locked. Also, you can save it for you to secure evidence on the incident.
Pros
Lets you see actual traffic
Superb clarity
Widens your view
Excellent night vision
G-sensor works well
Great build quality
Cons
CHECK PRICE ON AMAZON
4. AUTO-VOX V5PRO Mirror Dash Cam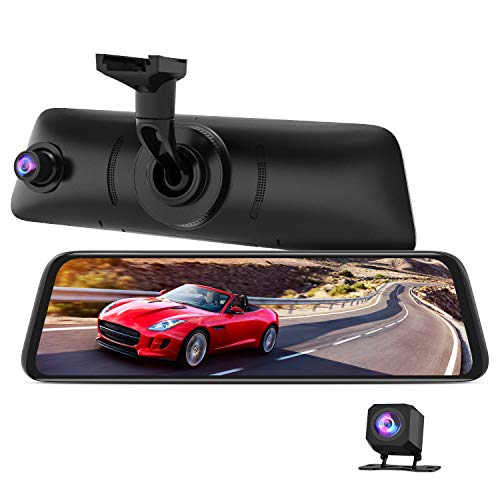 Roads are becoming more bustling. That's why you need a reading camera to guide your journey. AUTO-VOX V5 pro is made from advanced technologies, allowing it to stand out among other products in the competition. Indeed, it will let you feel safe in a very easy way.
Using V5 pro's adjustable parking lines, driving will be easier. With this, you can estimate your distance and movement. And it can be done by just dragging the lines on the screen. For sure, it highly guarantees your safety.
More amazingly, it comes with a GPS tracker, a rare and unique tool that is found in the AUTO-VOX V5 pro. The videos taken by the camera coordinate with the GPS data to show you on the map how you are doing.
You will also be delighted with the split-screen display. With just a glance on the screen, you can have a view of the back, front, and side of the car. Thus, it helps you monitor your driving and movement on the road.
With its dual 1080p resolution, you are certain of excellent display of sharpness of every important detail. So perceiving car plates and road signs will never be a problem.
The front camera will provide you with a remarkable angle of 145 degrees, and you can expect wide coverage of 150 degrees from the back camera. It reduces your blind spots and increases your view without affecting and distorting the image.
If the sun is too shiny, the lamination will allow you to take a look at the screen without being disturbed by the glares. In addition, it protects your screen from scratches and damage due to dust.
At the time that your car is parked and the engine is turned off, the G-sensor sources its power from the car fuse. With this, it can stay on to sense violent movements and causes the camera to function and initiate a 30-second video. This video will be saved to protect your personal interests.
Pros
Uses advanced tools such as guide parking
With GPS tracker
Comes with a split-screen option
High resolution
Durable cameras with Wide-angle lens
Cons
G-sensor may not work with damaged car fuse
CHECK PRICE ON AMAZON
5. KDLINKS R100 Ultra HD Dash Cam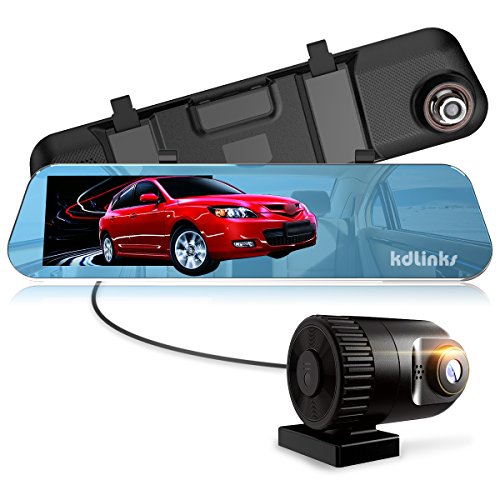 If we talk about the common choice of cameras by car owners, this wide-angle camera with 5 inches LCD is sure to provide you a clear vision when driving or parking. This cam delivers to you excellent performance, thanks to its high definition lenses, providing you the best resolution you deserve.
With its WDR-system, quality is sustained even in the nighttime, making it a versatile product that can be used at any time of the day. Its system will help your recordings to be visible at night; thus, it's a helpful tool when traveling in the dark.
It also has a video footage view of 150 degrees, giving you a larger viewing experience. Without a doubt, this dash cam is the exact replica of your existing rear-view dash cam and it's very easy to install.
With its HD screen, your recordings will be clear as ever. The camera also has a feature regarding its recording that automatically adjusts to light changes, thereby delivering you the finest output.
Moreover, the product provides a lock button that secures recorded data in case of accidents. This cam also has 64 GB of space, which is large memory support sufficient for your record space.
Its battery is high-performing but is not durable. However, you can connect the cam to any TV device via HDMI cable. Lastly, the dash cam will start to record after you start the engine and offs automatically when you park your car, which leaves out the traditional "on"/"off" button system.
With its good cost and amazing features, this HD dash cam is definitely a must-have.
Pros
Has a night vision and HD Video recording feature
Comes with a GPS feature that contributes to record efficiently
Automatic on system
Provides a wide field of vision
Comes with 64GB of memory support
Cons
Camera has a silver-ring that decreases its stealthiness
CHECK PRICE ON AMAZON
6. BOSCAM Mirror Dash Cam Sony IMX Sensor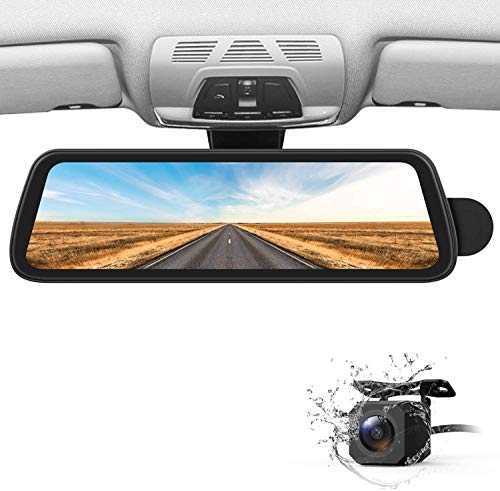 With BOSCAM, you can have all the features that you ever wanted- a 1080p full HD for both front and rear cameras, G-sensors, reversing angle customization, and many more. This mirror dash cam is surely one of the best dash cams any brand has to offer.
Let's start with its SONY IMX sensor. This feature is responsible for high-sensitivity shooting during low lights. Shadowy areas can be captured while maintaining quality and capturing even the smallest detail.
What matters the most is the video quality; you'd want your dash cam footage to be clear as possible right? Then this product will never disappoint you. With its 1080p high-definition front and rear-view cameras, you're sure that the video is vivid, and every detail will be captured.
You don't need to worry about your battery draining since this product comes with an anti-draining battery parking mode. This feature helps to prevent battery drainage by automatically switching to "parking mode" as soon as your car and your ignition are turned off, leaving only the G force sensor.
Once it detects a slight movement or collision, the G-sensor works. The dash cam will start recording immediately for at least 30 seconds. Also, it locks the footage, securing it as evidence.
Another amazing feature this product offers is reversing angle customization. You can adjust the camera screen from different angles by sliding it. With this, you can find the angle parking that's suitable for your point of view.
Additionally, this feature increases your visibility when leaving the parking space. It also helps you to see much easier during traffic from either direction, thereby decreasing the risk of accidents on road.
Pros
HD video camera can capture objects in detail from a long distance
Has good quality video
Ideal even in low-light and night time
Automatic off function
G-sensor designed to record a 30-second video
Cons
The rear camera can get a bit pixelated
CHECK PRICE ON AMAZON
7. YI-Dashboard-Recorder-Reverse-Recording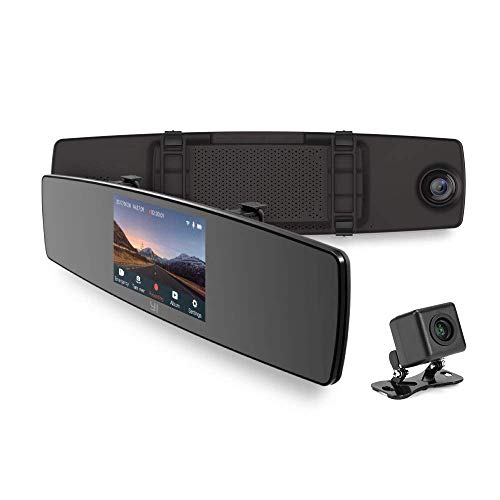 Want a high-quality and budget-friendly dash cam? Then, this product is for you. It comes with various features you could ever ask for.
YI mirror dash cam comes with two HD cameras that provide decent footage from the front and back of your car. This helps to monitor the car's surroundings, providing good visibility. The product even alerts the driver if a car is out of its path, avoiding possible accidents.
Since it is designed with an advanced driver assistance system, your safety is ensured. This device is able to notify you with real-time audio when the vehicle is going too fast, too close, or it's shifting to another lane.
It comes with a 16:9 LCD touch screen (which is easy to control) and Wi-Fi for wireless connectivity together with a 240mAH3.7 volt battery for a good performing power backup.
Being equipped with a collision alert sound, you'll be aware of the occurrence of an accident; it senses an approaching impact with the car head. If it happens, it automatically starts to record the collision in 10 seconds and saves it until you view it. This feature will help you hold on to a piece of evidence.
The two HD cameras, 1080P front-facing camera, and 720p rear camera will definitely fit over your rear-view mirror. Both front and rear cameras take videos and record simultaneously.
Additionally, this dashboard camera is easy to install especially for beginners. Other feature includes fatigue alert, emergency recording, app connection, and reverses detection. Purchasing this rear-view mirror cam will not only save you money but also boost your automobile security.
Pros
Easy to install
Have Wi-Fi feature
Comes with 2 HD- cameras
Easy to use full touch screen display
Reverse camera feature
Cons
Not suitable for a hot environment
CHECK PRICE ON AMAZON
8. PORMIDO Mirror Dash Cam-Backup Camera
Made from advanced technology, this product will surely impress you in every way. The camera records good quality videos that are helpful especially when you are caught in an accident. It saves the dash cam footage as evidence for future use.
The technology used therein allows the camera to record clear footage even in low light conditions. And its night vision ensures top-notch performance at night, obviously.
This top-performing rear view dash cam can withstand harsh temperatures ranging from -4 to 158 degrees Fahrenheit. The camera ensures easy parking with a backup camera that can be extended up to 26 feet. It helps you to park easily with its assistant lines. The reverse cam starts up automatically, making it convenient.
You can adjust the camera lens to have a clearer view. Additionally, this product has a 9.88-inch IPS touch screen that is easy to use. Its high-quality camera rear-view mirror records at 1080p resolution, providing you with clear and detailed footage.
During night time, you don't need to worry about the footage since it can still capture a visible video. The camera is equipped with an F2.07-glass lens for protection and has minimal glare caused by other car lights.
With its great capturing ability, adjustability, and quality software, this becomes one of the best rear view mirror backup camera.
Pros
Clear display with a large field of view
Good quality camera
Adjustable front cam
Can capture good footage in low light areas
Decent software system
Cons
You need to provide your own SD card
Can be difficult to install
CHECK PRICE ON AMAZON
9. Karsuite M9 12-inches Dash Cam with GPS Unit
This model from Karsuite comes with a 128 GB SD card. Thus, you can expect a longer life for your dash cam, making your drive an enjoyable one. Its GPS functions are very useful to locate your destination while recording your driving activities- such as the direction, speed, and route of your car.
The M9 12-inches dash cam is perfect for night time, thanks to the SONY IMX335 starves technology this product is equipped with. This feature ensures the quality of your footage during the day and night without missing certain details.
Any vibrations made by your car cause the camera to automatically turn on and record videos of the event for 20 seconds. This is caused by the function called G-sensor. It records and saves certain videos from an accident and can detect collisions.
With its 12-inch IPS touch screen, you can experience a high-quality resolution of 1480x320p displays. This contributes to easy control of your rear-view mirror dash camera. The rectangular shape of the product is compatible with the most rear-view mirror, which makes it a great mirror camera without disturbing your sight.
Pros
Has GPS
Easy to install
Multifunctional device
Good quality night vision
Reversing assistance system existing
Cons
GPS antenna can be too big
Turning off of camera can take time
10. AKASO DL12 2.5K Mirror Dash Cam 12"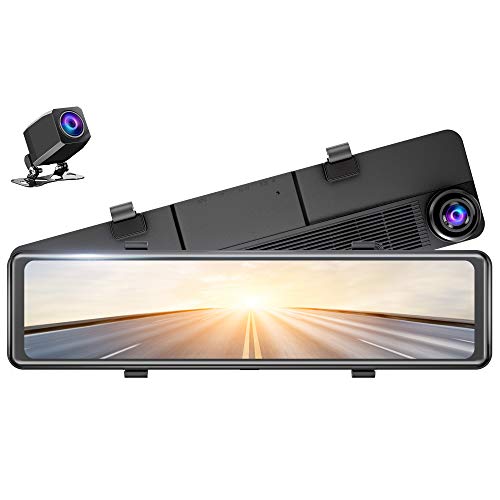 Are you looking for an HD, touch screen, and easy to install mirror dash cam? Good news because this product has it all. With its 2500p display for the front and 1080p for the rear, clarity will certainly not be an issue. Even small details are clear and easy to identify.
The front lens is adjustable in the range of 170 degrees. While the rear angle lens can be adjusted by 150 degrees. With this, you can have the advantage of making blind spots visible.
This product also comes with a 12-inch wide touch screen, making it easy for you to control it. The rear camera has a 21.34 feet cord that connects to the touch screen without any issues.
Not only that but this mirror dash cam also has night vision. With six glass lenses, capturing videos in low light conditions can still come out in good quality. Because of the Sony sensor, the capturing capability in low light is improved.
Moreover, the GPS records your location and offers you details on your current driving track and driving speed. This can be handy and can possibly be used as evidence.
The product also comes with a G-sensor which is helpful in detecting collisions and storing recordings especially if an accident occurs involving your car. With its SD card support, loop recording is definitely possible.
Lastly, it boasts of its parking monitor function. The camera serves as a surveillance camera for your car. This will only work once your car is turned off. Additionally, its parking assist feature shows you the rear camera footage while reversing.
With all of the features and functions mentioned, this product is surely top-notch. But that's not all. You'd be happy to know that this product comes with accessories such as screws, a car charger adapter, straps, and pads for easy installation.
Since it also comes with an instruction guide that is easy to understand, you will feel as if you already are a professional on installing mirror dash cams.
Pros
Has 12 inch IPS touch screen
Clear camera with loop recording feature
Adjustable camera for wide range footage
Has many features such as GPS and G-sensors
Multipurpose design
Cons
Installation can take time
Poor packaging
CHECK PRICE ON AMAZON
Best Rear View Mirror Dash Cam Buying Guide
An existing rear-view mirror-mounted dash cam serves as your surveillance camera that monitors the car's surroundings and records it even the engine is off. So, you might want to evaluate the product to ensure quality and amazing performance.
Here we chose some things you need to consider before you buy a rear dash cam.
Size of the Camera
You'd want your mirror dash cam to be visible without disturbing your line of sight.
Don't base on the photo of the manufacturers' post because it might be a lot bigger than the posted photos. We want you to make sure that your mirror dash cam will fit just right and won't take up a lot of space on your windshield.
Do check the size of your existing camera using a tape measure and compare it to the dimension measurements and specs given by the manufacturer to ensure an accurate size for your mirror dash cam.
Rearview Mirror Dash Cam Price
Are you on a tight budget? Worry no more, because there are mirror dash cams that are cheap but have great features available on the market.
We want you to make sure that these mirror dash cams will provide for your needs by ensuring their quality. So make your purchase from reliable brands with high ratings to make sure that the product will be worth it at its price.
However, if you want your rearview mirror dash cam to possess additional features such as a motion detector, G-sensor, GPS, and auto on/off, then you might need to prepare a huge sum of money. But despite its price tag, these features will be helpful when it comes to road safety.
This accessory is a good investment and an upgrade for your car to boost its security and lessen the risk of accidents.
Like mirror dash cams, wheel locks are also important for safety and security. Plus, a great set of car speakers for bass will help you make a solo drive comfortable.
Data Storage
This is essential when it comes to choosing your rear-view mirror dash cam since your recordings need a huge room to store them in. Accessory starts to record as soon as you start your car, so it consumes a huge amount of data.
The greater the storage of your memory card, the more amount of hours it could record. Therefore we suggest you place a memory card with at least 32 GB that last up to 6 to 12 hour — a memory card with 128 GB last the longest with 20 to 40 hours of function.
Loop recording is one of the functions that all dash cams have. This feature allows a new recording to overwrite the old one when the designated time is up.
However, if the accessory senses an unusual shift in force or a possible collision, then the G-sensor will automatically lock the video recording. This certain record will never be overwritten by a new video.
It's a very helpful function that will help you to review the video anytime that can be handy in case of an accident or a hit-and-run. However, not all dash cam has the G-sensor, and if it does, it can be quite pricey.
Durability of the Dash Cam
You'd want your rear view camera to last longer right? The best mirror dash cam should be waterproof and be able to withstand extreme temperatures. This will help you avoid certain hazards such as overheating, melting, or explosion.
With this, we assure you that the dash cam will last longer and will be safe to use.
Another thing that you may want to see is its build material, especially the camera housing. If the housing is not so sturdy and looks cheap, stay away from that. A quality product will look good, the finish will be awesome and feel premium when you install it on the car.
Video Quality
Since the sole purpose of dash cams is to take videos, therefore its video quality is a must to consider. A good quality dash cam must include the image sensor, the processor, and the lens. However, dash cams vary in picture quality.
The dash cam you should purchase must have a large field of view and films in high definition of at least 1080p that will ensure you high definition recording during the day and even night time.
With such a high-quality dash cam, it will even capture license plate numbers and street signs, which could be helpful at times.
However, some dash cams have high-quality front camera lenses but lesser quality back cam. So, it's still up to you if you want to spend a bit more since high-quality rear view dash cams are mostly expensive.
Backup Camera
A rear view mirror dash cam usually provides a live view of the back of the car. It does not record anything like a rear cam does. On the other hand, the best dual dash cam set up can record video at all times from both cameras, giving you the best footage from both angles.
The rearview mirror backup camera is attached to the rear of the vehicle; it detects objects behind your car and it's very useful whenever you're backing up. A dual dash cam setup has a high-quality cam inside that records the video. This feature boosts the security of your car since both record everything that is happening around your car.
But again, it's still up to you if you want a rear cam that records video or just assists you in backing up.
Additional Features
best mirror dash cams should come with some additional features as well along with their main functions to stand out among hundreds of choices. Here are some of the key features that you should look for in the best dash cam for the car-
GPS
The GPS feature helps you locate your destination at ease. It also saves the area where a certain accident occurs where your car is involved.
So, an authentic mirror dash cam with a good GPS setup will include the location of the occurrence and the speed of the vehicle in the display along with other details. This feature alone makes many things clear without any effort.
Night Vision
Having night vision on your dash cam will help your recording be visible at night and could help you see as well. Although city streets remain illuminated, highways and other local streets are not lit always. In such cases, night vision comes in handy for capturing the video.
With a quality night vision mirror dash cam, you should get coverage both day and night without lighting up the surrounding of your car, that's obviously not a smart thing to do.
G-Sensor
This feature detects an unusual change of force in your car and collisions that will automatically save the recording, and you can replay it anytime you want, which is handy.
As you already know that the mirror dash cams use the same memory chip to store all its data. And when it requires more space, it simply overwrites on the old data.
Best mirror dash cams for cars use G-sensor to identify any unusual change of force in the car and lock that portion of data. So, it becomes impossible to erase that portion of data from the dash cam memory chip.
Parking-Monitoring
With this feature, you will never have to struggle with parking ever again. Its parking guide will help you position the car accurately, and this can be done while avoiding obstructions that can damage your automobile.
While this is not a big deal for those who have a massive parking spot to park the vehicle, it comes in handy in situations where you need to park the vehicle in a congested parking spot full of cars.
Phone Connectivity
This feature might require you to connect with Wi-Fi. However, it can help you access recordings with ease. Not to mention, you can download and share footage if the device comes with phone connectivity.
Having the best mirror dash cam installed in your car allows you to access the video directly from the phone live. So, you don't need to see it on the built-in mirror cam display. You can place your phone in a comfortable place to monitor the car camera activity.
Final Verdict
Security is one of the main issues car owners face every day. Vehicles are upgrading, given all the advancements of features such as parking-assist, onboard Wi-Fi, 360 cameras, and self-drive, just to name a few.
The Rearview dash cam is starting to gain popularity because of its security features. With a variety of products available in the market, choosing the best mirror dash cam for a car might be difficult for you.
That's why we made this best rearview mirror dash cam review for your convenience. We hope that we helped you ease your shopping experience!