If you're like most people, one of the first things that you do when you get in your car is turn on the radio. You might also plug in your phone or CD player to listen to music. But what if it doesn't work?
If you're a car stereo aficionado, then chances are that you've encountered problems with your car stereo at some point. This is why we created this definitive guide for troubleshooting Pioneer car stereos.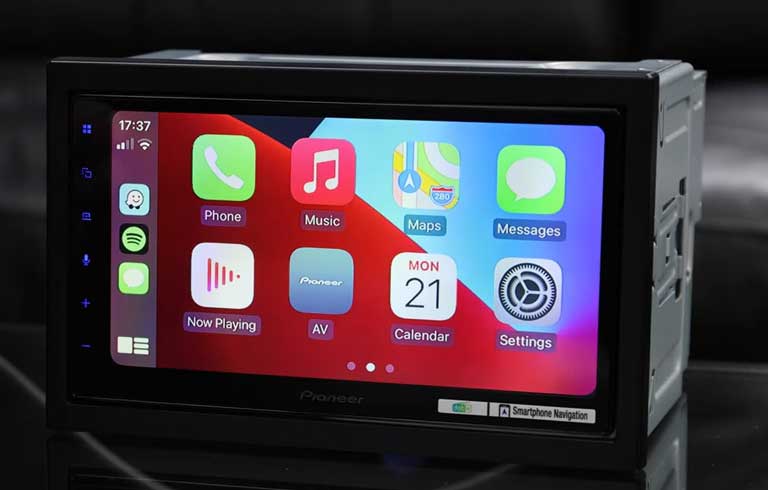 We will walk you through the process of diagnosing and fixing common issues so that your experience can be as enjoyable as possible!
1. Check USB Error / USB Not Working
This is a common problem in Pioneer stereos. Whenever you try to play something from the USB device, it pops up "Check USB" on the screen. This means, either the port in your stereo unit is faulty, the USB format, or the USB device is not supported by the stereo.
If you encounter this issue, simply check the USB format first. If it's in FAT32 format, that's perfect. If not, change it to FAT32.
If the USB format is just fine and still you face the issue, check the cable you're using and the ports, both in your stereo and the USB device. A nice and easy way to check this is by connecting the stereo with another device and the external device to another stereo or another USB-compatible device.
If everything seems fine and still the problem persists, a hard reset should solve the issue.
2. Error 10
The error 10 on pioneer stereo can pop up due to either a Bluetooth or CD player issue. Whether it's a Bluetooth issue or a CD player one, the fix is fairly simple.
First, try to reboot the device by turning off the ignition and then turning the ignition on again. This should solve the issue.
If the problem persists, try a system reset to fix it.
3. Error 11
This error is related to your CD disk. This means the disc you have inserted into the device is either scratched or dirty. Either way, you should replace the disc and try to play a new one.
4. Error 02 9e
This is a similar error to error 11 and the solution is also the same. Try replacing the disc with a new one. If the problem persists, do a simple reboot of the device, it should back up and running.
5. Error 19 / Format Read
This is another common problem Pioneer stereo owners face when they plug in a USB device. There is a nice and easy solution for this. Here's what you need to do-
Go to Menu on your stereo system.
Scroll using a volume control knob and find 'System'.
Get into the System settings and scroll to 'Android Wired' option.
After you're into the Android Wired settings, scroll to Memory. Now, press and hold the Enter (volume control knob) for a few seconds. You're done!
6. Error 23
This is a file system error which means that the file system of the USB drive is not formatted as FAT32.
To solve the problem, connect the USB flash drive to a computer. Right click on the USB drive on file manager, click on properties, and then select FAT32 from Filesystem dropdown menu.
Click start and it will format the drive.
However, performing this procedure will erase all the files on your flash drive. So, you must back up the files you need so that you can put them back in after performing the process.
7. Stereo Flashing Display
This isn't actually a problem, rather a feature that many people like to have in their stereo system. You may not like that and that's okay. A simple way to do this is by resetting the system so that it goes back to its original system settings.
If you want to avoid that path, you have another recourse here. Find the Rev Mode on your receiver and turn it off. This should solve the issue.
8. Touch Screen Not Working
The touch screen on a stereo system is one of the most sensitive parts and therefore, it's likely that you can encounter issues with it at some point or another. If the touchscreen is unresponsive when you touch it, it's probably the system is facing difficulty processing things.
You can apply some easy tricks to solve the issue-
Turn off the stereo system and let it cool down for about 15 minutes. Turn this on again and see if the problem persists.
Clean the touchscreen with a microfiber cloth. Many times, due to oil and grease on the screen, it becomes unresponsive.
If the problem is still there, you can try resetting the device by removing the faceplate of your receiver unit.
If everything fails, it may be physical damage to either the touchscreen or the connection ribbon. So, you may need to take it to an authorized service center to get it fixed.
9. Rear Speakers Not Working
If you're facing this problem, there are a few things that can be causing it.
First and foremost- check the wire connections to your speakers because they may have been poorly connected or are not connected at all.
Another thing that can go wrong is the fade controller. You may have modified the settings and completely turned off the rear speaker from your head unit. So, check if the settings are all good or not.
Check if the RCA cables are perfectly connected or not. If the cables are swapped or not connected, you may experience issues like the rear speaker not working on your pioneer head unit.
Conclusion
Car stereos are notoriously difficult to troubleshoot and repair because of the lack of information available for specific models.
The added trouble is that they're so complex, with many different parts all working together in the background of your vehicle's dash.
However, this definitive guide should help you pinpoint where any issues may be coming from and how to fix them on your own without needing a professional technician or mechanic.
Except for messing up with settings that are well restorable if anything goes wrong, we recommend trying any hardware modification after thoroughly reading the user manual that came with your device. Otherwise, you may get surprised after advancing to a step where there is no way to back up.